3.11 Japan Memorial Charity with Japanese Tea Ceremony

Sunday, March 25, 2012 from 10:00 AM to 3:00 PM (EDT)
Event Details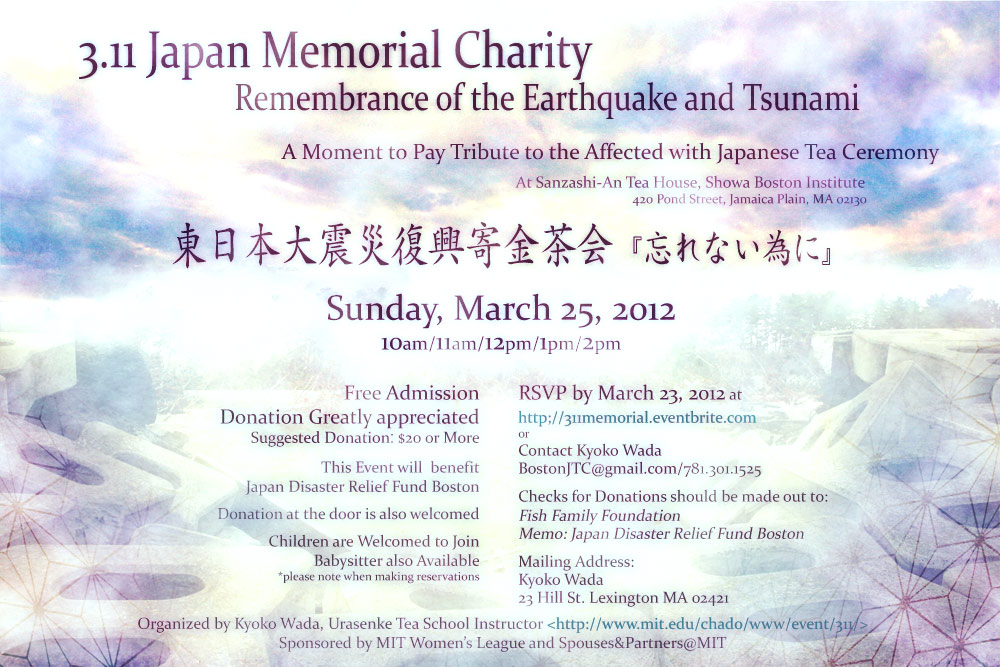 ---
Thank you for participating in this event!
We have successfully finished 3.11 Japan Memorial Charity.
We will put up the following information on our website at
http://web.mit.edu/chado/www/
Please visit to check out our upcoming events as well.
Thank you, again, for your contributions!
---
3.11 Japan Memorial Charity 
with Japanese Tea Ceremony
Remembrance of the Earthquake and Tsunami
Free admission; donations greatly appreciated. 
Suggested Donation from $20.
*Donations without participation in Japanese Tea Ceremony, or at the door is also welcomed.
Note: Check donations are also welcomed. Please make it payable to the Fish Family Foundation. Make sure to specify your name and the preferred session as well. 
The check should be made out to: 
Fish Family Foundation
Memo: JDRFB 3.11 Memorial JTC

Mailing Address:
xxxxxxxxxxxxxxxxxxxxxxxxxxx
Each session is for about 1 hour-long; each includes Japanese Tea Ceremony performance with Japanese sweets and green tea in a traditional tea room, followed by a slide show of photos taken at cities where affected by the disaster.
Reservation deadline has been extended to 0am March 25, 2012.
---
This charity event is to commemorate the North-Eastern Japan Earthquake and Tsunami Disaster that happened on March 11, 2011. We wish to support the affected to make their living better, rebuild the area, and for each of us to remember the tragedy.
The major part of the areas where struck by the earthquake and Tsunami started to recover and rebuild, but is still suffering from the long-existing damages. Even with all the donations and funds collected by countless organizations and groups all over the world, they are still experiencing difficulties recovering from the destructions. Through The Japanese Disaster Relief Fund – Boston (JDRFB), we hope to become a part to help Japan recover from the affects.
We believe that we all learned something important from this incident that we should never overlook in the future. Please take this opportunity to remember them.
"Peacefulness through a Bowl of Tea" is phrased by Sen Genshitsu, the Great Grandmaster of Urasenke Japanese Tea Ceremony. He has always been flying around the world to spread the Japanese Tea Ceremony along with the peacefullness to us. We, as a part of Urasenke school, follow his expression in the US as well.
Please visit our website. Informations and poster will be posted promptly.
This event will benefit the Japanese Disaster Relief Fund - Boston
JDRFB benefits from the generous support of organizations such as The Japanese Association of Greater Boston and other donors.
Organized by Kyoko Wada, Urasenke Tea School Instructor and MIT Japanese Tea Ceremony.
Sponsored by MIT Womens League and Spouses&Partners@MIT.
When & Where
420 Pond Street
Jamaica Plain, 02130


Sunday, March 25, 2012 from 10:00 AM to 3:00 PM (EDT)
Add to my calendar
3.11 Japan Memorial Charity with Japanese Tea Ceremony