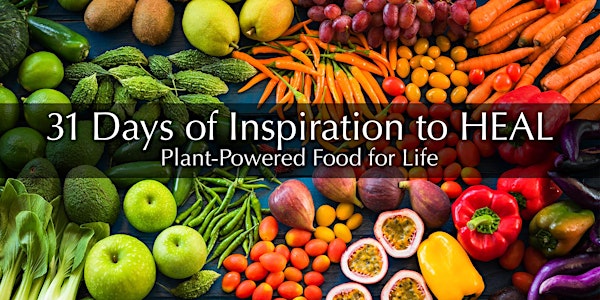 31 Days of Inspiration to HEAL: Plant-Powered Food for Life
Ready to make changes for the New Year? Would you love support? This FREE program helps you revolutionize your diet, health, and outlook!
Refund Policy
Contact the organizer to request a refund.
Eventbrite's fee is nonrefundable.
About this event
Imagine…You Can Revitalize Your Health with Support, Community, and Inspiration!
If you are struggling with health issues that impact your capacity to do the things you love, you may be feeling extremely discouraged. You may be doing everything you can think of to support your health, but it doesn't seem to make a difference. Not only are you dealing with pain and discomfort, but you are frustrated because you want to give your gifts in the world and you just don't have the energy to do so.
There is a way to HEAL. One compelling way to end your health struggle is to access a powerful FREE program for transforming your health through diet. To be effective, such a program would need to provide education, information, inspiration, tools, and support, and would immerse you in a context of acceptance, love, encouragement, and fun!
This is why we created 31 Days of Inspiration to HEAL: Plant-Powered Food for Life.
In This FREE Program, You Will Discover:
The 5 specific food groups that help you lose weight, feel great, reduce your medical bills, and make you look and feel sexier
The 6 miraculous secrets to tame temptation and halt addictive eating
A potent protocol for HEALing your gut, and therefore your life
The dietary pattern that is good for you, good for the Earth, and good for all LIfekind
The confidence to consistently feed yourself truly delicious and deeply nourishing food without confusion, fear, nor hunger
And more!
Facilitators and Guest Experts Include:
John McDougall
Neal Barnard, MD
Dr. Alan Goldhamer
Dr. Sailesh Rao
Dr. Will Tuttle
Nelson Campbell
Reed Mangels, PhD, RD
Tami Hay, MA, RMT
Rev. Chef Beth Love
Gerard Bisshop
Sandi Rechenmacher
Jacque Salomon
Christine Rosche, M.P.H, C.N.S.,
And many more are being confirmed!
Through cutting edge food-prep demos and culinary classes, weekly group support, access to guest experts, and more, 31 Days of Inspiration to HEAL teaches you how to go from discomfort and ill-health to bodily freedom, vitality, and comfort beyond your wildest imagination!
Stop suffering with dis-ease, lackluster energy, and pain, and instead help yourself to inspiration and support to manifest the health you deserve. Claim your transformed life today!

31 Days of Inspiration to HEAL starts January 1, but you can join at any point during the month of January. The program will be run through the Whole Food Plant Based Support Group Facebook group, with additional opt-in elements via videoconference and email. This program is being organized by Eat for the Earth, Tami Hay of EarthGut, Rev. Chef Beth Love of Tastes Like Love, and Amy Désirée Goldstein, creator of the Whole Food Plant Based Support Group. Find out more below.
Sign up now!
Program is FREE, however, donations are welcome!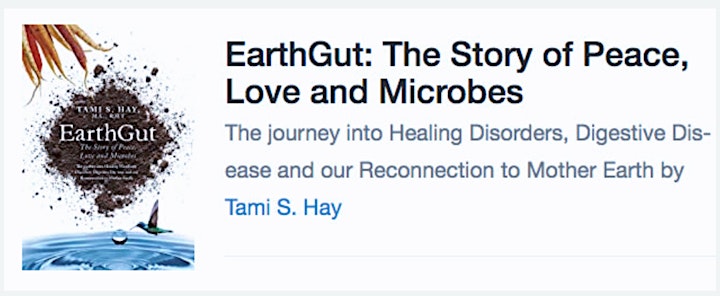 About Tami Hay, MA, RMT:
Tami Hay has a Masters in Live Food Plant Based Nutrition and is super passionate about Nutrition and Life Coaching based on her HEAL protocol. She is the author of the book EarthGut: The Story of Peace, Love and Microbes, The Journey towards Healing Our Digestion and Our Connection to Earth. Tami specializes in Gut Health, and is the author of her second book, Sacred Sovereignty: The Infinity 8 Path to HEAL, being released in January 2021.
Tami is also an Ordained Minister. Her blessing to ALL is that we all find health, joy and love in our journey back home.
Endorsements:
Tami's food prep course was an amazing learning experience. I suffered from chronic headaches and always felt tired. I made a few simple changes and I am feeling more energized, and haven't had a headache in over a week. I encourage everyone to take her course. She teaches with love, and will not judge you. – Kendra, Sherwood Park, AB (This testimony was only 9 days after taking the course).
I am so happy I was able to take Tami's class. I learned so much, and with the changes I've made so far, I feel so much better! This class is a must for everyone! – Cori, Sherwood Park, AB
Tami's course on Raw Foods and Juicing provided a mindset change for my daughter and I! Prior to attending, we really had no idea of where to start preparing a diet of raw foods or juicing, but both of us were eager to learn. The combinations of raw foods to create a 'clean' food choice was eye opening and very tasteful to the palate. After spending a day tasting these creations, our bodies felt satisfied – nutritionally fed vs. just fed calories with processed food with no nutritional value. This makes a huge difference in how the body responds. Thank you Tami! – Darlene, Spruce Grove, AB
I just got home from a Raw Food class with Tami Hay and I am inspired! She showed me so many ways to eat raw, real food that I cannot wait to try them out on my own. We started with a smoothie with so many superfoods in it that I lost count! It was delicious. We then juiced some fresh vegetables which was so refreshing. Tami showed me how to sprout beans and seeds and then made the most beautiful raw salad I have ever seen. The avocado, sprouts, veggies and sauerkraut was possibly the best thing I've eaten all year. It didn't end there. She showed me how to make a raw hummus, cashew cheese and my own fresh sauerkraut! I brought home a jar that I made myself right there in her kitchen. Tami is so extremely knowledgeable and excited about sharing that information with others. Truly amazing! – Kerri Trombley
About Rev. Chef Beth Love:
Rev. Chef Beth Love is the author of the Tastes Like Love book series. A gifted speaker, facilitator, teacher, and ordained New Thought minister, Beth has motivated and educated people in diverse contexts such as nonprofit organizations, schools, churches, businesses, and the California State Prison system. She has inspired large and small audiences, in-person and through radio and television, from local community TV to the Oprah show.
Rev. Chef Love delights in helping people to create amazingly delicious and deeply satisfying foods that please the palate, nourish the body, demonstrate compassion for animals, and have a light footprint on the earth. Due to her concern about the contribution of animal agriculture to climate change and other environmental issues, she started Eat for the Earth, a movement that partners with institutions to adopt policies and practices that make it easier for people to eat more plants and less animal products to sustain all life on earth. Learn more and find out how you can get involved at EatForTheEarth.org.
Endorsements:
After the past 3 years of health challenges, I wanted to take a leap of faith and experience if a plant based, whole foods diet would be beneficial. Almost immediately I started noticing my health improve: moods, emotions, physical, sleep, etc. As a result of working with Beth, my cholesterol dropped 39 points in three weeks of eating a plant based whole foods diet—plus other bonuses: restless leg syndrome improved, heart palpitations stopped, I sleep better and deeper, and I LOVE TO EAT!! – Ruth Poe
Before starting to work with Beth, I was eating at night, gorging on meals, and food was always in my thoughts. During Beth's group program I enjoyed having the support of a group. As a result of doing this program, my hearing and vision improved, my blood glucose levels improved, I lost weight, and I experienced less inflammation. The biggest success was a good, friendly environment in which to make change. – Bob Trujillo
Before working with Beth I was suffering from low back pain, foggy thinking, and tiredness. Through working with Beth, I became more aware of my emotions and how out of touch I had become with my eating habits. This was my miracle that has become a wonderful new relationship with my food and life. As a result, I feel so much better! My thinking became clearer and I experienced a reduction in pain and inflammation. My lower back shifted back into alignment. I have significantly less cellulite on my body. I have more energy, more joy, and wake up better. My appetite for yummy whole food is back again. I am so grateful! – Dawni Pappas