Description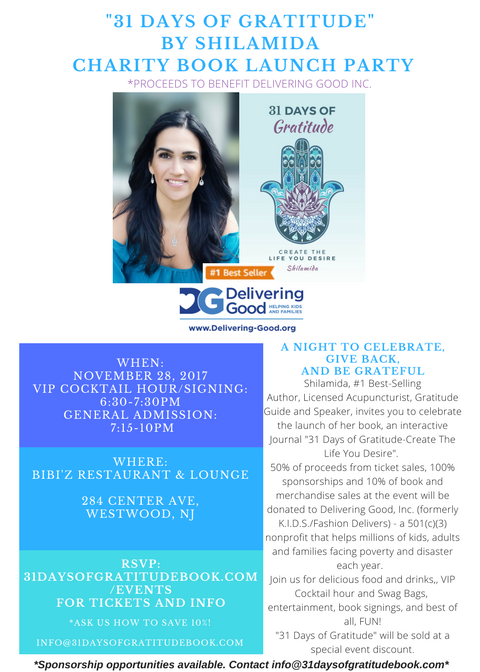 Join Shilamida as she launches her new book, and interactive Gratitude Journal! She is excited to have you Create the Life You Desire!
50% of proceeds from ticket sales, 100% sponsorships and 10% of book and merchandise sales at the event will be donated to Delivering Good, Inc. (formerly K.I.D.S./Fashion Delivers) - a 501(c)(3) nonprofit that helps millions of kids, adults and families facing poverty and disaster each year.
Join us for a cocktail style event with delicious food, raffle prizes, entertainment, massage, henna, and much more! Walk the red carpet and join us for this wonderful event!
Fun things to expect at this event:
Massage, Tree Reading, Energy Healing, and more. All of these sponsors will be donating 100% of their proceeds from the night back to charity!
Walk the red carpet and pose in front of the Step and Repeat
Book signings with the author
Signature drinks
Delicious cuisine (dairy and gluten free options will be available)
Special Gluten free desserts
VIP Gift bags and VIP Cocktail hour/Book signing for VIP Ticket Holders
Raffle Prizes
Door Prizes
Merchandise sales (portion of proceeds will benefit charity)
Book Sales (Portion of proceeds to benefit charity)
and some more surprises!
We are currently accepting sponsors and donors for this charity event. If you are interested in becoming a sponsor (either sponsoring a vendor table; limited spaces avail., or being a headline sponsor), please contact info@31daysofgratitudebook.com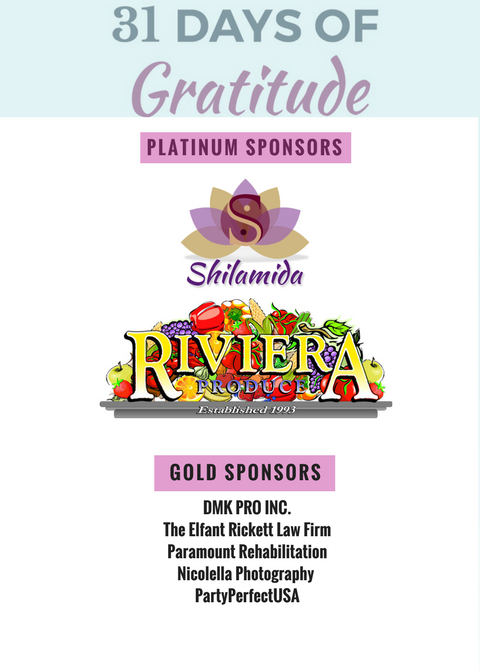 We are GRATEFUL for our generous sponsors!