30th Pacific Coast Dream Machines Show, The Coolest Show on Earth
Dream Machines is back for its 30th year with a mesmerizing array of more than 2,000 antique, vintage, classic, custom and exotic machines!
When and where
Location
Half Moon Bay Airport 9850 North Cabrillo Highway Half Moon Bay, CA 94019
Refund Policy
Contact the organizer to request a refund.
About this event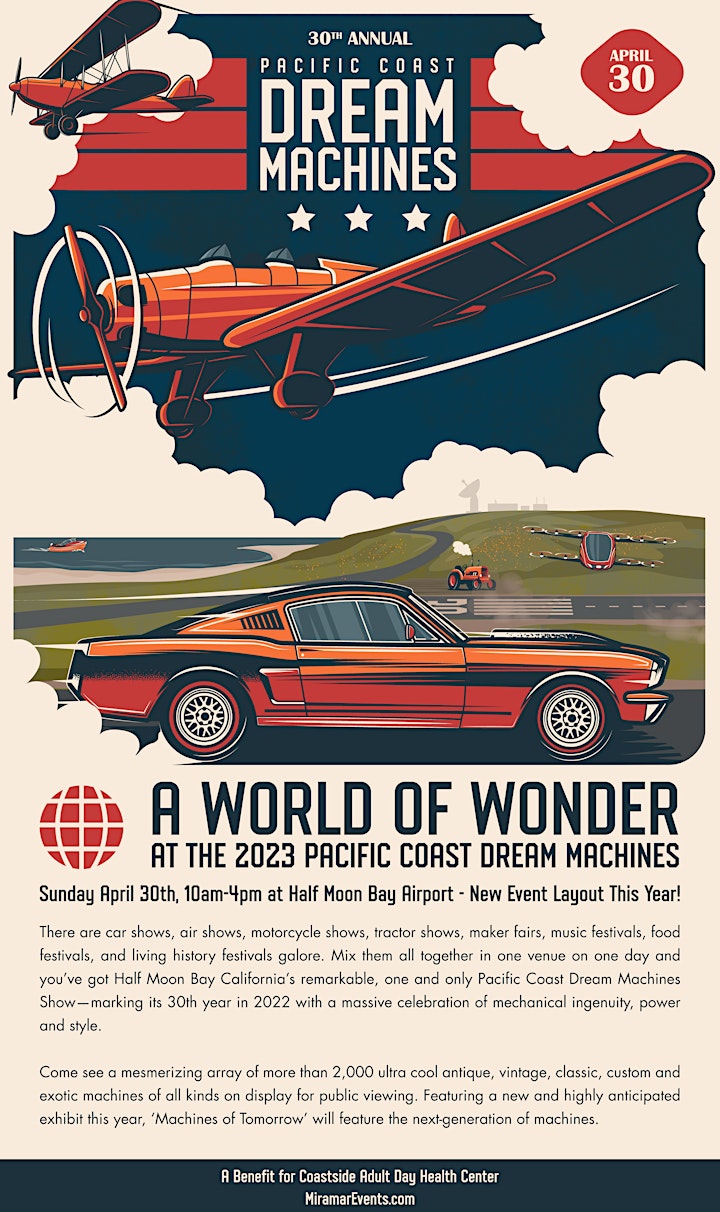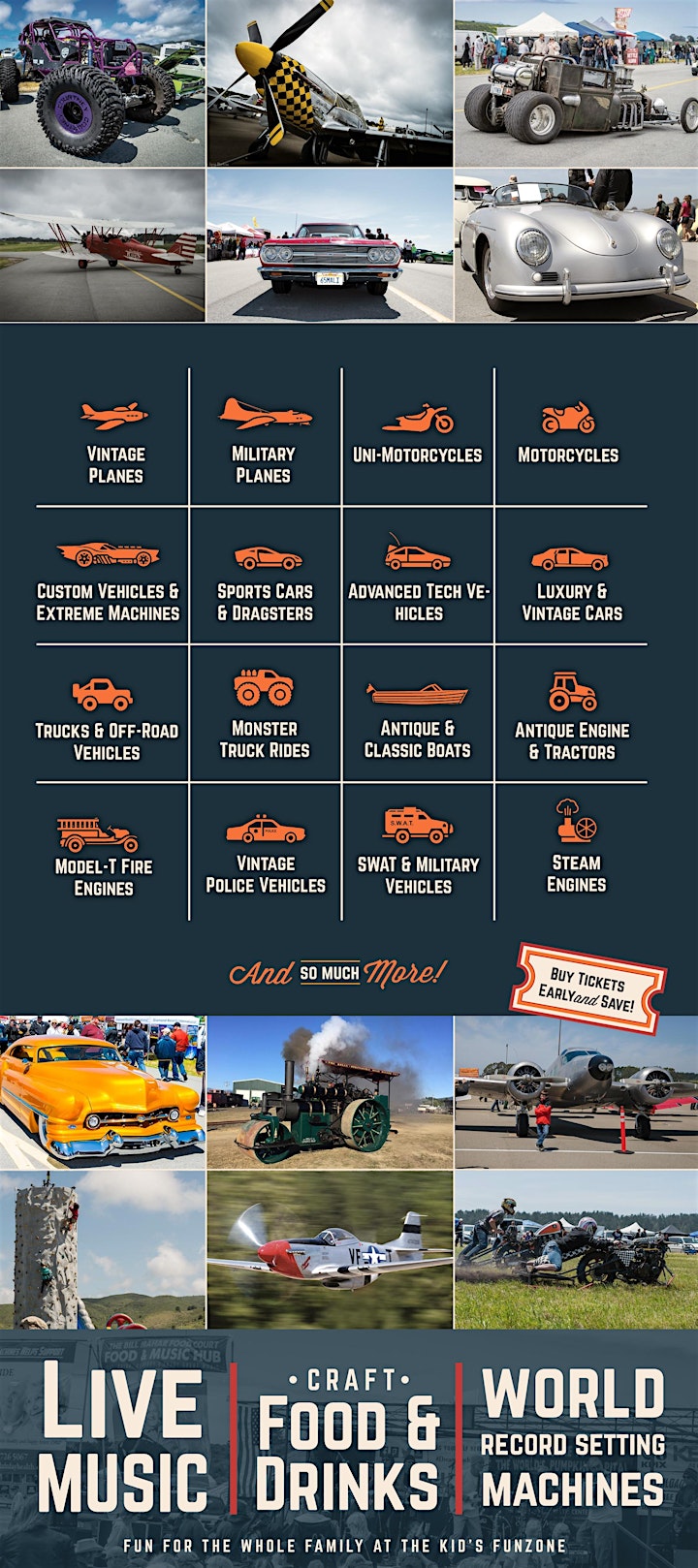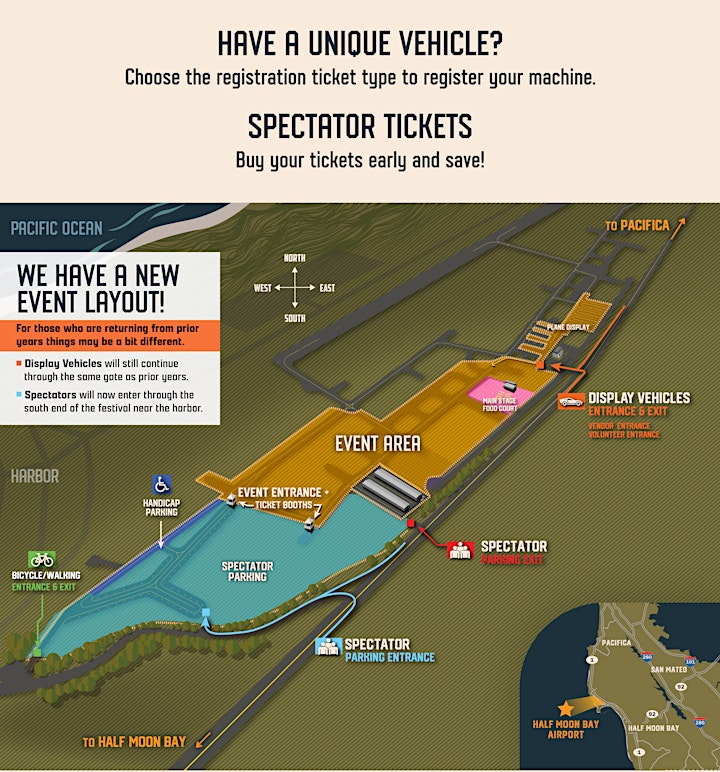 FACEBOOK: facebook.com/pages/Pacific-Coast-Dream-Machines-Show
INSTAGRAM: instagram.com/dreammachinesshow/
TWITTER: twitter.com/miramarcrew
We're back! Get ready to experience a world of wonder at the Big Revival Rendezvous of The Coolest Show on Earth – the 30th Pacific Coast Dream Machines Show, a uniquely spectacular showcase of motorized mechanical marvels from throughout the 20th and 21st centuries on Sunday, April 30 from 10am to 4pm at Half Moon Bay Airport.
It's the west coast's biggest, baddest gathering of the world's coolest cars, trucks, motorcycles and aircraft featuring a mesmerizing array of more than 2,000 ultra cool antique, vintage, classic, custom and exotic machines of all kinds on display for public viewing.
Dream Machines is a family-friendly event loaded with kid's amusements in the Kids Fab Funzone. Highlights include a super-thrilling bungee jump trampoline, wild and wacky walk (roll)-on-water inflatable balls, a 24' climbing wall and more!
Fill your cravings with some of the Bay's best food trucks and vendors, deelish drinks with craft beer, premium wine and custom cocktails, and stellar live music all day.
For 30 years Pacific Coast Dream Machines has helped fund the Coastside Adult Day Health Center.
Headline attractions scheduled to appear include:
• The Erickson Collection's awe-inspiring military aircraft including their B-17 Bomber "Ye Olde Pub", The Flying Fortress of the Skies and their classic North American P-51D Mustang Fighter, regarded as one of the great success stories of military aviation history. Get an up-close look at these historical monuments and meet the crew plus a limited # of rides will be available. For ride booking and pricing information, contact the Erickson Museum http://www.ericksoncollection.com/contact
• "Machines of Tomorrow" - a brand-new showcase with fascinating displays of all things to come in the next-generation of technology – concept cars, flying cars, robotics, autonomous vehicles, EVs and more.
• "Fantastic Flying Machines" - exceptional vintage warbirds, stylish classics from the 40's and 50's, sport, ultralight and homebuilt aircraft
• "World Record Wonderland" - super sleek speed machines with dragsters and streamliners
• "Gearhead Grounds" - antique working machines including beautifully refurbished fly-wheel engines from the Early Days Gas Engine & Tractor Association and meticulously restored logging equipment and artifacts from Willits CA-based Roots of Motive Power
• "Highway Patrol" - A special display and parade of Dragnet-like vintage police cars from the 60s and 70s
• Antique and Classic Boating Society of Northern California - see classic boats from the polished mahogany runabouts made from the '20s through the '60s to the classic fiberglass boats that changed the face of pleasure boating
• "Greasemonkeys – Kids Funzone Area" - Thrilling bungee jump, waterballerz, rock climbing wall, face painting, body art, glitter tattoos and tons of awesome amusements
• "Bob Senz' Big Cacklefest" - a mass synchronized firing-up of the engines (10am,12pm, 2pm)
• Unimotorcycle Drag Racing - Uniquely wild and crazy, side-by-side, single-wheel unimotorcycle drag racing
• Monster Truck Rides - Experience the rush and excitement of Monster Truck Madness riding high in Survivor Racing's super-charged, super-gnarly monster truck, The Zombie Tracker
• Delicious Food and Drinks - Classic Motor Head Ale, Kolsch and Full Swing IPA from Half Moon Bay Brewing Company, outstanding varietals from Half Moon Bay Winery and go-to traditional cocktails from Longboard Margarita Bar
• Live Music - Stellar non-stop live music all day, bands to be announced soon!
New Event Layout And Points Of Access:
This year's show will feature a new, improved event layout bringing all the attractions closer together and making it a more walkable, unified show. PLEASE NOTE THE NEW POINTS OF ACCESS TO THE EVENT: There are separate entrances for Spectators, and Display Vehicles, Vendors, Sponsors and Volunteers.
SPECTATOR PARKING - ENTRANCE (ACCESS FROM CAPISTRANO ROAD AT THE SOUTH END OF THE AIRPORT) .
DISPLAY VEHICLES, VENDORS, SPONSORS AND VOLUNTEERS - ENTRANCE (ACCESS FROM THE AIRPORT MAIN ENTRANCE ON HIGHWAY 1).
REGISTER YOUR MACHINE: To show a car, truck, motorcycle, aircraft or other machine, the registration fee is $40 ($50 for entries registered after April 15) and includes a custom dash plaque and admission for the registrant plus one passenger (must be together in the registered vehicle).
SPECTATOR ADMISSION: Spectator admission is $25 in advance ($30 at the gate) for adults (age 18-64), $15 in advance ($20 at the gate) for ages 11-17 and 65+, Free for kids age 10 and under (with paying adult).
PARKING: Parking at the event is included in the admission price. There is a designated area for bicycle parking at the south end of the airport at the Mezza Luna walk-in gate.
ACCESSIBLE PARKING: There will be specially marked handicapped parking on the airport grounds. Attendants will be on-site to direct you.
FIRST AID/LOST & FOUND: First aid and lost and found is located at the Information Booth – please refer to the event site map on the website.
NO PETS, PLEASE: Please be considerate. For the safety, comfort, and courtesy of your pets and festival-goers, please leave your pets at home (with the exception of service animals). Large crowds and noise make it a very stressful and dangerous environment for pets.
PERSONAL CONVEYANCES: No personal golf carts or motorized conveyances are permitted at the event. Exceptions will be made for disabled participants with single-person conveyances only. The use of motorized carts, mini-bikes, bicycles, scooters, skateboards, and roller/inline skates is not permitted within the gates of the event.
NOT ALLOWED AT THE EVENT: For the safety and comfort of all of our customers, weapons of any type, booming sound systems, pets (with the exception of service animals), cans and glass bottles are NOT PERMITTED within the gates of the event. No outside BBQ's allowed within the gates of the event. No outside alcohol allowed within the gates of the event.
EVENT DATE/HOURS: The show is open to the public on Sunday, April 30 from 10 am to 4 pm. Gates open at 6:30 am for those that have registered their machine or plan to register the day of show.
EVENT LOCATION: Half Moon Bay Airport, 9850 N. Cabrillo Highway, Half Moon Bay CA 94019 – located on Highway 1, about 20 miles south of San Francisco and 5 miles north of Highway 92.
EVENT BENEFICIARY: The show benefits the Coastside Adult Day Health Center. Thanks in part to fund-raising support from Dream Machines, the modernized, beautiful Coastside Adult Community Center opened in 2014. Drop by their beautiful facility at 925 Main Street in Half Moon Bay.
INFO-LINE/WEB/SOCIAL MEDIA: For event information and registration forms, visit the website https://dreammachines.miramarevents.com "like" our Facebook https://www.facebook.com/dreammachinesshow/ or follow us on Twitter https://twitter.com/dreammachines and Instagram https://www.instagram.com/dreammachinesshow/
For media, sponsorship and commercial exhibitor inquiries, contact Miramar Events at 415-999-2428 or events@miramarevents.com
This is a rain or shine event!