Description
30th Annual Holiday Historic House Tour:
Honoring the Fight for Women's Rights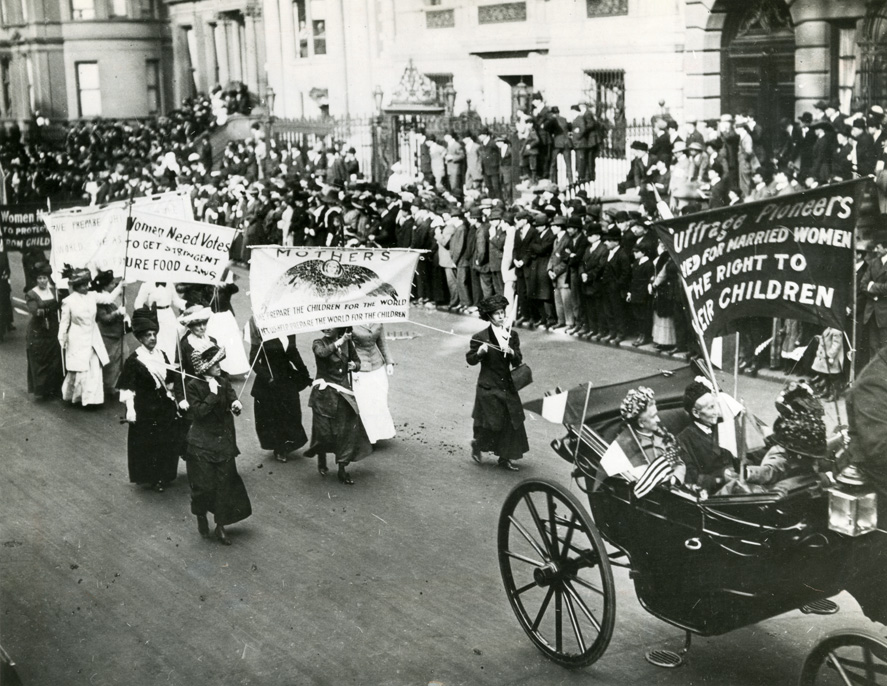 Image Credit: "Suffragette Mothers on the March in New York", silver gelatin print, held in the collection of New-York Historical Society. (Buffalo Niagara Heritage Village)
$15 ADVANCED PURCHASE
$20 AT THE DOOR
$5 CHILDREN (under 12)
Celebrate the holiday season with seven Queens historic sites and learn about their unique histories!
Set your own pace and visit as many sites as you choose. One ticket is good for all seven sites. Each historic house offers tours, sponsors activities, and provides refreshments and snacks. Many of the houses will have musical performances throughout the day, holiday crafts to make and take, and historically- themed seasonal displays and decorations.
Since this year is filled with important historic anniversaries, the overarching theme will be the celebration of The Centennial of the Women's Suffrage Movement. Each house will feature a prominent woman associated directly or indirectly with the historic site. This event will be a point of reflection upon the importance of the women featured, and will greatly aid in recognizing the heritage they left to future generations.
The six sites are within walking distance. There will be a dedicated shuttle that runs between Flushing Town Hall and the Louis Armstrong House Museum. Handouts will be given to visitors for the bus times and schedule.
For more information, contact the Queens Historical Society at 718-939-0647 ext. 14 or via email at: info@queenshistoricalsociety.org.
*All houses are handicap accessible.
Share with us using #HHHT
Kingsland Homestead ca. 1785, was occupied by the King/Murray Family until the 1930s. In 1968, the house was moved from its second FLushing site to its current location. Home of the Queens Historical Society, Kingsland offers school programs, tours, and lectures to the public documenting the history of Queens. Get into the Holiday spirit with our new exhibit "The Sport of Kings in Queens" as well as a surprise musical interlude. Learn about Civil War nurse Annie Cornelia Mitchell Murray. www.queenshistoricalsociety.org
Voelker Orth Museum, Bird Sanctuary & Victorian Garden dates to 1891. Experience old-fashioned hospitality in the former home of three generations of one Queens family. Visit the home of Conrad Voelker, a German immigrant newspaper publisher, who came to Flushing in the 1890s. The Victorian period house is dressed for the holidays. Guests are invited to add some gum drops to the ginger- bread houses on display. Join in a holiday sing- along, and sample some cookies and hot cider. There's also a gift and plant sale, too. www.vomuseum.org
Lewis H. Latimer (1848–1928) was an African American inventor whose innovations in designing carbon laments ushered in the age of electric light. The historic Victorian home
of Lewis Latimer was moved to the current location in 1988 and stands now as a testament to this talented and gracious man. The Latimer House will be celebrating Winnifred Latimer, the granddaughter of Lewis Latimer, who was the driving force in preserving Latimer's legacy. www.latimernow.org
Flushing Town Hall was built in 1862 and was the cultural & political focal point of the village of Flushing. The building features a jail cell; a rich and varied history that includes murder trials, operas, visits by Teddy Roosevelt & Ulysses S. Grant, and a performance by PT Barnum & Tom Thumb. Ella Fitzgerald will be featured at Flushing Town Hall through her christmas music as well as an informational panel teaching visitors about her life. www. ushingtownhall.org
Friends Meeting House is the rst house of worship in the village of Flushing and NY's oldest structure in continuous use for religious purposes. It was built in 1694. The house will be open for tours; be sure to walk around the property and view the historic cemetery. www.fushingfriends.org
Bowne House was built in 1661 by John Bowne. It is known for its connection to the principle
of freedom of conscience in America, linking it to the First Amendment. Bowne House, a city, state and national landmark, was lived in by nine generations of the family. The preservation of the exterior was completed in 2015. Come discover the intriguing past uncovered during these renovations. www.bownehouse.org
Louis Armstrong House Museum was built in 1910. It is a National Historic Landmark and NYC Landmark. Louis Armstrong and his wife Lucille purchased the house in 1943 and it became their permanent home. In keeping with Louis and Lucille's tradition, the house will be brightly decorated for the holidays. Learn about the house's outstanding woman Lucille Armstrong, who was responsible for preserving the Legacy of Louis Armstrong. To her we owe the treasure of a well preserved archival collection. Virtual tour available on ground level. www.louisarmstronghouse.org
~~~