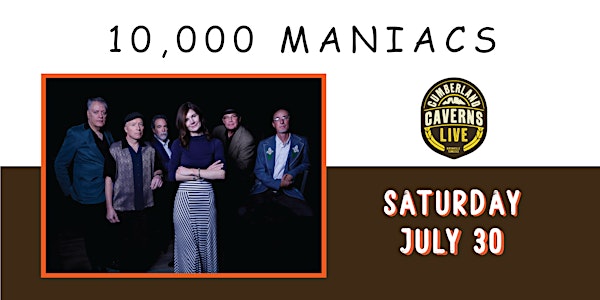 10,000 Maniacs at Cumberland Caverns Live - McMinnville TN - 7/30
Event Information
Performers
Location
Cumberland Caverns Live
1437 Cumberland Caverns Rd
McMinnville, TN 37110
Join 10,000 Maniacs for a one-of-a-kind concert experience 333 feet underground in the spectacular Volcano Room!
About this event
Welcome to Tennessee's largest show cave. Conveniently located between Nashville, Chattanooga, and Gatlinburg, Cumberland Caverns Live offers a one-of-a-kind concert experience!
Located 333 feet below ground, concerts are hosted in The Volcano Room, a natural amphitheater. Here water and time entwined many years ago to create one of the most acoustically pure natural spaces on earth. No man-made sound reaches the Volcano Room and the living rock hued amid the eons is jagged and uneven, providing limited echo. The primordial silence and perpetual darkness give way to the sounds of the finest music on earth. Regardless of outside temperature, the Volcano Room is a constant 56 degrees with 99% humidity.
We recommend wearing athletic-style shoes best-suited for walking or hiking (no sandals/flip flops). Some guests feel cool immediately upon entering the cave but warm up after a few minutes of moving around. Once you are seated for your concert it can feel quite cool, you may want to bring a thin, long sleeve shirt or jacket. The walk from the parking lot to the mouth of the cave is a little under 1/4 mile, and then once inside the cave another ~1/4 mile to The Volcano Room.
Please note: The cave, and the concert venue in the cave, are not handicap accessible due to the uneven pathways, stairs, steep uphill and downhill slopes, and there are some areas that do not have handrails. Strollers, walkers, wheelchairs, etc., will not make it through the cave and we cannot shuttle guests to or from the cave. We strive to keep the cave as natural as possible, but make it safe for our guests to enjoy.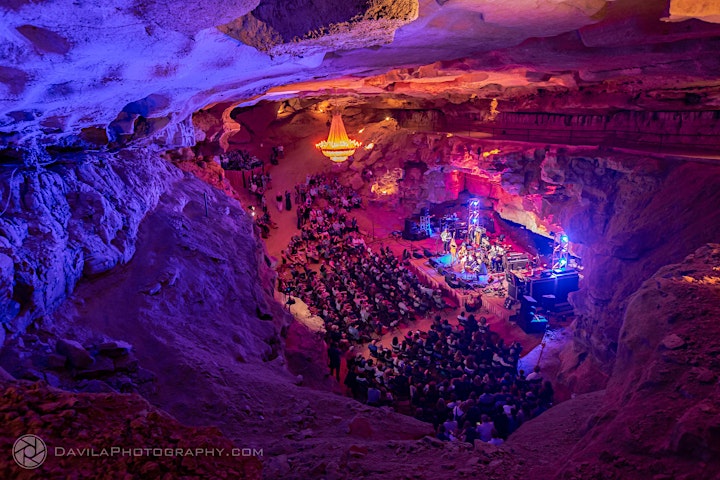 Cumberland Caverns Live is a seated General Admission venue with three entry tiers.
Premium Access - $67.50 per ticket
Enjoy access to The Volcano Room 75 minutes prior to showtime.
Early Entry - $57.50 per ticket
Enjoy access to The Volcano Room 65 minutes prior to showtime.
General Admission - $47.50 per ticket
Enjoy access to The Volcano Room 55 minutes prior to showtime.
Pre-Show Cave Tour - $16 per ticket
Want to explore Cumberland Caverns beyond the Volcano Room? Add the 333 Exploration Tour Package and come early for this hour-long pre-show tour that will take you to seven different parts of Cumberland Caverns. You will also be treated to a birds-eye view of the world-famous Volcano Room stage from high atop the balcony. Make the most of your time with us and explore our beautiful cavern on a concert day! $26.95 value!
*333 Exploration Tour Ticket does not act as a concert ticket. Cumberland Caverns will not allow access into The Volcano Room during the concert unless you have a separate ticket for that show*

Celebrating their 40th Anniversary, 10,000 Maniacs has a lot in common with Jamestown, New York, the city that spawned them back in 1981. Both are honest and hardworking, a step outside the mainstream, and both possess a bit of magic. "It's a city of blue-collar poetry," says keyboardist Dennis Drew. "And that's what we're about, real-life stories. We're a family, we do real work and we keep moving forward."
The band has covered plenty of ground in its 40 years, from cult-stardom to international stardom, to their current status as a cornerstone alternative band. But the sound and spirit of 10,000 Maniacs remains consistent. The live shows embrace their entire catalog, and the lineup is still anchored by four of the six original members. Drew, guitarist John Lombardo, and bassist Steven Gustafson co-founded the band in 1981. Drummer Jerome Augustyniak joined in 1982, solidifying the rhythm section. And the two "new" members have long been part of the family: Mary Ramsey toured and recorded with the Maniacs as a viola player and backup singer beginning in 1991 before stepping into the front woman's role 27 years ago. And the new guy Jeff Erickson, the lead guitarist for a mere 19 years, came in at the behest of his friend and mentor, the late Rob Buck.
The band is still touring and is currently writing new material for a 2021 release.
Performers
Date and time
Location
Cumberland Caverns Live
1437 Cumberland Caverns Rd
McMinnville, TN 37110
Refund policy