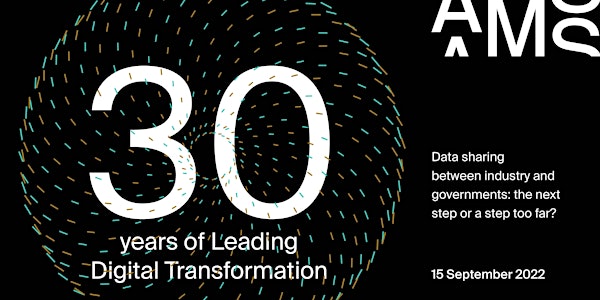 30 years of Leading Digital Transformation
Join us in celebrating 30 years of Leading Digital Transformation
When and where
Location
Antwerp Management School 5 Boogkeers 2000 Antwerpen Belgium
About this event
Streaming movies, live weather radars, medical wearables: our lives have changed drastically. Both technology companies and governments have been collecting and using data, the first to provide better customer experiences and increase up- or cross selling, the latter to promote the common good. At the same time, our expectations have gone up. Personalized services and immediate responses are the new normal.
So what if industry and governments started sharing (more) data? Would we embrace this as the next step in making our lives better? Or would we feel this is taking things one step too far? Can we as citizens control what kind of data is shared and restrict how industry or governments will be using it?
To tackle this issue, we have invited influential digital leaders from both industry and governments. They will provide latest insights on how sharing and integrating data can further impact and improve our daily lives in a more secure way. And from our part, we will show how our Digital Transformation BITM Programs can help executives put these insights into practice.
And of course, there will be plenty of room during the networking reception for sharing your thoughts and discussing the agenda for BITM for the next coming years!
Agenda
18:30 MEET & GREET
19:00 INTRODUCTION by Prof. Dr. Steven De Haes, Dean of Antwerp Management School & Academic Director: "Looking back on 30 years of Business & IT programs and Research"
19:20 SETTING THE SCENE by Mr. Jan Jambon, Minister-President of Flanders: "Strategy & future plans of the Government of Flanders on digitalization and the importance of data"
19:30 PANEL with captains of industry
Mrs. Barbara Van Den Haute (Business development lead public sector Microsoft Belux)
Mr. Erwin Verstraelen (Chief Digital & Innovation Officer, Port of Antwerp-Bruges)
Mr. Luc Hendrix (CEO of CIONET)
Mr. Wouter Van Bockhaven (Associate Professor of Strategy & Innovation Ecosystems, AMS)
20:20
TESTIMONIAL by AMS alumna Mrs. Pascale Van Damme (VP, Dell Technologies & President Digital industries, Agoria)
20:45 Closing & Networking Reception
22:00 End
Practical information
Date: September 15, 2022
Location: Antwerp Management School, Boogkeers 5, Antwerp
Language: English
Price: (incl. btw)
AMS Alumni: 30 EUR
Others: 50 EUR
Our Alumni Ambassadors
A big thank you to our alumni ambassadors Frans Verstreken & Yves Vanderbeken for helping us put this event together and for sharing their expertise.