30-60-90 & SUCCESS THROUGH OTHERS with COLLEEN BASINSKI
Description
SECOND PART OF YOUR LEVERAGE SERIES:
30-60-90
Set your new hires up for success in their role within your organization! When you establish a purposeful first 90 days, you are ensuring that your new hire is highly engaged, forming the right habits and ready to help you fulfill the vision you have for your business.
The hiring process begins with the KPA and Career Visioning and continues with 30-60-90 – it doesn't end on your new hire's first day. This course will walk you through the entire onboarding process, from preparation to evaluation, maximizing your new hire's success trajectory, and as a result, your own!
Objectives:
Identify the preparation steps that will support a smooth onboarding and training process

Master the art and science of setting expectations

Discover how to systematically and purposefully evaluate your hires to maximize their performance
Audience:
Anyone who is interested in building a successful business through other people. The systems and tools in this course are applicable to any hire or recruit.
SUCCESS THROUGH OTHERS:
In Career Visioning, your focus was on finding the right candidate. In 30-60-90, you discovered how to set up your new hire to thrive. In Success Through Others, you will discover how to pour into your talented team members in order to create opportunities for them so that they can fulfill their own needs. As a result, your business will grow!
When you are committed to succeeding through others, you maximize your retention of amazing talent. And, when you are bringing top talent to your team and taking care of them, they will take care of you!
Objectives:
Learn how to empower your people to build their empire inside of yours

Discover how to align their motivational story to your vision

Leverage key tools such as the GPS and 4-1-1 in order to help set their vision
Audience:
Anyone who is interested in building a successful business through other people.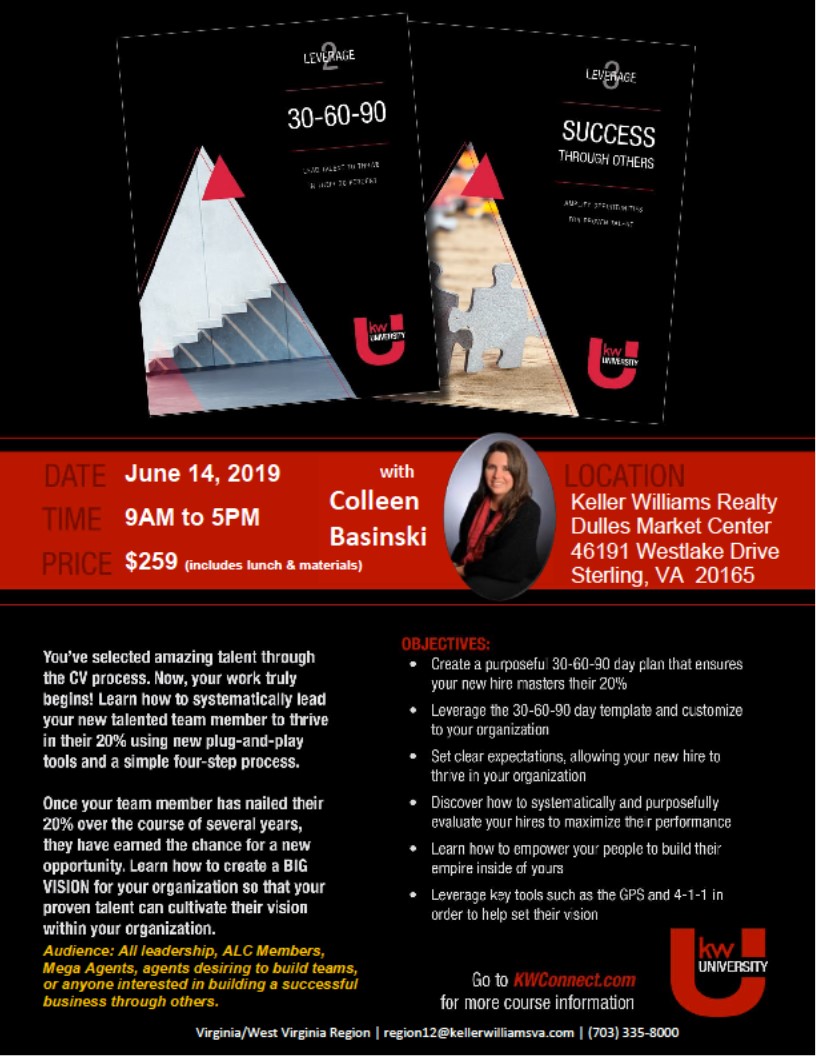 TERMS and CONDITIONS - Please read carefully before registering as they have recently changed
An Eventbrite fee will be applied at checkout.

Full-priced registrations may be canceled within 48 hours after registration for a full refund.

After the initial 48-hour time frame, registrations are NON-REFUNDABLE.

Registrants who do not attend, "no-shows," will not receive a refund.

All refunds and cancellations must be requested in writing to the event organizer.

Registrations CANNOT be transferred to a future event.

Registrations are fully transferable for this event only. Contact the event organizer at region12@kellerwilliamsva.com.

The transfer to another associate can only be used once.

The transfer to another associate cannot be used for a future offering of the same event or any other event.

The registration fee includes instruction, lunch and materials.