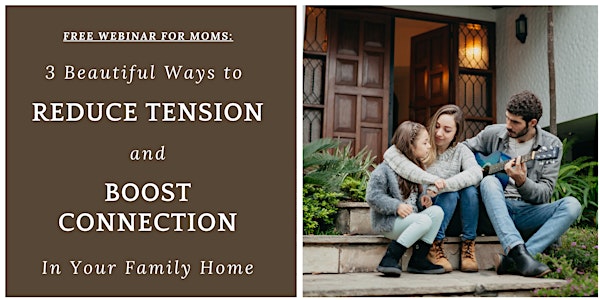 3 Ways to Reduce Tension and Boost Connection in Your Family Home
Heal Your Home, Heal Your Family. Free webinar for moms: 3 Beautiful Ways to Reduce Tension and Boost Connection in Your Family Home.
About this event
This is for you, Mamas!
Have you been living in a household that feels full of tension, irritability or anxiety? Do you feel like you're all constantly getting on each other's nerves? Are you worrying about how the next many months of working/learning together from home is going to take its toll on your family? If you're ready for the energy and moods in your home to feel lighter, calmer and more connected for all of you, this free webinar is for you.
In this free webinar you will...
Discover how your home influences the moods, health, sleep quality, relationships and potential success of everyone in your household.
Leave with natural, powerful tools that relieve tension and improve connection between family members (environmental healing).
Learn efficient 2-for-1 strategies from a Feng Shui expert to transform your home and life together to feel more peaceful, joyful and beautiful ASAP.
This opportunity is for you if you can say yes to any of the following:
The relationships between any of your family members feel tense, strained or disconnected
Anyone in your home has been struggling with physical, emotional or mental health issues
You'd like to set yourself and your family up to experience stronger health, more joy and connection, and boost career success
You'd like to use what you have at home to make your environment feel, look and function better for your and your family's needs
You value holistic healing practices and want to learn more about using the energy in your home as a tool to dramatically transform your family's health and happiness.
You'd like to see your struggling family members overcome their obstacles, so that you can not only feel a sense of relief for them, but also a sense of freedom to invest more time and energy into pursuing your own goals and dreams.
Everyone in your family deserves to be healthy, happy and successful (together and individually), and environmental healing may very well be THE catalyst you've been looking for to lift your family out of a rough patch. It certainly has been for my own family and those of my clients.
This webinar will be valuable, whether you feel like your home tends to be chaotic and overwhelming or if it always feels to you like an uplifting sanctuary. Either way, if your family has been struggling, I recommend setting aside this short amount of time to learn more.
Register now to reserve a spot, and a Zoom meeting link with additional details will be sent to you as your selected date gets closer.
I look forward to seeing you there!
Sara Fletcher
Certified Feng Shui Consultant & Owner of Love Home Life
www.lovehomelifecenter.com