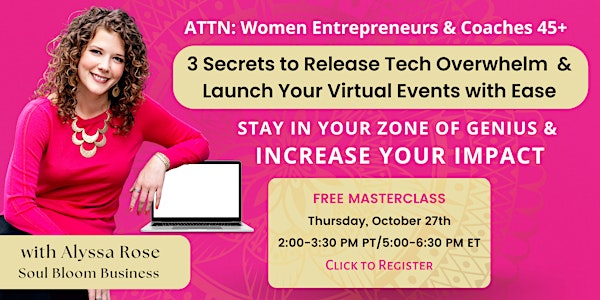 3 Secrets to Release Tech Overwhelm & LAUNCH Your Virtual Events with Ease
Overcome tech overwhelm with strategies & techniques that will help you stay in your zone of genius and enroll more clients!
About this event
ATTN: Women Coaches & Entrepreneurs over 45
💥Are you tired of spending ENDLESS hours trying to set up the tech for your online events??
💥Do you know in your heart that you could be further along in your business & have MORE clients, if you had support with technology & online business systems?
💥Do you feel like giving up on planning your online event(s) because you don't know how to use the tech systems?
💥Are you done being frustrated with technology and ready to get support so that you can stay in your zone of genius and have more flexibility and freedom in your business?
If you answered yes to any of these questions, this training is for you!
During this Masterclass, I will be bringing you over 10+ years of experience as a systems management expert and introduce to you my proven steps to overcome technology overwhelm so that you can stay in your zone of genius, enroll more clients, and grow your online business with ease.
At this Masterclass you will discover:
✅ PROVEN steps to overcome technology overwhelm
✅ CLARITY about what technology tools you need to run your online business with ease (with easy to understand language!)
✅ UNDERSTANDING of the LANGUAGE of technology and the "FUNNELS" that will support you in launching your online events and growing your business
✅ DISCOVER the top 3 mistakes new coaches make when launching their businesses online
✅ SUCCESS STRATEGIES to help you create momentum in your business growth
*******************************************************************************************************************
"You don't GROW to the level of your goals. You FALL to the level of your systems!"
- James Clear, CEO of Atomic Habits
***********************************************************************************
TESTIMONIALS
"Alyssa is the total package. She is smart, efficient, dedicated, empathetic and loving. She is invested in her clients' success and works hard to provide exactly what they need: encouragement, patience, next steps, outlines, resources; she goes above and beyond. Alyssa is an inspiration. She believes in your success, helps you see yourself achieving that success, and shows you the path to get there. My business is lightyears ahead of where it would be without her love, support and guidance. You will love working with Alyssa Rose! I am deeply grateful for her support."
- Allison Michelle, Founder & CEO of Allison Michelle Co, Teen Parent Support Specialist, Artist & Educator
"She guides the new entrepreneur through the thorny thickets of marketing, PR, future planning, and can write the most incredible copy! I would recommend others use Alyssa Rose's technology & business launching services in a heartbeat. Alyssa has the ability to see the business as a whole instead of a series of moving parts. I've learned the importance of following up and personal client contact. By working with Alyssa, I've retained clients through targeted marketing and learned to pivot to expand my business.
Now that I've worked with Alyssa, I feel more confident about launching my business and feeling grounded in both marketing and legal issues. Alyssa also helped me retain LegalShield and understand the importance of starting a non-profit in addition to my LLC."
- Sandra H., Founder & CEO of Wild Women Leaders of Color and The Stealth Auntie Network, Transformational Coach
"I would recommend other people consult Alyssa when they need someone they can trust to help them implement technology and launch their business, but also to provide incredible advice for packaging, pricing, marketing and networking to grow your business if you're struggling. She has an amazing wealth of knowledge and shows up as the professional expert you need to get your business going with real results. Alyssa provides genius ideas to boost your business and get it out of a rut.
Alyssa's gift is understanding what your business is and your niche, and providing expert ideas that are very specific for your industry that help you grow your business with REAL RESULTS. Plus, she is incredibly kind, loving, compassionate, supportive and positive. Her energy is electric! She'll boost your confidence like no other. She'll be your biggest cheerleader and advocate even when you're feeling a little deflated. I can't recommend her enough!"
- Suzie D., Founder & CEO of Rainbow Spirit Healing
JOIN THE MOVEMENT
Join the Business Tech Empowerment Source Inner Circle. We are building a powerful community of women who are committed to overcoming tech overwhelm and launching & growing their online businesses so that they can create their dreams into a reality!
ONLINE CLASS
ONE Zoom link will be used for this training! Scroll to the bottom of your registration confirmation email for ADDITIONAL INFORMATION or click "VIEW ONLINE CONTENT" to get the ZOOM LINK.
SAFE CONTAINER
We are committed to creating a safe & sacred space for vulnerability and growth. You will have the safety and support of the whole group, and the knowledge that everything that happens in our time together is private and protected.
If you have any questions, please EMAIL the HOST.
ABOUT THE HOST
Alyssa Rose Huebner, Founder & CEO of Alyssa Rose's Creative Agency & the Blooming Business Academy, supports women entrepreneurs to overcome the frustration, time-suck, and technology overwhelm during their online business launches with "done-for-you and done-with-you" tech support, launch strategy & business consulting so that they can stay in their zone of genius, enroll more soul-aligned clients, and live the life they've been dreaming of! Alyssa is passionate about supporting women in getting their business & personal life legally protected as they grow their online businesses so that they have the "know-how", safety and security of doing business legally & professionally.
Alyssa Rose has worked in system management for over 15 years, first as a molecular biologist & neuroscientist, and then as an entrepreneur, starting up and consulting numerous businesses. She holds a deep vision for women to live financially and geographically free as they embark on their entrepreneurial journey! Alyssa Rose enjoys yoga, cooking, singing, mediation, laughter, nature, and organic gardening, and regenerative medicine.