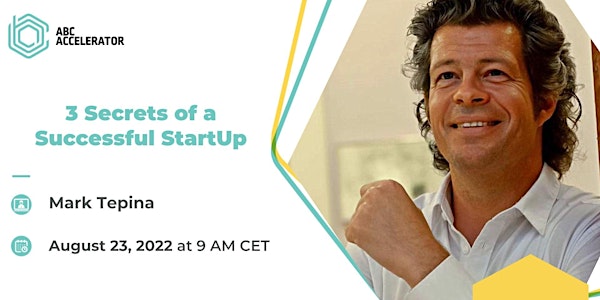 3 secrets of a successful startup
3 secrets of a successful startup - Mark Tepina
About this event
ABOUT THE EVENT
There are 3 steps you need to take for building a successful startup.
At this event, we will walk you through a successful process and show you what you need to implement for your startup to succeed. We will show you the right action steps and make sure you understand and implement them.
WHY SHOULD YOU ATTEND?
The purpose of this event is to show you what are the three main areas you should focus on for your startup to go to the next level. We'll be sharing our 10 years' experience.
ABOUT MARK TEPINA:
Over the last 10 years, Mark has helped more than 5.000 people to Unlock their True Potential. Typically his clients get to know themselves better using Your Life Assessment, which translates to more money, improved relationships, and better health. Most of them start living happier and more successful lives.
Mark is an active, youthful, and persistent communicator who loves helping people. Using his charisma and determination, he steps into an unknown world. Mark sees the world with different eyes and he is aware that he will be rewarded along the way only when he conquers his fears and overcomes himself.
● COFOUNDER OF SM SUCCESS ACADEMY",
● AUTHOR OF "YOUR LIFE ASSESSMENT",
● BOARD CONSULTANT,
● SAILED ACROSS THE ATLANTIC OCEAN,
● RAN A FEW HALF MARATHONS,
● FIREWALKER.
MAIN OUTCOMES:
You will recognize, uncover and put to use the most powerful resources you already possess: the courage, faith, determination, passion, and drive to grow, contribute and celebrate your successes. Start to bring your goal to life.
WHO IS IT FOR?
For startups and business owners that are:
Ready to experience success
Serious about growing their Startup
Wanting to make a greater impact on the world
Willing to be uncomfortable & play a bigger game
Want to help others with their service or product
If you are tired of not putting yourself first & you're ready to go all in
If you are serious about growing your Startup
Want to learn how to understand and be understood
Have a service or product to sell
Have a capacity to take more paying clients
JOIN US ON AUGUST, 23 AT 9 AM!
We have 30 spots for these workshops.
The application process applies.
Join us today by applying via Eventbrite and let's do this ✌️
❗ This workshop will be held in English and is FREE of charge! Hurry, the number of tickets is limited. It will be hosted online. You will receive a link to access the webinar two days and two hours before the event starts.
❗❗ Warning: the webinar is being recorded. To fulfill the Call to tender "SIO 2020-2022", your personal data will be forwarded to the contractual partners of the said tender (SPIRIT Slovenia, Ministry of Economic Development and Technology, European Regional Development Fund).

The event is co-financed by the Republic of Slovenia and the European Union from the European Regional Development Fund. The operation is being carried out under the "Operational Program for the Implementation of the European Cohesion Policy 2014-2020", priority axis: "3 Dynamic and competitive entrepreneurship for green economic growth".
www.eu-skladi.si