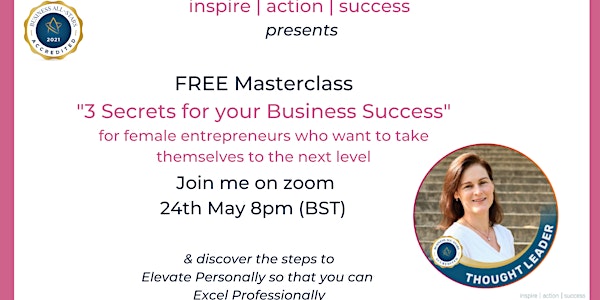 3 Secrets for your Business Success - for female entrepreneurs
Sharing with you 3 secrets that will empower you to move forward in yourself and therefore in your business.
About this event
Welcome and thank you for your interest in my upcoming Free Masterclass.
Is this you?
You are a new or established female business owner
You are ambitious.
You have visions and dreams.
You set goals and in your mind you know what needs to happen.
But somehow, you cannot seem to move forward.
You feel stuck.
Stuck in your own spinning
In your limiting beliefs.
In procrastination, yet overwhelm.
In low energy.
In fear and maybe even ready to give up.
So How do you move forward?
Let me help you!
Join me on this FREE Masterclass on Tuesday 24th May at 8pm where I will share with you 3 simple yet very effective secrets for turning things around for you.
As a very successful Project Manager for over 20 years, and now a Success Coach, I have not only taken other people's ideas and visions and made them a reality, but also my own goals and dreams.
I am excited to share my learnings and tips with you.
If you would like to get recharged, inspired and are curious and open to learning, I invite you to sign up now to this FREE event.
FEEDBACK
If you are not sure if I am the right person, or this is the right way to spend your very valuable lunch hour, let me share feedback from previous attendees.
"Fantastic webinar by Fiona, really reset my focus and structure around my routine and goal"
"I have attended one of Fiona's online coaching sessions which gave me a lot to think about and focus on, as far as limiting believes and where I wanted to go next- as far as my own business goals. It was a brilliant, informative and friendly session with some other super ladies"
"Got a lot from it, now I can prioritise"
"Really good - better than expected"
"Definitely above my expectation!"
"This was so inspiring and really thought provoking to look in to why my goals aren't moving forward"
"It was great. very comprehensive & you broke it down easily"
"Thank you, you've empowered me to take the plunge......This has been amazing!"
"I knew it was be going to be great but this has been beyond,... Even better than I expected...."
About Me:
I am Fiona Brennan, Success Coach and Project Manager. I have a passion for people and for getting things accomplished. To take ideas and visions and help make them a reality.
I help female entrepreneurs who are on a mission to succeed in their business, to make a difference for themselves and others but right now are feeling stuck, frustrated, overwhelmed and tired, have reached tipping point and ready for help.
I do this holistically with personal transformation, action planning, accountability and strategy coaching.