Description
"A practically perfect work of political theater! Funny, exciting and inventive, [3 RITES: Liberty] is the most far out thing I've ever seen in my life!" - Abigail Weil, The Theater Times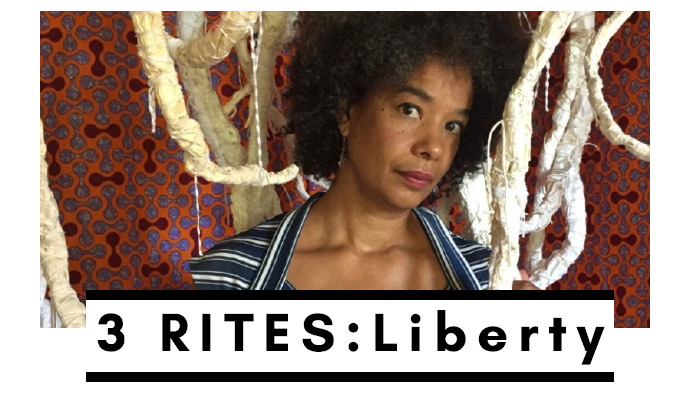 A WORK IN PROGRESS
By DELIRIOUS Dances / Edisa Weeks
As our nation continues to grapple with economic stratification, fake news, confederate monuments, and Black Lives Matters, 3 RITES: Liberty humorously and poignantly insists on a reckoning. Connected like a puppet to objects that have informed the Black experience in America, multi-media artist Edisa Weeks alternates between black face, white face, storytelling and dance to dig into the pathologization of African-Americans and the foundations of Liberty in America.
EDISA WEEKS
Edisa Weeks is a Brooklyn, NY based choreographer, educator and director of DELIRIOUS Dances. Weeks creates intimate environments that merge theater with dance. Described by the New York Times as having "a gift for simple but striking visual effects," her work has been performed in a variety of venues including Aaron Davis Hall, Alfred University, chashama theater, Dixon Place, Emory University, Works & Process at the Guggenheim Museum, Harlem Stage, Jacob's Pillow, The Kennedy Center, The Massachusetts International Festival of the Arts, The Mermaid Parade, The National Black Arts Festival, Summerstages Dance Festival, and The Yard. She has also performed in swimming pools, senior centers, sidewalks, storefront windows and various living rooms, including living rooms in Berlin, Germany, as part of Haus der Kulturen der Welts 50th anniversary celebration.


Organizer of 3 RITES: Liberty
Founded in Brooklyn, NY in 1988, the mission of 651 ARTS is to deepen awareness of and appreciation for contemporary performing arts and culture of the African Diaspora, and to provide professional and creative opportunities for artists of African descent while simultaneously presenting international and regional works in dance, music, multi-media and theater.