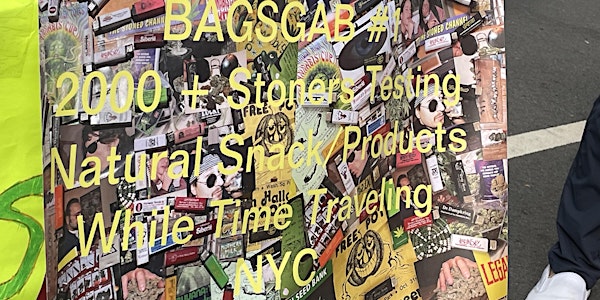 3 Month NYC Natural Product Revolution
Self guided nyc history tours stop clues lead to bag distribution stores, flocking hubs, filming locations and nightly downtown partying.
When and where
Location
New York 154 West 46th st New York, NY 10017
About this event
Bagsgab creates NYC festivals testing new natural products using participating businesses and daily rented commercial spaces that last 40 daze and 40 nights during 3 months.
Bagsgab #1 will test market this concept using NYC history tours around old Dutch New Amsterdam.
A call to arms for local natural product enthusiasts. Help start the revolution and make NYC smell sweeter. Your reaction shots turn you into the spokespeople for new natural snacks, foods and products. Play NYC history games with your team at flocking hubs and win daily prizes. Nightly sponsored party events will have great swag.
Daily bag distribution sites will start March 27, 2023. Free inclusive N bags will be distributed with store purchase. Themed team Hawaiian shirts are also sold as well our exclusive X bag. N bags get you into most events (some require upgrades). X bags gets VIP access to all events. Prices for X bags are fluid and change depending on market conditions.
On this conservative ticketing site you a free American can only buy clues to our daily history trails. Other hipper online ticketing sites will certainly give you more access. Paying $4.20 will give you and your friends the location of the first stop on one daily NYC self guided history tour. At that location you will get a printed daily tour guide and the time of that days distribution. Along the history tour other clues to the daily distribution location are given at participating businesses. Paying $4.20 does not guarantee that you'll find our daily distribution stores in time to score. Please remember we only give out and sell bags for a few hours at a different mystery location each day.
For N and X baggers who don't do the daily history trails that lead to our hidden event locations. We send those locations to all registered Bagsgab participants each day by 4:20. We save the best for last during the final weeks of events.
Bagsgab #2 will explore Kids Picture Books with kids, parents, book publishers, toys and natural product companies. After school events revolving around different traits and virtues. See tellitales.com for inspiration.