3 Keys to Transform & HEAL Your Home, Body & Mind (All at the Same Time)
FREE 3-day masterclass for holistic women in mid-life ready to break free from old patterns of clutter, chaos and stubborn health issues.
About this event
Welcome!
Are you a holistic woman in mid-life who's been battling stubborn health issues for years (i.e. weight management, autoimmune disease, hormone imbalance, pain, injuries, anxiety, sleep problems, medical mysteries, or something else infuriating)?
Have you also spent years (maybe even your whole life?) living in a cluttered, chaotic and overwhelming environment that often makes you feel embarrassed, depressed and energetically drained?
Do you feel like you've already given your best and tried SO.MANY.THINGS to break free from this set of challenges, but your current reality still has you feeling stuck and held back from the vibrant, peaceful, fulfilling life you really want to be living?
If these are all a "YES" for you, keep reading.
As an Intuitive Home Environment Coach and a Certified Feng Shui Practitioner, I can tell you that the energy behind what's been happening with your health and the energy behind what's been happening with your environment go hand-in-hand, and it has all been working together in ways that have been keeping you stuck.
As I've seen for myself and my clients over the years, effectively shifting the energy of the environment has been an absolute catalyst for overcoming stubborn health issues. This is why I created this (free) 3-day masterclass for you to explore a new path toward healing and upgrading your quality of life across the board:
3 Keys to Transform and HEAL Your Home, Body and Mind (All at the Same Time)
This 3-part series was designed to help you...
Deepen your awareness around the role your home environment plays in your physical, mental, emotional health and more, so that you can identify new ways to reduce, eliminate and/or avoid further suffering.
Discover what it really takes to overcome years of clutter and chaos, so that you can make conscious choices that STOP dragging you down and holding you back from the life you want to be living.
Learn key criteria for creating an environment that actually supports DEEP, ongoing healing and transformation in your body, mind and spirit, so that you can continuously be EMPOWERED to live up to your highest potential.
Registration and Access Details:
This is a FREE 3-part masterclass that will be held live on November 3rd, 4th and 5th from 11:30 am - 12:30 pm PT each day.
This series will be held on Zoom and streamed into my private, women's Facebook group. Recordings will be available for a very limited time. Access details, reminders, recordings and workbooks will be emailed to those who register.
Participants will have opportunities to win 1:1 virtual healing support opportunities valued at over $300 USD.
This is for you if you can say YES to any of the following:
You've been on a healing and/or personal development journey of some kind (i.e. physical, emotional, mental, spiritual, relational...)
You value holistic practices and energy healing
You've been feeling "stuck" in life and are looking for a breakthrough (i.e. health, career path, relationship, opportunity...)
Your home has felt uninviting, uninspiring, disorganized, messy and embarrassing for years, and you've never known how to make it feel significantly better or been able to sustain any improvements
You're tired of living in a home that makes you feel worse, rather than better
You've never lived in a home that felt truly uplifting and nourishing or that made you feel proud and worthy
You deserve a better quality of life, as well as support to heal what needs to be healed from your past and present, so that the steps you take into the future are leading you toward your highest potential. This opportunity will help you do just that.
Looking forward to connecting and sharing with you,
Sara Fletcher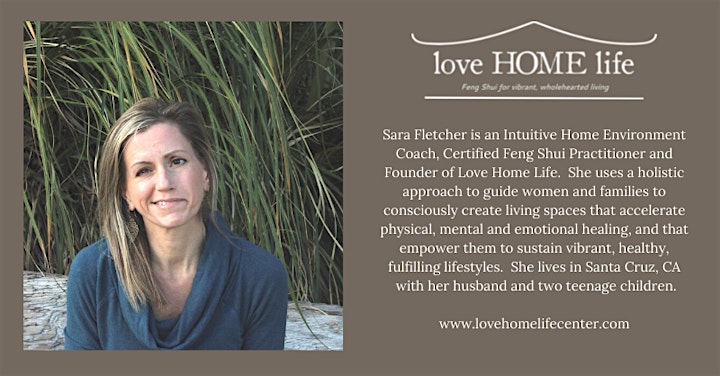 Organizer of 3 Keys to Transform & HEAL Your Home, Body & Mind (All at the Same Time)