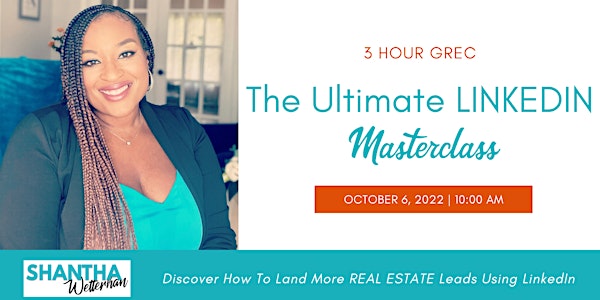 (3 Hour GREC) The Ultimate LINKEDIN Masterclass
Discover How To Land More REAL ESTATE Leads Using LinkedIn
About this event
GREC Course 67938
Using LinkedIn to Generate Leads for REAL ESTATE Professionla
____________________________________________________________________________________
Did you know that LinkedIn is the largest online networking platform in the world.
Discover How To More Real Estate Clients and More Leads using LINKEDIN... Without Wasting Time On Marketing Strategies That Don't Work.
In this masterclass I'm going to cover how to use LinkedIn to drive targeted leads to your real estate business.
You can use these techniques to land more real estate clients, be seen as a local expert, and even drive more leads!
I will even show you my secret strategy for growing a valuable network full of your ideal target market.
In fact, here's just a sample of what we'll cover in this incredible masterclass event:
* The secret to setting up your profile the right way (so that you are found easier when people are searching for you and your services)
* My framework for growing your LinkedIn network to drive more leads and referrals
* My step by step process for using the LinkedIn search feature for effective prospecting and farming
* How to leverage LinkedIn to stay top of mind with your sphere of influence
... and much, MUCH More!
Don't miss this breakthrough masterclass that will finally show you how to get more leads and make more money using LinkedIn.