Description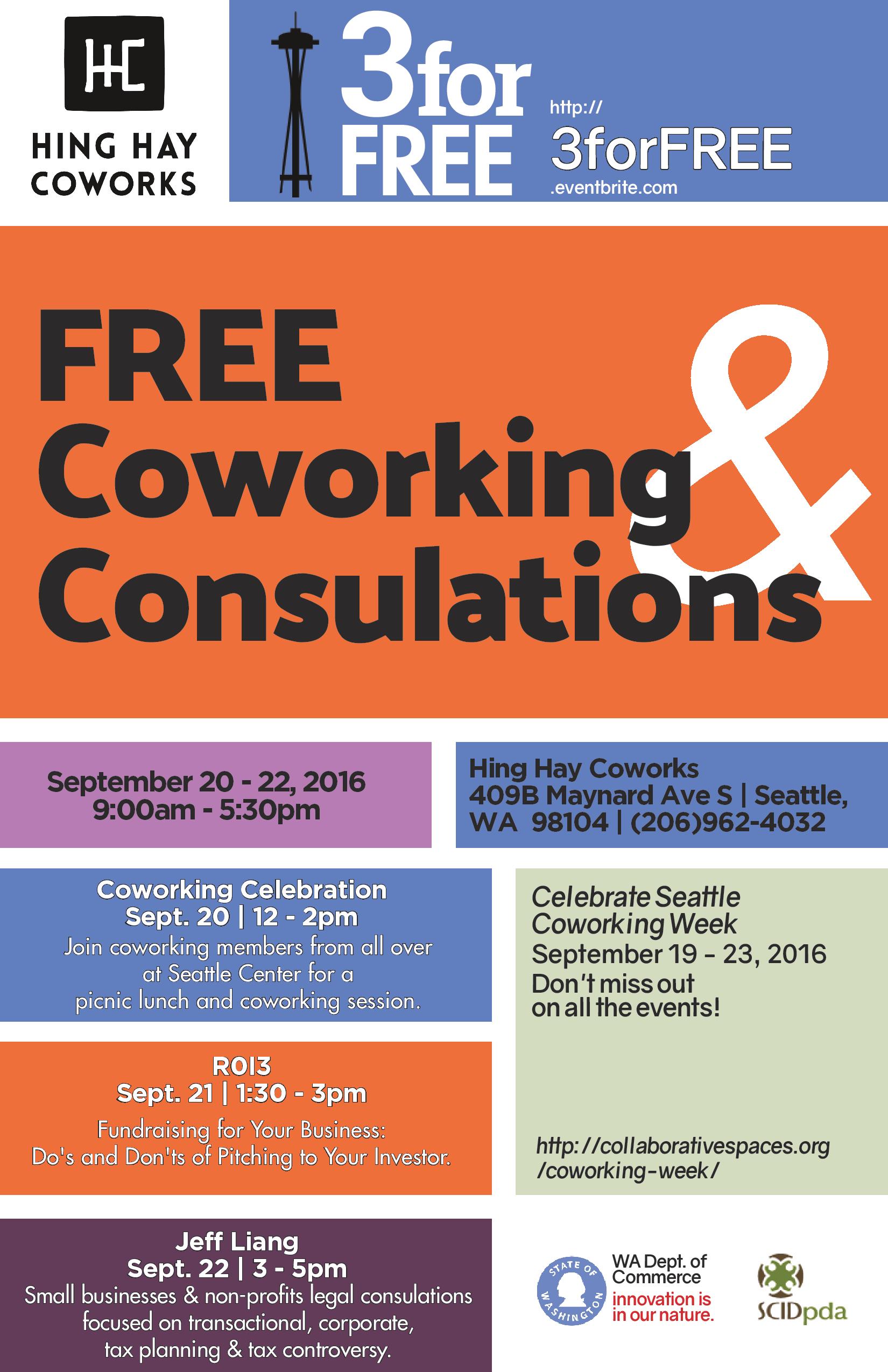 Join us for our Three-For-Free event at Hing Hay Coworks. As professionals, running and starting a business is not as easy and glamorous as it looks. There are many nuts and bolts that go into having a successful business. Whether you are a startup, freelancer, or entrepreneur, the business journey is a long one.
But know, you are not alone. Join us as we celebrate YOU! Stop by for three free days of coworking, consultations and workshops to help you succeed.
Events on Sept 20
Events on Sept 21
"Fundraising for Your Business: Do's and Don'ts of Pitching to Your Investor," with Aaron Rose will explore effective methods for entrepreneurs to engage prospective investors and provide a thorough understanding of what investors expect when considering making an investment in an early-stage company.

The presentation will include a discussion on how investors evaluate risk, the expectations for entrepreneurs to understand the strategic alignment of their company's business model and financial strategy, and avoiding common mistakes entrepreneurs make when seeking funding from investors.

1:30-3:00 Workshop
Events onSept 22

Legal Consultations – Ling Liang PLLC No one ever said that running a business would be easy. With so many factors to consider, it's easy for things to become lost in translation. Hing Hay Coworks is teaming up with Jeff Liang of Ling & Liang PLLC to provide FREE legal consultations. All consultations will take place at Hing Hay Coworks.

3:00-5:00 (two 25-min consultations, 1 hr open office hours)
For questions, please contact Eliza at info@hhcoworks.org.
About our Specialists:
Aaron Rose has provided financial and advisory support to early-stage companies since 1995.
Portfolio companies reside in the information and communication technology, renewable energy
and clean technology sectors. He also serves as president and CEO of ROI3, Inc., a company
whose mission is to empower people in emerging economies through innovative, technologybased
solutions. Prior to the founding of ROI3, Aaron served as president and CEO of Global
Tactics (formerly known as Rose Consulting) where he provided expertise to Fortune 500 and
small businesses alike on global strategic planning and business development, international
growth management, and knowledge management. In the public sector, Aaron advised
governments to promote comparative national advantages to attract foreign direct investment to
stimulate private sector development.
Jeff Liang is a 2007 graduate of Seattle University School of Law and co-owner of a small firm, Ling & Liang, PLLC, located in Seattle's International District. His practice focuses on helping small businesses, non-profit organizations, and individuals with transactional, corporate, tax planning, tax controversy, and estate planning issues.