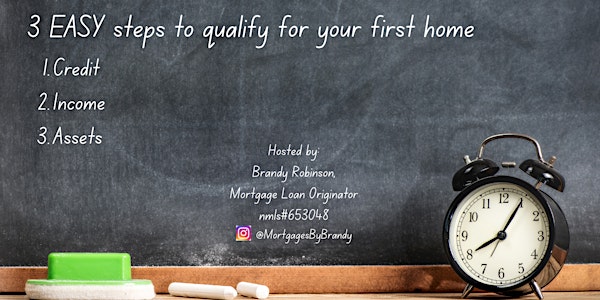 3 Easy Steps to Qualify for a Home Loan
If you want to buy a home you've come to the right place. Free event in a casual group setting where you can ask questions This FREE works
About this event
Buying a home does NOT have to be a stressful experience!
Free event in a casual group setting where you can ask questions
This FREE workshop is for you if...
You are buying a home for the first time
You are overwhelmed with everything that you need to do
You don't know what your credit should like or how to improve it (if needed)
You would like to learn about down payment assistance programs and grants to help with your down payment
Testimonial:
"Brandy was recommended to me specifically for her patience and commitment, and she did not disappoint... As one of the first people I contacted before I started looking at homes, I can't express enough my purest appreciation for all the assistance she provided me throughout the long process to ensure my comfort from beginning to end. It was a pleasure." - David O.
You will learn...
What you credit score needs to be (and how to increase your score as fast as possible)
How much money you will need including your down payment and closing costs
All of the costs associated with buying a home
What to expect during the process
The Details:
LIVE ON ZOOM. you can also email Brandy.Robinson@gatewayloan.com
I know this workshop will put you on the right path to buying your very own home! Register now!