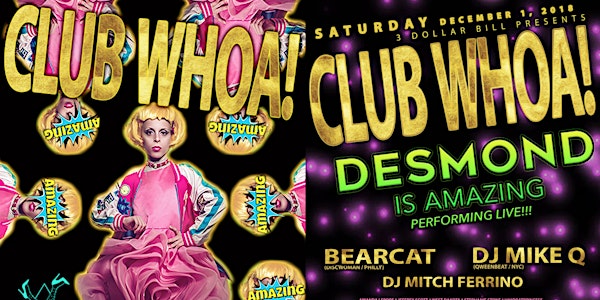 3 Dollar Bill Presents: "CLUB WHOA!" feat: DESMOND IS AMAZING LIVE!!!
Only in New York... a nightclub that makes you go WHOA!!!
When and where
Location
3 Dollar BIll 260 Meserole Street Brooklyn, NY 11206
About this event
3 DOLLAR BILL PRESENTS: "CLUB WHOA!!!"
ONLY IN NEW YORK CAN A CLUB MAKE YOU GO WHOA!!!
RUNWAY RIGHT UP AND SEE THE ABSURD DRAMA!!!!!
FEATURING: Upcoming Legend from Television and the Runway: DESMOND IS AMAZING!!! PERFORMING LIVE! @desmondisamazing
DJS: BEARCAT (Discwoman/Philly) www.instagram.com/b_e_a_r_c_a_t
MIKE Q (qweenbeat productions/NYC) https://www.instagram.com/theonlymikeq
MITCH FERRINO https://www.instagram.com/mitchferrino
YOUR HOSTS: VFILES AMANDA LEPORE * JEFFREY SCOTT * WEST DAKOTA * P_A_T * STEPHANIE STONE * BOY RADIO * SWEETSERIALKILLER * JACOLBY SATTERWHITE * JESSA ANGEL * JAMIL MORENO * DEZ * KIWIFAG * ZUNI CASTILLO * NICKY OTTAV * RIFY ROYALTY * KYLE FREEZE * KENNI JAVON *
****
3 DOLLAR BILL is QUEER OWNED & OPERATED AND WE FOSTER A SAFE SPACE FROM LOVE. WE RESPECT ALL HUMAN PERSONS AS LONG AS THOSE HUMAN PERSONS ARE ALSO RESPECTFUL TO THE ONES AROUND THEM.
THIS STAGE, THIS DANCE FLOOR, THIS HOUSE... IS OURS AS LONG AS WE PROTECT IT.