3 Days Yoga, Slow food & Equine therapy in an Eco-friendly Residence at Do...
Description
Dedicate your Memorial weekend to release stress and improve body & mind balance in a tropical paradise
This is a 3 nights fun yoga break in Las Galeras, at the very Northeastern end of the Dominican Republic, suitable for those ranging from beginner to intermediate level. Yoga is combined with other enjoyable and inspirational wellness activities that include meditation, equine therapy, community service, and activities in nature. Here, the benefits of yoga are perfectly combined with healthy and tasty food designed by an Italian food specialist with local and fresh tropical ingredients.
Guided by a certified Yoga Alliance® teacher, the program of this holiday is conceived as a menu of multiple activities for participants to enjoy wellness in a tropical relaxing environment… and good food! so that meals are moments of pleasure. The objective of the WE is to offer wellness and personal growth activities in a nice, natural and fun environment. A peaceful mind in a more flexible body.
Included in the price are all activities, food, non-alcoholic beverages, spacious accommodation and activities transportation.
Facilitators
Lina Medina Di Carlo - Yoga
With over 20 years of experience in Yoga and Pilates, Lina is a certified Yoga Alliance® teacher dedicated full-time to teaching yoga in the Punta Cana area. She is committed to sustainable development, values local resources and responsible consumption.
Nora Nova - Equine Therapy
Veterinary and Psychologist, Medical Director of Dominican Center for Hippotherapy (Equine), Nora believes that contacts with animals can help people feel, look and act better. Equine therapy establishes an intimate connection with the horse. One of Nora's exercise is to touch the horse and breath at the same pace, establishing a special communication. As the movement of the horse provides 3-dimensional pelvic mobility, Nora use horses to motivate adults and children to improve body awareness and alignment, stability, bilateral integration, activate circulation, have better posture, muscle tonus and self-confidence.
Sergio Boschetti - Slow Food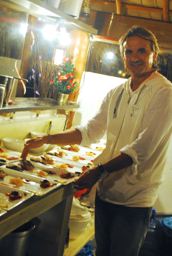 Food and flavors creator, installed in Las Galeras (Samaná, D. R.) for more than 10 years, invites us to open our minds and to taste audacious, health and balance combinations of fresh, natural ingredients, including tropical plants and spices. Promotes the 'slow food' and defends 'the art of good food' based on local resources and sustainable tourism.
What is included
4 Hatha Yoga, pranayama & meditation sessions
with a certified yoga teacher

1 Equine therapy session

3 Nights in a cozy accommodation in the nature of Samaná

3 Slow-food degustation dinners, 2 lunches, 3 breakfasts prepared with local fresh ingredients

Beach and activities in the nature

Live local music, chants and meditation

Unlimited drinking water and herbal teas

Healthy snacks, fresh juices and fruits

Yoga mats

Pool & beach towels

All taxes & fees
---
Program
Day 1 - Friday 26: arrival and welcome
Day 2 - Saturday 27: morning yoga at the sunrise, silence walk in tropical nature, equine therapy
Day 3 - Sunday 28: morning yoga, equine therapy, community work and sunset yoga at the beach
Day 4 - Monday 29: closing activity
---
Location
Las Galeras is located at the end of the road in the tropical nature of Samaná, Dominican Republic, a region known for its coconut trees and lush vegetation. The village is only a few minutes from the most beautiful Dominican beaches, an oasis of tranquility up the hill with amazing ocean views.
Accommodation
Las Galeras Village (www.lasgalerasvillage.com), is a gated complex of 9 villas with an eco-friendly,self-sustainable philosophy, a few minutes' walk to the small fishing town of Las Galeras. The electricity is solar, produced by photovoltaic panels. The complex has its own source of water.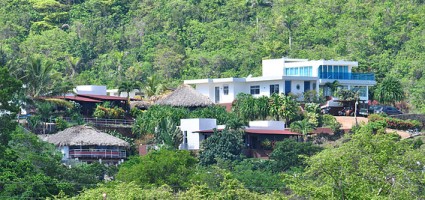 The Villas are designed in a simple and modern style to help you relax in touch with nature, away from the noise, pollution and stress of everyday life. Each villa can accommodate up to 5 persons so participants are invited to come with friends or family to make the best use of the facilities. All villas have free access to Wi-Fi internet, hot water, basic kitchen with refrigerator, hair dryer, and direct access to the garden and to the outdoor swimming pool. Electricity supply is regular 110 V/AC.
Facilities: restaurant, outdoor swimming pools, indoor exercise area, outside terraces,Wi-Fi in the whole complex, game zone, car parking, garden.
Food
We believe that the starting point for balance the body and mind is through the foods that we consume. Therefore we offer an abundance of fresh tropical fruit and vegetables. The food is included in the cost of your retreat.
All meals use seasonal products where possible, grown or sourced locally, so the menu is a creative design of Sergio Boschetti, mixing Italian, Asian and Dominican cuisine. All food is served fresh, prepared and cooked on the premises, with care and loving attention.
What to bring: bathing suit, insect repellent, comfort shoes and clothes, a long sleeves shirt and jeans.
How to get there
Closest airport is Juan Bosch El Catey Samaná Airport (AZS) - 75km-.You can also arrive to Santo Domingo Las Americas Airport (SDQ) - 189 km- or to Punta Cana Airport (PUJ) - 338 km). We can arrange your transfers from/ to all airports.
Event Rates
Rates depends on the accommodation and villa occupancy (it is more affordable to come in 5-person group).
FAQs
Are massages available?
We can arrange massages at Las Galeras Village as an optional service, with prior booking. The cost is USD 35
Can you arrange airport transfer?
Airport transportation can be booked with our assistance, at an extra charge (from El Catey - AZS USD75). We can also advise on Rent-a-car if you prefer.
Which formalities are required to enter the Dominican Republic ?
No visa is required for US, Canadian and European citizens to travel to the Dominican Republic for stay up to 30 days. On the basis of your passport, a tourist card is issued upon arrival (US$10). No vaccination is required. You can easily change US dollars and Euros in Dominican Pesos at the airport.
What are safety considerations for travelers?
Las Galeras Village is a gated residence where you will enjoy a high level of security. Petty thieves are frequent in public transportation so we will provide guidance on getting around. As in most destinations, it is advisable to be discrete using cell phones and laptops, dress casually, and avoid jewelry.
Date and Time
Location
Las Galeras Village
69
Barrio Vista Mar
Las Galeras, Samaná 32000
Dominican Republic