Description
"Pastels are Perfect for Plein Air" UART Workshop with Nancie King Mertz
Date: Friday July 7- Sunday July 9 2017
Times: Friday July 7 9:00 am-4:00 pm, Saturday July 8 9:00 am-4:00 pm, Sunday July 9 9:00 am-4:00 pm
Location: Palette & Chisel Academy of Fine Arts, Chicago, IL
Instructor: Nancie King Mertz, PSA-M, CPP-M, IAPS-Master Circle
Medium: Pastels (soft & hard)
Skill level: Beginner to advanced
Number of Workshop Days: 3
Price: $350.00
# of Students: 7-12
Join Nancie King Mertz, Master Pastelist, at the Palette and Chisel Art Academy for a plein air workshop to capture urban street scenes, nearby cafes and Washington Square Park in the beautiful residential area of the Gold Coast. In this 3-day workshop, students will have a better understanding of composition, basic perspective, underpaintings and light and shadow to bring out their own unique style. Nancie will share her rapid plein air techniques to complete works in 2-3 hours.
If weather becomes an issue, students can be inspired to paint indoors at the Palette and Chisel Art Academy, a beautifully, restored 1870's mansion encompassing an idyllic interior, as well as a model in-studio. http://www.paletteandchisel.org/
About the Artist: Nancie King Mertz was born and raised in Central Illinois, where she began painting and selling her work in her early teens. She received a BFA in Painting from the University of Illinois, where she was a James Scholar, and also where she met her husband, Ron. They settled in Central Illinois and Nancie pursued a Masters Program in Painting at Eastern Illinois University where she taught for 3 years. While in graduate school, Nancie began a gallery/framing company which she has continued to operate after re-locating to Chicago in 1987.
Nancie's oils and pastels are impressionistic in style, with 80% of her work created en Plein air. She paints well over 100 pieces annually, and has traveled to more than 20 countries for inspiration to paint on-site. Urban and rural subjects capture her attention when traveling in the States, and she can often be found painting in the varied neighborhoods of Chicago. She offers destination workshops and local demos, and serves as a juror for shows in the Midwest, and for artists' magazines. http://nanciekingmertz.com/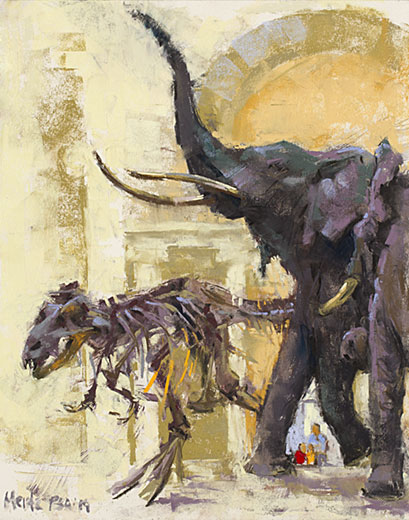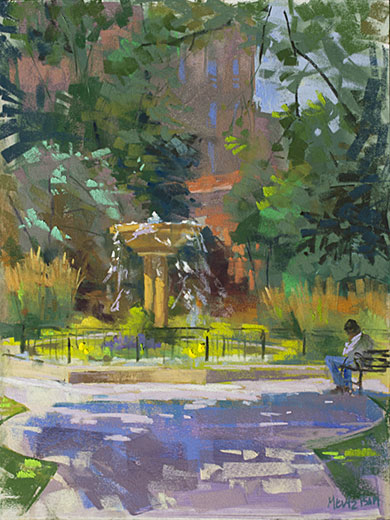 UART will provide you via email with a full list of materials before the beginning of the workshop.
Refunds: Refunds will be made up to 30 days after processing payment. If a cancellation is made during this time, a $20.00 processing fee will be withheld from the cost of the workshop. Cancellations less than 14 days before a workshop is scheduled to begin will NOT be refunded unless of an extreme emergency, and will be decided on a case-by-case basis.
Workshop cancellations: If class is cancelled due to low enrollment, UART will provide a full refund to the attendee.
Lunches and meals: No meal is included in the price of the workshop. You will have the choice of bringing your own food to the studio or go out to a nearby restaurant or deli on lunch break.
Accommodations: Please book your own accommodations if you need any. If you need help finding hotels in the area, we may provide you with some local recommendations.