Description
"Effective Landscape Painting in the Studio" UART Workshop with Lorenzo Chavez
Date: Friday April 7- Sunday April 9 2017
Times: Friday April 7 9:00 am-4:00 pm, Saturday April 8 9:00 am-4:00 pm, Sunday April 9 9:00 am-4:00 pm
Location: The Schoolhouse Art Studio on Main Street, Parker, CO
Instructor: Lorenzo Chavez
Medium: Pastels
Skill level: Beginner to advanced
Number of Workshop Days: 3
Price: $375.00
# of Students: 6-12
Join internationally known award winning painter and one of Plein Air Painters of America's newest members, Lorenzo Chavez, for an inspiring and insightful landscape painting workshop in his studio. By students bringing in their own reference photos and field studies, they can learn to visualize the landscape in unique and exciting new ways while also honoring the traditions of the past while utilizing the visual approaches of shape, value, edges, line, and color. Lorenzo is well known for his patience and articulate lessons that will awaken your artistic vision. This workshop will offer plenty of individual attention, daily demonstrations and group discussions in a relaxed and inspiring setting.
About the Artist: Lorenzo Chavez lives in Colorado and enjoys Painting in both pastel and oil. He participates in several national invitational and International group exhibitions and has won major awards including the Pastel Society of America in New York; His work has been chosen to represent PSA in the Butler Art Museum, Ohio. Pastel Society of Spain, Pastel Society of France, Artists of America Show in Denver, Rims to Ruins Exhibition, Plein Air Painters of America, Albuquerque Art Museum, Maynard Dixon Country,100 Gold Medal Exhibition at The Pasadena Art Museum, The Brinton Museum, Panhandle-Plains Historical Museum, The Brinton Museum, Coors Show in Denver, Butler Art Museum, Laguna Art Museum, Gilcrease Museum, Steamboat Art Museum. Legacy Gallery, Cape Cod Art Museum, Blue Rain Gallery Santa Fe, Helena Fox Fine Art, and Settlers West Gallery, Trailside Galleries. He was featured in a successful one-man show at the C.M. Russell Museum and has participated successfully in several C.M. Russell Art Auctions.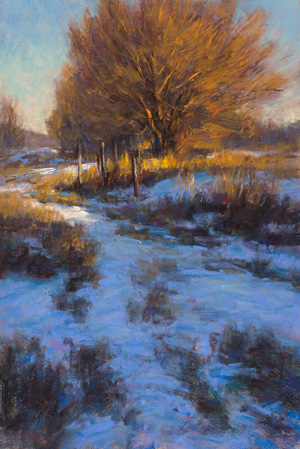 UART will provide you via email with a full list of materials before the beginning of the workshop.
Refunds: Refunds will be made up to 30 days after processing payment. If a cancellation is made during this time, a $20.00 processing fee will be withheld from the cost of the workshop. Cancellations less than 14 days before a workshop is scheduled to begin will NOT be refunded unless of an extreme emergency, and will be decided on a case-by-case basis.
Workshop cancellations: If class is cancelled due to low enrollment, UART will provide a full refund to the attendee.
Lunches and meals: No meal is included in the price of the workshop. You will have the choice of bringing your own food to the studio or go out to a nearby restaurant or deli on lunch break.
Accommodations: Please book your own accommodations if you need any. If you need help finding hotels in the area, we may provide you with some local recommendations.