Description
"From Concept to Completion: Successful Landscape Painting in the Studio and En Plein Air" UART Workshop with Jacob Aguiar
Date: Saturday April 22 - Monday April 24 2017
Times: Saturday April 22 8:30 am-4:30 pm, Sunday April 23 8:30 am-4:30 pm, Monday April 24 8:30 am-4:30 pm
Location: Danvers Art Associaton, Danvers, MA
Instructor: Jacob Aguiar
Medium: Pastels (soft & hard)
Skill level: Beginner to advanced, drawing experience helpful
Number of Workshop Days: 3
Price: $300.00
# of Students: 6-12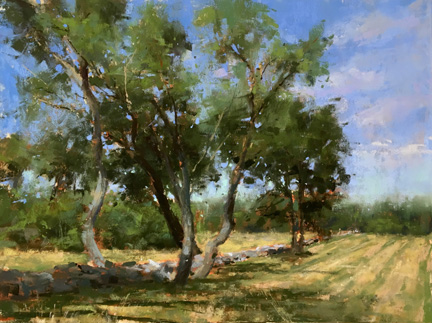 This workshop will consist of ample time painting outdoors and in the studio, with the goal of developing plein air studies that will then inform paintings completed in the studio. Outdoor painting time will focus on simplifying a scene to the essentials, emphasizing composition (utilizing notans), abstract form, shape, and color harmony. Indoor work will focus on working from the outdoor studies, as well as photo references to create a successful painting with emphasis on one's concept and overall intention. Jacob wiill also have daily critiques to allow everyone to receive feedback on their work, and learn the vocabulary of art. Throughout the workshop, underpainting techniques will be presented as UART paper holds up well to wet media underpainting.
One day we may go out early to either paint the sunrise or take color notes, as well as a later day to capture a sunset sketch or color notes.
About the Artist: http://jacobaguiar.com/about
UART will provide you via email with a full list of materials before the beginning of the workshop.
Refunds: Refunds will be made up to 30 days after processing payment. If a cancellation is made during this time, a $20.00 processing fee will be withheld from the cost of the workshop. Cancellations less than 14 days before a workshop is scheduled to begin will NOT be refunded unless of an extreme emergency, and will be decided on a case-by-case basis.
Workshop cancellations: If class is cancelled due to low enrollment, UART will provide a full refund to the attendee.
Lunches and meals: No meal is included in the price of the workshop. You will have the choice of bringing your own food to the studio or go out to a nearby restaurant or deli on lunch break.
Accommodations: Please book your own accommodations if you need any. If you need help finding hotels in the area, UART may provide you with some local recommendations.