Description
"Waterfalls Galore Plein Air" UART 3-Day Workshop with Douglas Tweddale
Date: Friday July 7- Sunday July 9 2017
Times: Friday July 7th 9:00 am-4:00 pm, Saturday July 8th 9:00 am-4:00 pm, Sunday July 9th 9:00 am-4:00 pm
Location: Ricketts Glen State Park, Benton, PA (Pavilion #002)
Instructor: Douglas Tweddale
Medium: Pastels
Skill Level: Beginner to advanced
Number of Workshop Days: 3
Price: $275
# of Students: 6-12

This three day plein air workshop will be held at beautiful Ricketts Glen State Park, which is one of the most scenic areas in Pennsylvania. It contains 22 named, free-flowing waterfalls, each cascading through rock-strewn clefts in this ancient hillside. Old growth trees and undergrowth add to the beauty. All painting will be near public areas with access to restrooms.
The focus of the workshop will be on skills and intuitive approaches to successfully paint lively moving water, as well as related scenes of rocks and woodlands. Each day will begin with a brief demonstration, followed by help at the easel and a class critique at the end of each day. The last afternoon will include a critique of all works for the three days. All media and skill levels are welcome.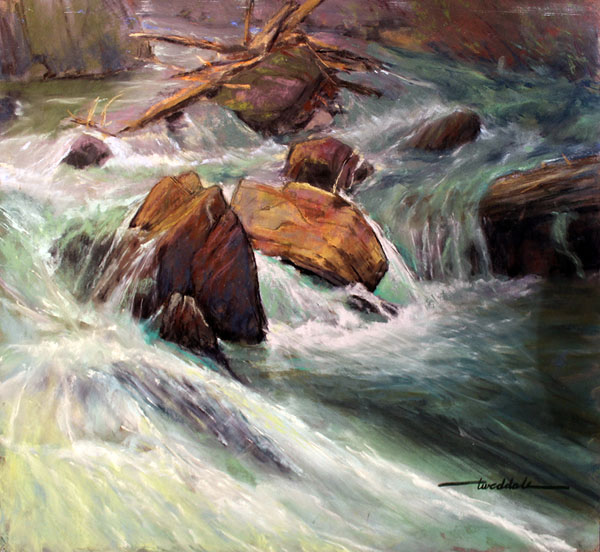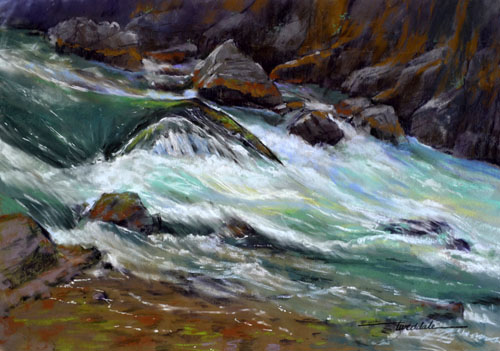 About the Artist: I began drawing and painting at a very young age. At the age of 13, I entered my first art show with a pencil drawing of a young girl playing a lute and received an honorable mention. Since then, I have been in many shows and have fortunately won many awards.
"My art purpose is to capture the awe and excitement of what I see.
My hope is that the viewer will pause to see with me,
react emotionally to my paintings,
and catch a glimpse of what I saw and felt."
I have made it my art practice to study with art mentors. These mentors have helped me enhance my skills and deepen my insights towards my art. Mentoring began with my Uncle Lester Gallagher at a young age. Lester was a well-known oil painter in northern Indiana who specialized in painting the dunes of Lake Michigan. Since then, I have studied in oils, watercolor and for the last 30 years in pastel. During the last 13 years, I have studied with Albert Handell, who is well known in the art world and a master painter in both oils and pastels. Albert is a master at capturing the moment and amazing beauty of nature. I admire his work and am pleased to say Albert is my good friend. Mentors like Albert have encouraged my own artistic vision and helped me to realize my dreams.
Plein Air painting has become my main art interest and I teach a series of classes to other artists to promote this unique method of painting. Being outdoors allows me to experience the beauty of nature directly. My paintings are enhanced by the sights, sounds and smells of the site. As I walk through a site, I take it in and wait for a feeling of excitement and awe about something there. It could be a view, a color, a subject or shape. My painting focus is to capture this excitement. It is an all-encompassing challenge and joy – a dialogue between me and the subject placed in two dimensional form. I am pleased to share my art perspective with you.
UART will provide you via email with a full list of materials before the beginning of the workshop.
Refunds: Refunds will be made up to 30 days after processing payment. If a cancellation is made during this time, a $20.00 processing fee will be withheld from the cost of the workshop. Cancellations less than 14 days before a workshop is scheduled to begin will NOT be refunded unless of an extreme emergency, and will be decided on a case-by-case basis.
Workshop cancellations: If class is cancelled due to low enrollment, UART will provide a full refund to the attendee.
Lunches and meals: No meal is included in the price of the workshop. You will have the choice of bringing your own food to the studio or go out to a nearby restaurant or deli on lunch break.
Accommodations: Please book your own accommodations if you need any. If you need help finding hotels in the area, we may provide you with some local recommendations.