Description
Are you interested to enhance your design practice?
Exploration x Design has created a unique 3-Day Team Transformation Sprint to help take your skills to the next level. We use Design Thinking methodologies and combine them with the sprint framework to create a custom program tailored to your needs.
It doesn't matter if you're entirely new to design thinking or a seasoned practitioner, we all need time to practice and advance our skills.
Whether you want to practice using an existing project or practice with a hypothetical future solution; we bring in the right experts to coach you to achieve your goals.
Think of us like your personal trainer at the gym. We help you go beyond what you might do on your own. It's highly motivating to have someone push you and setup new activiites for you to try.
Wondering how this works?
Step 1
We organize a time to meet with you (and potentially your team members) prior to the sprint (ideally a week in advance). We talk to you about your goals, challenges, ambitions and past experiences. We discuss the best location for your sprint - sometimes your office, studio or meeting room is appropriate, but other times we'll need to find a location that challenges you (in a good way).
Step 2
We use the information you provide to create a custom 3-Day Design Innovation program that enables us to expand your design thinking proficiencies.
What's in the 3-Day Design Innovation Sprint?
Day 1 : Define the Problem
Establish a problem statement based on your goals for the sprint. Collaboratively decide the specific focus area for the next three days.
Gather information related to the problem space. Sometimes this involves interviewing end-users or stakeholders. Sometimes we might invite subject matter experts to provide supportive information. We might conduct discover interviews or deploy other activities to gather the information we need.
At the end of the day we synthesize our findings and generate insights.
Day 2 : Ideate Concepts
Using our findings we begin the fun process of ideation. We use a mix of activities to think beyond our current capabilities or limitations. We play in our creative space to discover new ideas and challenge ourselves in new ways.
At the end of the day we bring in our end-users, stakeholders or subject matter experts to share feedback and test our ideas.
Day 3 : Prototype Solutions
On our final day we prototype using alternative materials to challenge ourselves to design in new ways. We iterate on our concepts until we reach a point where we feel ready to gather feedback from our end-users, stakeholders and subject-matter experts.
Are you or your team out of town?
For those who need to step away from their familiar surroundings - Exploration x Design will arrange for you and your team to stay in one of Austin's luxurious Airbnb's. Accommodation and catering can be arranged on your behalf for an additional fee (invoiced prior to sprint). Email sales@exploration.design to learn more
Meet Your Facilitator
Jess Lowry has worked as a UX Designer and Researcher for over 12 years. Her career has taken her from her hometown of Toronto, Canada to the UK, Australia and the US. Brands she's worked with include: National Australia Bank, EPA Australia, Bureau of Meterology of Australia, Target Australia, Sundial, FEMA, TX Medicaid, YouScience, Bloomberg Innovation Teams. She is a certified Barre Instructor, Co-Active Coach, Seasoned Design Thinking Facilitator and Founder of Exploration x Design.
She was the recipient of the 2013 "Made in Banff" Artist in Residence Prize for delivering a winning pitch at SXSW Interactive. During her residency at the Banff Centre in Canada, Jess designed a prototype called Key to the Street, a collaboration platform enabling citizens to co-design public space with an emphasis on improving walkability. Key to the Street was a finalist at the 2013 SXSW Eco Place by Design Contest and featured in Fast Company's online blog.
Back in 2014, Jess founded and organized SheHacksATX and SheDesignsATX which paired female coders and designers with women entrepreneurs for a weekend of hacking solutions. These events led to the creation of a 6-part zines series called Velma Magazine.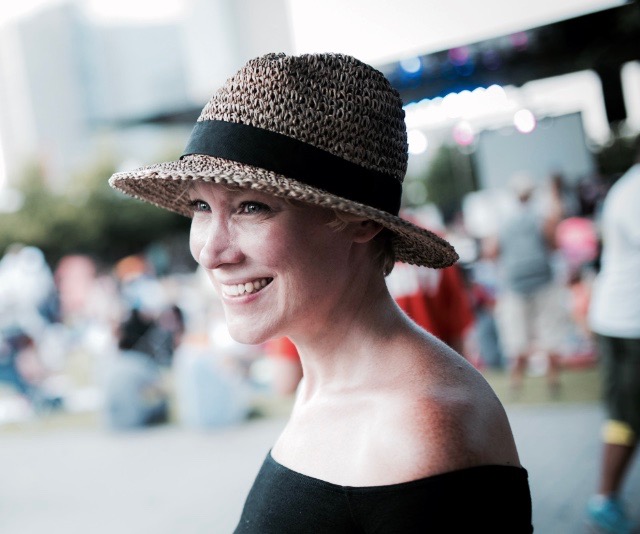 "My job as a human-centered designer is to design for other people - not myself. When it comes to designing meaningful solutions we have to get better at reaching beyond our own limited points of view. Too often we stay on the surface and rarely dig deeper to uncover meaningful insights. We do this for a variety of reasons - often we're dealing with constraints of time and budget, other times; we fear what we might uncover because it might reveal something about ourselves that we'd rather not address (or maybe a business flaw no one knows how to change).
Design Thinking is a process to help people work collaboratively and reach below the surface to uncover deep insights. The best solutions are designed by teams who allow themselves to think beyond limited points of view. When teams are equipped with self awareness and acceptance they can perform at an optimal level. Creative exploration is a practice of vulernability and requires you to maintain a beginner's mindset.
As a design coach, I'm interested to explore what design means to you. Creativity is a way of thinking - not a job function or title. I want to help people explore design as a practice, in order to; cultivate deeper levels of empathy for themselves and others.
You can only understand others by understanding yourself. Empathy is the hallmark of design thinking. Cultivating empathy requires an ability to be vulnerable; which is isn't typically a comfortable state of being. But it's during our most challenging moments that we truly learn who we are. Feeling challenged is uncomfortable so we typically try to avoid it. This is why practice is so important."
Learn more about Exploration x Design by visiting our website: exploration.design