Description
Are you interested in learning about what spiritual practice will bring about faster spiritual progress in this current era? Do you want to understand how to stream line your efforts so that you can reach your full spiritual potential? Then you may want to consider signing up for one of our spiritual workshops.
The Spiritual Science Research Foundation in association with the Maharshi University of Spirituality offer 2, 3 and 5-Day Spiritual Workshops around the world. We are happy to announce that for those of you living in Australia, registration is now open for our 3-Day Spiritual Workshop held in Melbourne, Australia. The dates are from 27 Apr 2017 – 29 Apr 2018.
Applying for the Workshop:
To apply for the workshop is free of cost, and this can be done through Eventbrite (registering for a ticket) or through our website at the link below:
After applying, you will receive an email confirmation from us and one of our seekers will contact you for an interview. After the interview, we will let you know about your selection for this spiritual workshop.
Dates & Timings:
27 April 2018, 10:00am - 8:00pm
28 April 2018, 10:00am - 8:00pm
29 April 2018, 10:00am - 8:00pm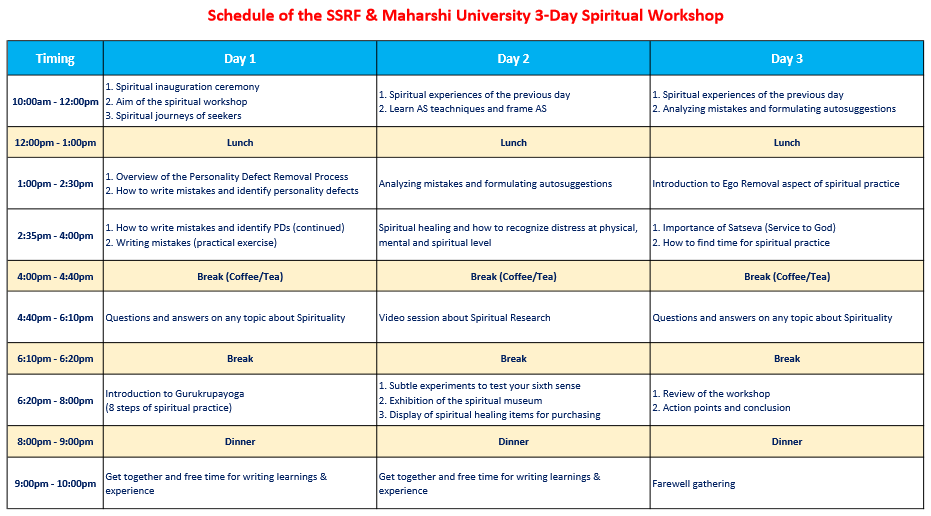 Seats Available:
10 seats are available. We keep our groups smaller so that we can give individual attention to each attendee so that they receive maximum benefit from the workshop.
Cost:
Regular rate AUD 350 (From 1 April 2018)
Early bird rate AUD 325 (upto 31 March 2018)
*Please note that from 2 April 2018, no refunds will be provided on cancellation. Cancellations made prior to 2 April 2018, 80% of the workshop fee amount will be refunded. 20% of the paid workshop fee will be retained as administration costs.
What is included in the fees:
1. Workshop Tuition Fees included
2. Food included
* Accomodation is not included
Accomodation:
Please arrange for accommodation nearby to the venue. Suggested bed and breakfast in the area are :
Food:
Lunch and Dinner will be served at the venue.
Refreshments will be served at tea time.
Breakfast to be arranged by you.
Getting there:
The following are the nearest:
Closest Bus Station : 5 minutes walking distance - Route 691

Closest train station : Ferntree Gully (10 mins by car)

Closest Airport : Tullamarine (approximately 1 hour from the venue)

Parking at venue: On street free parking available
** Please note: We will provide pick up arrangement upto a 5km radius from the venue. Further than that attendees will be required to arrange for their own transport.
About the speakers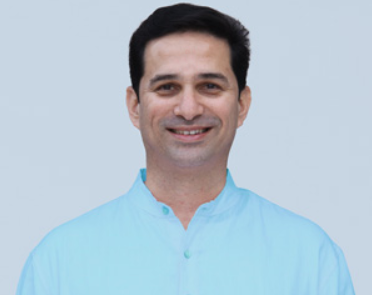 Mr Sean Clarke is the editor the Spiritual Science Research Foundation (SSRF) website. The website is devoted to publishing unique knowledge gained through spiritual research and answers questions on the spiritual dimension and how it affects our lives. Sean has an MBA from the prestigious Monash Mt Eliza business school in Melbourne Australia and has worked as a strategy analyst in well-known dot coms in Australia. However, his keen desire to know about the spiritual dimension led him to give up his career 10 years ago and live in an Ashram and Spiritual Research Centre in Goa India, studying and researching various spiritual phenomena and publishing it on the SSRF website. The result? Ten years later the ssrf.org website attracts close to a million visitors a month from all over the world and is considered a leading website in the spiritual field including being referenced by a number of academic institutions. Sean's inner urge to help humanity led him to devote his life to the spiritual cause and help people unravel this spiritual dimension which affects their lives. Sean has conducted many spiritual workshops and lectures worldwide which have helped people grow spiritually. He is one of key seekers involved in creating content, documentaries, audio-video presentations and research for the website. Empowered by the success of SSRF, Sean has been instrumental in developing the website of www.spiritual.university and is one of its faculty members.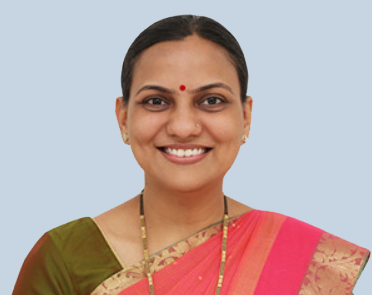 10 years ago, Shweta Clarke walked away from a lucrative career and adopted a path less travelled. The spiritual call within her led her to the Spiritual Research Centre and Ashram in Goa, India. From her early childhood, Shweta had an innate love for God and wished to serve Him. She always imagined devoting herself completely to spiritual practice; but wondered how she would go about it. When she met His Holiness Dr Athavale for the first time in 1997, Shweta knew her spiritual search was over.

Over the last decade she has been residing at Spiritual Research Centre and Ashram and under the guidance His Holiness Dr Athavale has devoted her life to spiritual practice and understanding universal spiritual principles that affect our lives. At the Ashram, she is involved with various activities in service to God such as conducting 5-Day Spiritual Workshops, nurturing seekers, spiritual research, answering questions on the SSRF website, video production and webinars. For the last 3 years, Shweta has travelled across South East Asia to Singapore, Melbourne, Hong Kong, Kuala Lumpur, Jakarta, Bangkok sharing the benefits of spiritual practice and a spiritual way of life and her experiences of Ashram life.


---
This workshop is conducted by the Spiritual Science Research Foundation, Australia in association with the Maharshi University of Spirituality, Goa, India
http://www.spiritual.university