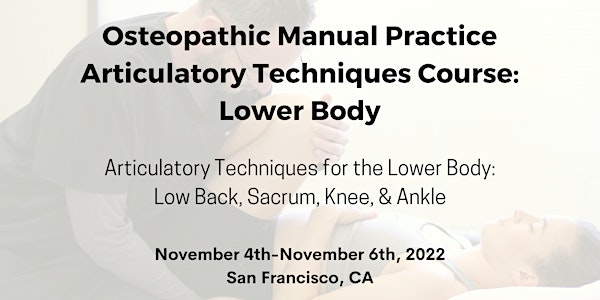 3-day Osteopathic Manual Practice Articulatory Techniques - Lower Body
This course offers manual therapists the theoretical and procedural knowledge underlying the osteopathic articulatory techniques.
When and where
Location
Fort Mason 2 Marina Boulevard San Francisco, CA 94123
Refund Policy
Contact the organizer to request a refund.
Eventbrite's fee is nonrefundable.
About this event
Come learn all about articulatory techniques for the lower body including low back, sacrum, knee, and ankle. We will discuss the science behind the techniques, contraindications/indications, and the body mechanics necessary to use these techniques safely and effectively for both you and your patient.
Do you understand that treating the symptoms alone is not enough to promote the self-healing process, see the human body as a functional unit, want to integrate the osteopathic manual practice techniques and philosophy into your practice, and want to improve your knowledge and practical skills. If so, register for this course now to get the opportunity to join like minded individuals for a three day exploration of articulatory techniques!
The techniques taught in these courses will set you apart from your peers and make the approach used by Osteopathic Manual Practitioners easy to integrate into your existing practice. Check out what one of our former students has to say about the class:
"The Articulatory Techniques Lower Body course exceeded my expectations. The instructors are extremely knowledgeable and passionate about their work. I have found the course handbook to be the most helpful of any of the classes I have taken in the past 30 years, with clear, concise written info and photos. I would highly recommend this course to other OT and PT's interested in manual therapy!"
- Karen D. OTR/L
Sign up now to expand your skillset and gain the knowledge to help more of your clients get out of pain!
Frequently Asked Questions:
What are Articulatory Techniques?
Articulatory Techniques (AT) are a form of Structural Osteopathy. They are low to moderate amplitude and low velocity osteopathic techniques where the joint is carried through its full range of motion using repetitive concentric movements by the practitioner. The goal of this manipulation is to use a passive, direct force to release pathologic or restrictive barriers of a joint and free all ranges of motion.
By using AT to harmoniously emphasize the natural motion of the target area, you can restore physiological freedom without putting stress on the surrounding structures. By reducing nociceptive signals, activating the parasympathetic nervous system, and promoting mechanotransduction processes, articulatory osteopathic manipulation can relieve somatic dysfunction and fascial tension to assist in tissue repair and recovery of the body and its biomechanics.
Does this course provide CEUs?
The course is certified for Continuing Education hours by the following boards for 2.4 CEUs for each individual course and 4.8 CEUs for students who complete both the Upper and Lower Body courses:
California Physical Therapy Association (CPTA)
Board of Certification for Athletic Trainers (BOC)
American Academy of Osteopathy (AAO)
Participation in all three days from 9am-6pm is required for certification. No partial credit can be provided.
Who can attend?
Physical Therapists
Osteopaths or Student osteopaths (from 3rd year)
Chiropractors or Students chiropractors (from the 3rd year)
Athletic Trainers
Massage Therapists
Occupational Therapists
Take advantage of our Early Bird Pricing of $700 with discount code earlybirdompia before 09/1/22!
Learn more about the instructors for this course, Paolo Tresoldi, Andrea Orlandi, and Michelangelo Pavone.
FYI, we'll be holding our articulatory techniques workshop for the upper body on November 11-13, 2022, and again in the Fall of 2023. The Osteopathic Manual Practice Articulatory Techniques- Upper Body workshop will cover articulatory techniques for the thoracic spine, arms, neck, and shoulder. Students who complete both workshops will have learned how to perform Articulatory Techniques safely for the entire body.
WORKSHOP ADMISSION POLICY
Continuing education workshops conducted by the Osteopathic Manual Practice International Academy are designed to augment the professional practices and educational programs of manual healthcare practitioners.
Admission requires each participant to hold a current license or certification. Upon course completion, participants must also assume responsibility for understanding which techniques fall within the scope of their practice.
The modalities taught in these workshops may require a solid foundation in anatomy and physiology. Therefore, all participants must assume responsibility for advance preparation.
Attendance at this training is not intended to be used as a hands-on license. You must work within your professional scope of practice and abide by the rules and/or laws that govern healthcare practices in your applicable region.
DISCLAIMER
The content provided is for educational purposes only. It is not a substitute for and should be not construed to be professional medical, scientific, or healthcare advice, diagnosis, or treatment, and may not be used for such purposes.
Always seek the advice of a physician or health provider with any question regarding a medical/scientific question or condition. Reliance on information presented in this course at your own risk.