Description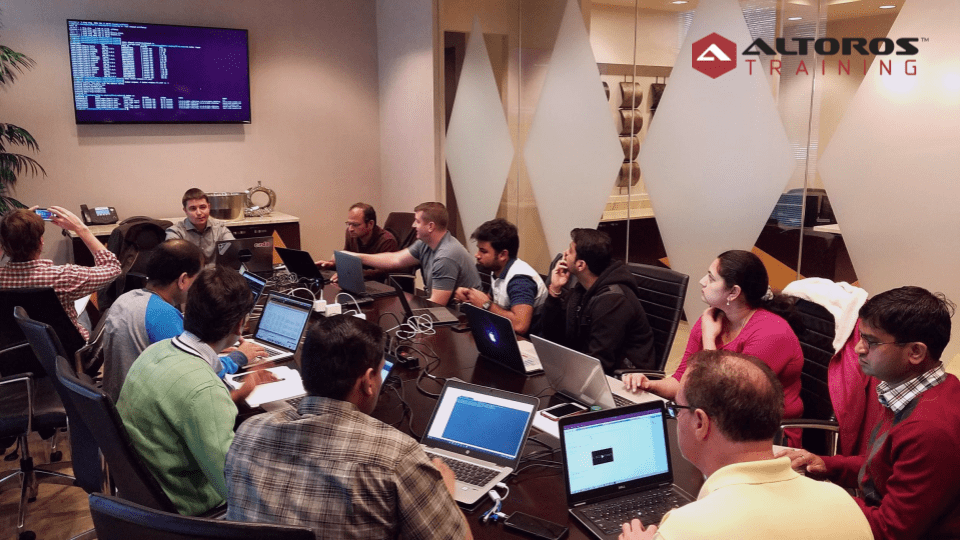 NOTE: The training is contingent upon 7 trainees. We are gathering the group for May and June. Dates are negotiable, so please email us at training@altoros.com if you can't make May 25th!
Hyperledger Fabric is the leading open source software platform for permissioned enterprise blockchains. Learn how to use the latest version (1.0) of Hyperledger Fabric codebase in a real blockchain network environment where you can play with smart contract deployments.
Is your team planning to build blockchain applications for your industry use case or project? Do you want to become fully skilled for building commercial-grade blockchain applications on Hyperledger Fabric 1.0 and deploying private blockchain networks? Then this advanced course is what you need!
Course duration:
3 days (8 hrs per day).
Objectives:
Learn concepts and use cases of permissioned blockchains.

Learn architecture of Fabric 1.0, setup network, run smart contracts.

Learn to write smart contracts and deploy them in a complete blockchain application.
Benefits to you:
Solid hands-on technical skills developing and deploying blockchain applications with Hyperledger Fabric.

Interactive experience with expert trainers who have built working blockchain apps, an opportunity to ask questions and get real-life examples.
Who should attend?
Developers who have understanding of blockchains and want to know how to design and write their own blockchain applications on top of Hyperledger Fabric V1.0.

If you experimented with smart contracts, or worked with Ethereum, other blockchains, and want to dive into Fabric 1.0 - this is the right course for you.
Prerequisites:
Working knowledge of Golang, Java, or Javascript

Basic understanding of PKI and docker

Development environment with JDK 1.8, Gradle or Go, and Docker Compose (docker is optional)

ssh access to AWS EC2, IBM Bluemix or local Ubuntu

Please make sure you have the confirmation of the training dates from the organizer before making any logistics arrangements and reservations (flight booking and hotel reservation if you are travelling to attend the course)
Please bring your laptop with pre-installed JDK, Gradle or Go, and Docker Compose
Notes:
- java version "1.8.0_131"
- Gradle 3.5
- Docker is optional
- An instance of Ubuntu either locally on laptop or in the cloud (AWS, Bluemix).
While we can provide an instance in the cloud, your own instance is preferred as you'll be able to keep it after the training.
An instance in the cloud is preferred to local as we'll download quite a few docker images and cannot rely on the auditorium wifi's throughput.
Training Program
Day 1
Introduction
Introduction to blockchain technology

Public and permissioned blockchains

Use cases for permissioned blockchains

Hyperledger project
Fabric 1.0 Workshop
Fabric 1.0 architecture

Endorsers, orderers, clients, smart contracts

Set up development network

Anatomy of config files and crypto material

Deploy and exercise example smart contracts


Day 2
Fabric 1.0 Workshop
You will study in detail the transactions workflow and spend a sizable amount of time on experiments with blockchain.
The training helps developers acquire solid technical skills in building blockchain applications on Hyperledger Fabric v1.0. The students will learn how to develop working blockchain apps with Hyperledger Fabric SDK, how to deploy local blockchain networks, as well as understand the confidentiality basics in Hyperledger Fabric.
Agenda:
Write your own smart contract in Go

Comparison of Smart contract developed in Go or Java (performance, ease of deployment, etc.)

Custom Events

Endorsement policies

Overview of SDKs for Node and Java
Day 3
Hackathon
Students will leave with the ability to develop full-featured blockchain applications, write not only a smart contract in Go or Java, but also the client code and full interface of the application.
Learn from an experienced trainer who has delivered working blockchain solutions.
Agenda:
Identify a use case for a blockchain application

Design identities, entities, transactions

Design network, consortium

Use Node SDK to create application API

Create secure web front end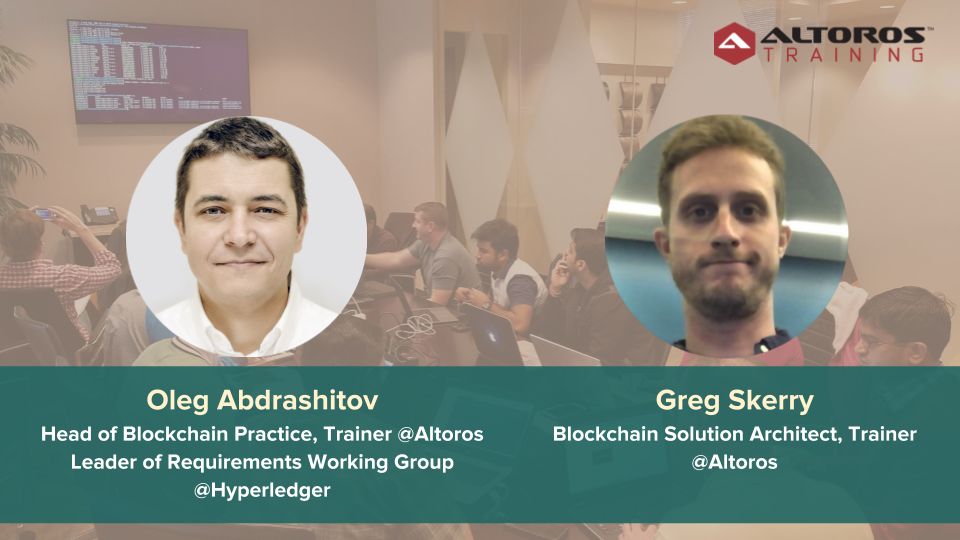 About the Trainers:
Oleg Abdrashitov,
Leader of Requirements Working Group at Hyperledger, Head of Blockchain Practice at Altoros
Oleg's career spans 19 years in software development for the financial services companies. He has built systems supporting high frequency trading, middle office and online exchanges. Oleg has worked at top investment banks, hedge funds and has founded startups and consultancies. He is currently engaged by clients in finance and insurance to train engineers and architects on blockchain.
Together with team Altoros, Oleg won the blockchain hackathonat Consensus 2016 with Decentralized Energy Utility Project, and delivered two working prototypes for the financial industry - Distributed Clearing Platform For Derivatives, and Bond Issuance and Trading.
The most recent project Oleg has been working on is Commercial Bonds Platform with National Settlement Depository, see in the press:
Oleg has delivered Hyperledger Fabric classes in Boston, New York, San Francisco, Toronto, Zurich, as well as private training courses for corporate teams, and has been referred to as a highly competent instructor.

Greg Skerry, Blockchain Solution Architect, Trainer at Altoros
Greg joined Altoros as a supporting Trainer on Blockchain and Hyperledger Fabric. Previous to this position, Greg worked as Project Manager at Thomson Reuters where he was involved in systems integration and product management of an industry-first cloud-based tax analytics and reporting platform, advising implementations for Fortune 500 and Fortune 100 clients. Greg also previously worked in Senior Analyst and Senior Consultant positions at BDO LLP, and at Ernst & Young, LLP.
Greg graduated from the Software Engineering Immersive at Fullstack Academy of Code in New York City, centered on full-stack JavaScript programming, including Node.js, Angular, React.js as well as SQL and NoSQL data architectures, and has developed distributed applications using the Ethereum framework. He holds a B.A. in International Economics from University of Virginia.
FAQs:
Am I a good fit? You need some knowledge of Golang or Java: know syntax, control flow. Blockchain experience is nice to have, but not required.
Can I pay by invoice? Please send details at training@altoros.com: full name, number of tickets, your address or your company's address (if the invoice is paid by the company).
If you have questions about the program or doubts whether this course is a good fit for you, please get in touch and we'll connect you with the trainer!
Help us spread the word
We'll love you forever if you share this event with your friends or colleagues who might be interested!
About the Organizer:
Altoros is a digital transformation consultancy that has built a reputation in blockchain space. We are an active member of Hyperledger project, contributing expertise of our engineers.
We have built a number of blockchain application prototypes for insurance and financial services clients and conducted technical training on Hyperledger Fabric 0.6 for a large financial services corporation, as well as a number of blockchain workshops for executives in (Re)Insurance, Lending & Securitization field.
Read blockchain news and insights on our blog

Watch free recorded webinars on Hyperledger-related topics (choose tag HYPERLEDGER)