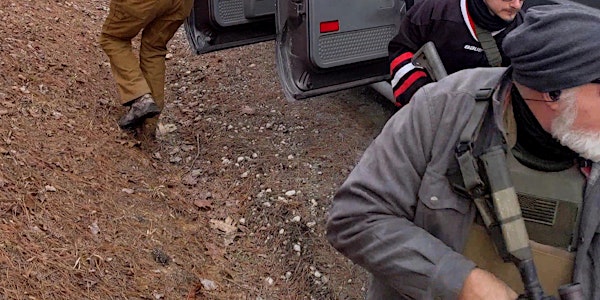 3-day High Risk Mobility (3HRM), Mar 17th-19th, 2022
Learn to plan & execute vehicular movements in high-risk conditions. Includes skills in planning, comms, driving, and reaction tactics.
When and where
Location
EDR Private Range 6702 Wildlife Trail Raleigh, NC 27613
Refund Policy
Contact the organizer to request a refund.
Eventbrite's fee is nonrefundable.
About this event
2 days 9 hours

Mobile eTicket
3-Day High Risk Mobility (3HRM)
People talk about "Bugging Out", perhaps to escape an environment that has become "high-risk" due to extreme violence or other conditions. Many would consider using vehicles to effect a movement if that option is available, especially if moving great distances with people, gear, and supplies. Some equip vehicles especially for this purpose and most would consider moving as part of a group to maximize security.
In a "high-risk" environment, there is always the potential to encounter violent adversaries or ambush during any movement. It is also possible that family or friends may need to be rescued or extracted from a location. The ability to plan & execute mobility operations is a necessary component of your emergency plans.
3HRM prepares trainees to plan & execute vehicular movements in high risk environments with one or more vehicles. Learn to plan, organize, equip, navigate, communicate, employ tactical driving skills, basic recovery techniques, and react to threats or contingencies.
Execute tactical driving skills both off and on the road. Organize and conduct mobility operations like a pro. Conduct both dry and live fire exercises.
Pre-requisite Requirements: Trainees must have and produce a valid drivers license. Trainees must also follow ALL rules, commands, and standards required by EDR instructors - repeated failures to comply may result in disqualification.
All persons participating in live fire drills MUST demonstrate competence to safely handle firearms and to perform the skills necessary for the drills and exercises. EDR reserves the right to disallow any trainee to participate in live fire exercises for reasons of safety or for no reason at all. Those who cannot meet minimum safety standards may execute drills in dry-fire mode. Shooting assessments and training will be conducted during training.
Ammo Count: 400 rounds carbine ammo
Course Times:
Friday: 8am-5pm, 1hr lunch
Saturday: 8am-5pm, 1hr lunch
Sunday: 8am-4pm, 1hr lunch
Training Location:
6702 Wildlife Trail Raleigh, NC 27613 
Google Maps link: https://goo.gl/maps/yb49D
Please respect our neighbors and proceed SLOWLY down Wildlife Trail past Dead Broke Horse Farm, and look for the Every Day Ready sign on the gate to the left. Drive through the gate and follow the gravel road all the way to the range site. Park on the left between the parking signs.
Reminder: Please read and obey all posted signs and regulations. All firearms must remain secured or concealed until directed otherwise by EDR. DO NOT handle or display any firearms until directed by EDR.
Eligibility to Attend:
Each student MUST submit a completed & signed EDR liability waiver.
There are no training pre-requisites for this course.
Each student MUST meet all Federal and State laws to possess and operate a handgun
Student Required Items:
Carbine (option to rent Carbines presents during registration for $35/day. Each rental includes a holster, spare magazines, a magazine carrier)
Sling - Slings are required on your carbine rifle, either 2-point or Single-point.
Extra magazine(s) and magazine carrier if available.
Ammunition
Eye protection approved for shooting (clear is best)
Hearing protection approved for shooting
Clothing suitable for active training & the weather forecast
Long Pants with a sturdy belt are required
Appropriate outdoor shoes, no open-toed shoes are permitted
A ball cap with visor is recommended
Jacket and layers to adjust for comfort (waterproof is recommended)
Females are advised to NOT wear shirts with a plunging neckline, as hot brass may fall into the shirt and cause burns.
Hydration – EDR recommends at least 1gal of water per person
Lunch and snacks
Please contact EDR if you have any questions regarding equipment…we can save you money & grief by helping you acquire equipment or avoid inappropriate equipment before you purchase it. Get in the know first, then buy.
Organizer Contact Info Phone: 919.795.9208 contact@every-day-ready.com
Refund Policy: Our default cancellation deadline is 2-weeks from the class date.  EDR may elect to provide refunds within that 2-week time frame on a case-by-case basis.  Typical cases resulting in refund are death in the family, grievous medical issue, nuclear war, or inability to make a weather-rescheduled date.  Due to our registration service, registration fees are non-refundable.
Every Day Ready, LLC is a Raleigh based training organization providing world-class training in firearms, self-protection, and emergency preparedness. EDR is provides a wide array of training for handgun, carbine, tactics, and medical. Our reputation for quality and customer service is unmatched.
Print, sign, and bring the EDR waiver to class with you. Please arrive for class at 7:30am when our gates open. Contact EDR with any questions.