3 Day - Find,Fund,Fix & Flip Properties With Other People's Money - Live On...
Description
Have you ever wanted to make money flipping houses, becoming a real estate investor but you didn't know where to get started? Do you have limited to no assets and have become discouraged. REI will teach you how to FIND, GET FUNDING & FLIP properties with OPM (Other's People Money). By the time you are done with this 3 day live participation class, you will be able to FIND a property with equity in it, negotiate your offering price, creatively structure the deal, submit the deal to the funder, get it funded, understand the cost of rehabbing with step by step instructions on working with contractors and negotiating with the contractors rehab cost, marketing the property and getting it sold - so you can repeat the process all over again and flip up-to 10 properties your first year, if not more.... We give you 100% support on becoming a successful investor and flipper.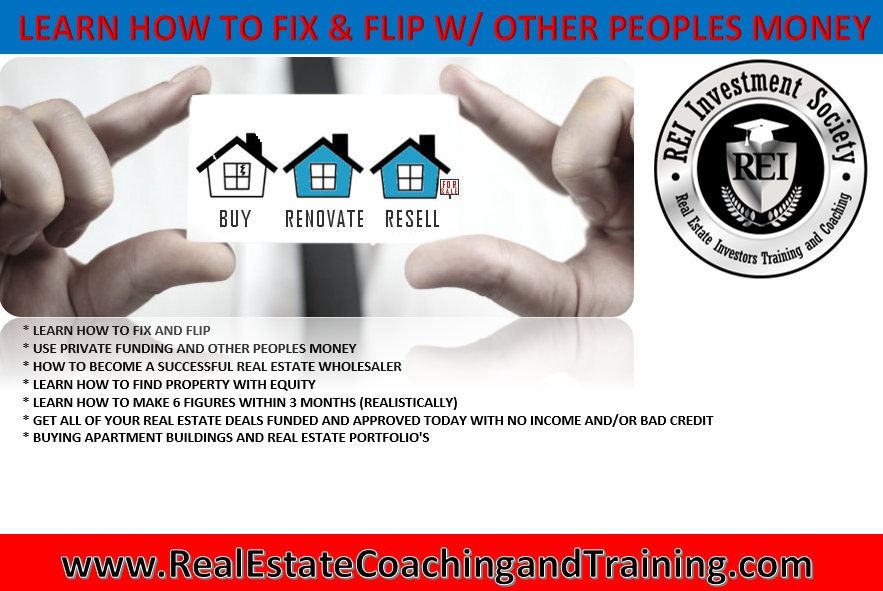 Location (Online): Webinar Link and further instructions, will be sent Within 24 hours of registration and payment. Within 24 hour of the live webinar you will receive some learning material for you to download and use during your live training and daily to get you started. After the completion of the live webinar you will receive a 1 on 1 online coaching / mentoring session for 60 minutes to review any possible deals or answer all your flipping, funding and or real estate investing related resourceful information, that you need to succeed in your journey to flipping real estate properties and making 6 figures within 3 months. Please note that the online webinar will begin at 5pm CST.
THE 3 DAY TRAINING TAKES PLACE ON 3 CONSECUTIVE DAYS BACK TO BACK. EVERY 3rd, 4th AND 5th OF THE MONTH. IF YOU MISS A DAY YOU CAN MAKE UP THAT DAY ON ANOTHER DAY AND TIME TO MEET YOUR AVAILABILTY WITHOUT LOSING THAT DAY OR ANY LEARNING MATERIAL.