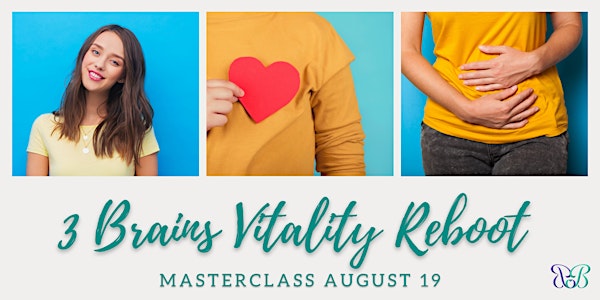 3 Brains Vitality Reboot Masterclass
In this 90 min Masterclass you will discover easy-to-implement ways to turn on your 3 brains & live each day with purpose!
About this event
When the 3 brains are activated you experience balance, harmony, alignment, ease and grace.
The 3 brains are:
Head Brain - that fascinating noggin' that chit chats the night away!
Heart Brain - This is the one the head brain says "Shh" to when you have an idea that is purpose driven.
Gut Brain - the one that is getting the most sleep BUT needs the most wake time. Super efficient when the internal environment is friendly.
Is your internal environment friendly?
Let's get started creating an internal environment that brings VITALITY!
This is the VITALITY REBOOT!
This is interactive. We always receive more when we ENGAGE! Get ready to ENGAGE and interact with me thru the chat and fill up with even more Vitality.
This program is about you filling up your Vitality Tank. Living with Vitality is intentional, NOT accidental.
Here you will learn some vibrant tips to begin filling your "Vitality Tank".
Are you ready?
To attend this mind-blowing, heart-soaring, gut-opening event you must join The 3 Brains Vitality Facebook Group. Make sure you are registered with Eventbrite first.
The 3 Brains Vitality Reboot | Facebook (https://www.facebook.com/groups/3brainvitalityreboot)