Description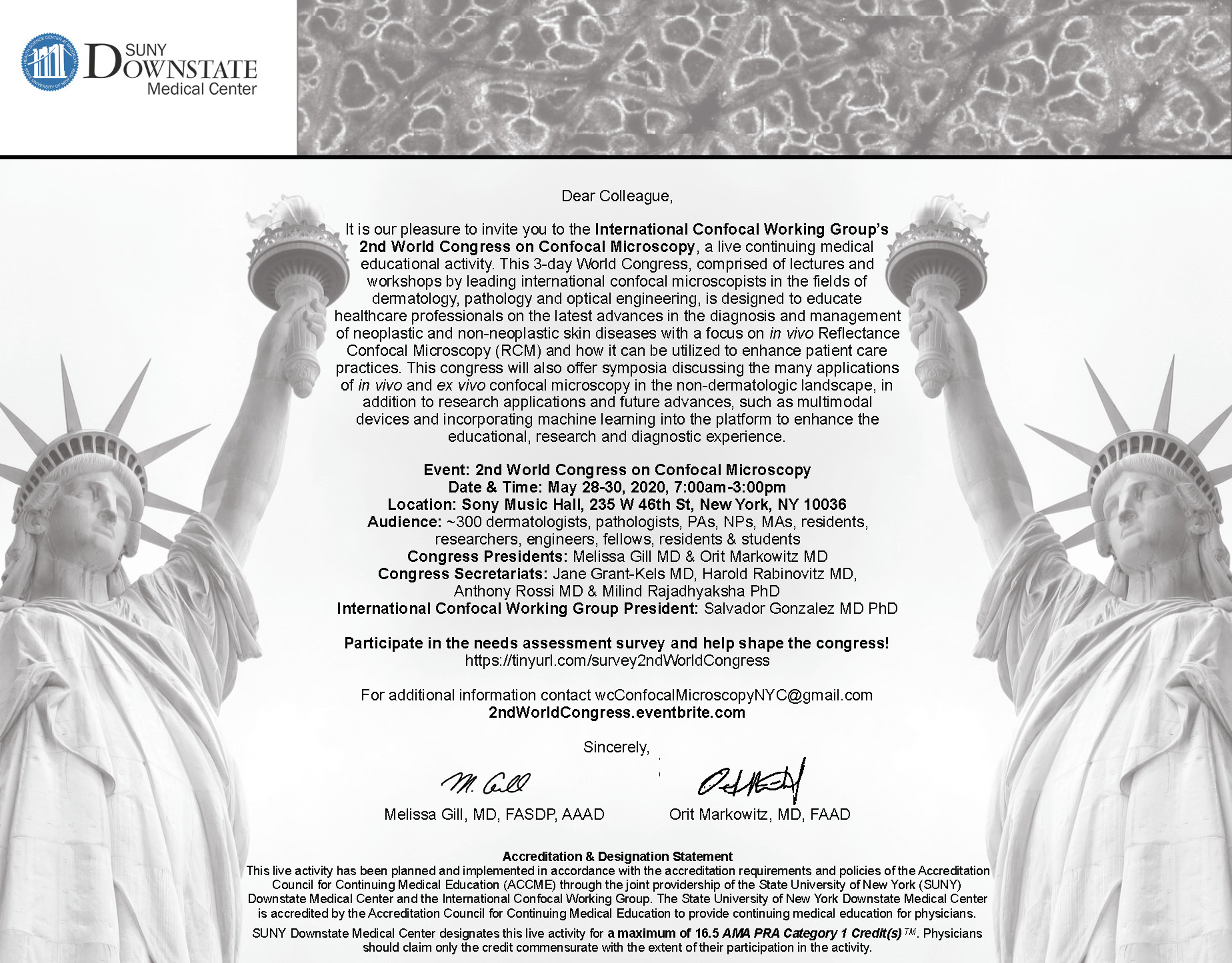 Join our scientific faculty of 60 colleagues from 5 continents in 19 countries and counting for the International Confocal Working Group's 2nd World Congress on Confocal Microscopy taking place May 28-30, 2020 at Sony Music Hall in New York, NY. This 3-day continuing medical education activity is comprised of lectures and workshops by leading international confocal microscopists in the fields of dermatology, pathology and optical engineering. It is designed to educate healthcare professionals, engineers and researchers on the latest advances in the diagnosis and management of neoplastic and non-neoplastic skin diseases with a focus on in vivo Reflectance Confocal Microscopy (RCM) and how it can be utilized to enhance patient care practices. This congress will also offer symposia discussing the many applications of in vivo and ex vivo confocal microscopy in the non-dermatologic landscape, as well as research applications and future advances, such as multimodal devices and incorporating machine learning into the platform to enhance the educational, research and diagnostic experience. This activity has been approved by SUNY Downstate for 16.5 AMA PRA Category 1 Credits™.
HELP SHAPE THE CONGRESS!
PARTICIPATE IN THE NEEDS ASSESSMENT SURVEY USING LINK BELOW!
https://tinyurl.com/survey2ndworldcongress
CALL FOR ABSTRACTS!
Abstracts will be accepted between December 15th and February 15th

Please e-mail abstracts to wcconfocalmicroscopynyc@gmail.com with "ABSTRACT" in subject line.
Please only submit an abstract if you are attending the meeting in person.

Abstracts should be original information not previously reported or presented.

Please make sure your title is concise and clear.
The abstract is limited to 250 words, 5 references, and up to 4 relevant figures with figure legends.

Please include the e-mail addresses of all authors and cell phone number of the corresponding author.
Abstracts will be blinded and then scored by Scientific Faculty.
The best abstracts will be selected for 5-minute Oral Abstract Presentations at the 2nd World Congress on Confocal Microscopy May 28-30th, 2020.
ADA Statement Special Needs:
In accordance with the Americans with Disabilities Act, SUNY Downstate Medical Center seeks to make this conference accessible to all. If you have a disability which might require
special accommodations, please email your needs to: wcConfocalMicroscopyNYC@gmail.com
PRELIMINARY SCIENTIFIC PROGRAM

May 28th: In Vivo Reflectance Confocal Microscopy Essentials
7:00-8:00am - Registration and Breakfast
8:00-8:10am - Opening remarks from Congress Presidents, Melissa Gill & Orit Markowitz
8:10-8:20am - Welcome from SUNY Downstate Pathology and Dermatology Chairs, Jenny Libien & Edward Heilman
8:20-8:30am - Tales from confocal frontiersmen, Salvador Gonzalez & Milind Rajadhyaksha: 25 years 1995-2020
8:30-8:45am - Patient stories: what confocal means to me (P)
Session 1: RCM - an introduction
Panelists: Lallas, Markowitz, Oliviera
8:45-9:00am - Lecture 1: RCM and the non-invasive toolset (Orit Markowitz)
9:00-9:10am - Lecture 2: The limitations of dermoscopy: false-positive and false-negative tumors (Aimilios Lallas)
9:10-9:25am - Lecture 3: Glossary of terms with dermoscopy-RCM-histopathology correlations (Maggie Oliviera)
9:25-9:30am - Questions & Answers
9:30am-10:00am - Coffee Break
Session 2: Confocal 101- Bridging the gap between dermoscopy and histopathology
Panelists: Cabo, Gill, Grant-Kels, Hernandez, Rabinovitz, Rao
10:00-10:25am - Lecture 1: RCM for in vivo diagnosis of cutaneous tumors, an introduction with dermoscopy-RCM-histopathology correlations (Harold Rabinovitz)
10:25-10:50am - Lecture 2: RCM tumor round up and online learning resources (Jane Grant-Kels )
10:50-11:05am - Lecture 3: RCM for inflammatory dermatitides, an introduction (Melissa Gill)
11:05-11:15am - Lecture 4: RCM to the rescue! RCM applications in dermatology (Babar Rao)
11:15-11:25am - Lecture 5: Why I decided I needed confocal, perspectives from an expert dermoscopist (Horacio Cabo)
11:25-11:35am - Lecture 6: Unique practice challenges in Costa Rica alleviated with RCM (Josephine Hernandez)
11:35-11:45am - Questions & Answers
11:45-12:00pm - Great learning cases (selections from participants and abstract submissions)
12:00-1:00pm - Lunch
Ticketed Non-CME Session: 12:00-12:30pm - "Hands-on workshop"- in vivo RCM imaging
Ticketed CME Session: 12:00-12:30pm - "Ask an expert" - Consultations on in vivo RCM interpretation
Session 3: RCM Essentials in Clinical Practice
Panelists: Alessi-Fox, Gill, Hammond, Hofmann-Wellenhof, Markowitz, Navarrette, Puig, Rossi, Siegel
1:00-1:10pm - Lecture 1: Dermoscopic clues of dermal features- Confocalist beware! (Rainer Hofmann-Wellenhof)
1:10-1:20pm - Lecture 2: Quality assurance I: at the bedside, the dermotologist's perspective (Orit Markowitz)
1:20-1:30pm - Lecture 3: Quality assurance II: obtaining a quality image set (Christi Alessi-Fox)
1:30-1:50pm - Lecture 4: Quality assurance III: remote reading, the dermatopathologist's perspective (Melissa Gill)
1:50-2:00pm - Questions & Answers
2:00-2:15pm - Lecture 4: An overview of confocal microscopy for the Mohs surgeon (Anthony Rossi)
2:15-2:25pm - Lecture 5: Precision biopsy techniques & finding your way with the hand-held RCM (Cristian Navarrette)
2:25-2:40pm - Lecture 6: Implementation of confocal microscopy in a dermatology department: NNE as a measurement of how confocal microscopy improves cost-efficiency at a tertiary care center in Spain (Susana Puig)
2:40-2:50 pm - Lecture 7: The ins and outs of RCM billing in the USA (Dan Siegel & Stephen Hammond)
2:50-3:00 pm - Questions & Answers
May 29th: Advanced In Vivo Reflectance Confocal Microscopy
7:00-8:00am - Registration and Breakfast
Ticketed Non-CME Session: 7:25am-7:55am - "Hands-on workshop"- In vivo RCM imaging
Ticketed CME Session: 7:25am-7:55am - "Ask an expert" - Consultations on in vivo RCM interpretation
8:00-8:05am - Opening remarks from Congress Presidents, Melissa Gill & Orit Markowitz
Session 1: Advanced Non-invasive Diagnosis and Management of Cutaneous Tumors I
Panelists: Carrera, Caruntu, Longo, Malvehy, Marghoob, Moscarella, Pasquali, Pellacani
8:05-8:15am - Lecture 1: Telemedicine triage increases cancer detection (Paola Pasquali)
8:15-8:25am - Lecture 2: Featureless lesions, the dark side of dermoscopy (Ashfaq Marghoob)
8:25-8:35am - Lecture 3: RCM for BCC diagnosis, an update (Constantin Caruntu)
8:35-8:50am - Lecture 4: Practical approach to difficult melanocytic tumors (Giovanni Pellacani)
8:50-9:05am - Lecture 5: Papules and Nodules: where the traps are hidden (Caterina Longo)
9:05-9:15am - Lecture 6: Game changers: non-invasive diagnostics for genetic tumor syndromes (Cristina Carrera)
9:15-9:20am - Great catches and misses from experts (Malvehy)
9:20-9:30am - Questions & Answers
9:30-10:00 Coffee Break
Session 2: Advanced Non-invasive Diagnosis and Management of Cutaneous Tumors II
Panelists: Gill, Gonzalez, Guitera, Hofmann-Wellenhof, Markowitz, Scope, Segura
10:00-10:10am - Lecture 1: Difficult facial lesions: lentigo maligna and its mimickers (Sonia Segura)
10:10-10:20am - Lecture 2: Management of lentigo maligna (Pascale Guitera)
10:20-10:35am - Lecture 3: Advanced diagnosis and management of superficial keratinocytic tumors (Salvador Gonzalez)
10:35-10:50am - Lecture 4: Chicken soup approach to management of skin cancer (Orit Markowitz)
10:50-11:00am - Lecture 5: Harnessing dermatopathology to fine-tune your confocal practice (Melissa Gill)
11:00-11:10am - Lecture 6: Knowing when to question the "gold standard" (Alon Scope)
11:10-11:20am - Questions & Answers
11:30-11:55am - Short communications 1-5 (5 min each) (selections from abstract submissions)
11:55-12:00pm - Questions & Answers
12:00-1:00pm - Lunch
Ticketed Non-CME Session: 12:00-12:30pm - "Hands-on workshop"- In vivo RCM imaging
Ticketed CME Session: 12:00-12:30pm - "Ask an expert" - Consultations on in vivo RCM interpretation
Session 3: Advanced Diagnostics and Management of Inflammatory and Non-Neoplastic Skin Diseases
Panelists: Ardigo, Bahadoran, Cinotti, Gurel, Lacarruba, Mogensen, Tkaczyk
1:00-1:15pm - Lecture 1: Advanced diagnosis and management of dermatitis and cutaneous lymphoma (Marco Ardigo)
1:15-1:25pm - Lecture 2: Update on RCM for blistering disorders and alopecia (Francesco Lacarruba)
1:25-1:35pm - Lecture 3: RCM for diagnosis and management of acne and other follicular disorders (Mette Mogensen)
1:35-1:45pm - Lecture 4: RCM for cutaneous infections and infestations (Mehmet Gurel)
1:45-1:55pm - Lecture 5: Utility of confocal microscopy for disorders of pigmentation (Philippe Bahadoran)
1:55-2:05pm - Lecture 6: Things you didn't know confocal could do (deposition disorders)! (Elisa Cinotti)
2:05-2:15pm - Questions & Answers
2:15-2:20pm - Short communication 1: GVHD update (Eric Tkaczyk)
2:20-2:55pm - Short communications 2-6 (5 min each) (selections from abstract submissions)
2:55-3:00pm - Questions & Answers
May 30th - Future Advancements in In Vivo and Ex Vivo Confocal Microscopy
7:00-8:00am - Registration and Breakfast
8:00-8:05am - Opening remarks from Congress Presidents (Melissa Gill & Orit Markowitz)
8:05-8:20am - Keynote Lecture: Revolutionizing Diagnosis and Management of Skin Diseases (Sancy Leachman)
Session 1: RCM in Translational Research
Panelists: Ahlgrimm-Siess, Gonzalez, Rezze, Roldan, Sahu, Saknite, Ulrich
8:20-8:30am - Lecture 1: Lasers, wound healing, drug trials: biopsy-free research without compromise! (Martina Ulrich)
8:30-8:40am - Lecture 2: From cell to gene - RCM clues to molecular alterations (Gisele Rezze)
8:40-8:50am - Lecture 3: Non-invasive evaluation of the tumor microenvironment: it's TiME! (Aditi Sahu)
8:50-9:00am - Lecture 4: Tracking leukocyte-endothelial interactions in the first 100 days post hematopoietic stem cell transplantation (Inga Saknite)
9:00-9:10am - Lecture 5: UV and laser-induced skin alterations through the lens of confocal (Verena Ahlgrimm-Siess)
9:10-9:15am - Short communication 1: RCM to assess tissue morphologic changes induced by emollients in pediatric patients with atopic dermatitis (Rodrigo Roldan)
9:15-9:20pm - Short communication 2 (selection from abstract submissions)
9:20-9:30pm - Questions & Answers
9:30-10:00am coffee break
Session 2: Peering into the Future: Software and Hardware Advances
Panelists: Chen, Kang, Kose, Malvehy, Novoa, Patel, Rajadhyaksha, Yelamos (P)
10:00-10:10am - Lecture 1: AI - lessons from dermatology (Roberto Novoa)
10:10-10:20am - Lecture 2: AI - lessons from pathology (P)
10:20-10:30am - Lecture 3: AI applications for the in vivo tissue-coupled RCM (Kivanc Kose)
10:30-10:40am - Lecture 4: In vivo mosaicking with the hand-held RCM (Oriol Yelamos)
10:40-10:50am - Lecture 5: Advances in ex vivo confocal microscopy: from staining to AI (Joseph Malvehy)
10:50-11:00am - Questions & Answers
11:00-11:15am - Lecture 6: Combination devices to the rescue! Hand-held RCM 2.0, theranostics, and other future dreams (Milind Rajadhyaksha)
11:15-11:25am - Lecture 7: Bridging the gap between dermoscopy and histology with integrated hand-held RCM-OCT (Jason Chen)
11:25-11:35am - Lecture 8: Novel hand-held probe for in vivo RCM of oral cavity tumors (Snehal Patel)
11:35-11:45am - Lecture 9: Bringing down size and cost (Dongkyun Kang)
11:45-10:50am - Short Communication 1 (selection from abstract submissions)
11:50-12:00pm - Questions and Answers
12:00-1:00pm - Lunch
Session 3: Confocal Microscopy for Pathology and Mohs Surgery
Panelists: El Jabbour, Hartmann, Herrmann, Krishnamurthy, Malvehy, Murray, Nehal, Perez-Anker, Puliatti, Ranmarine
1:00-1:10pm - Lecture 1: In vivo diagnosis of peripheral neuropathy (David Herrmann)
1:00-1:15pm - Short Communication 1: RCM in the assessment and management of chemotherapy-induced peripheral neuropathy (Sabrina Ranmarine)
1:15-1:25pm - Lecture 2: Ex vivo confocal microscopy techniques- an overview (Javiera Perez-Anker)
1:25-1:40pm - Lecture 3: Ex vivo confocal microscopy applications in anatomic pathology (Savitri Krishnamurthy)
1:40-1:50pm - Lecture 4: Ex vivo confocal microscopy in the field of urology (Stefano Puliatti)
1:50-2:00pm - Lecture 5: Ex vivo confocal microscopy for breast pathology (Melissa Murray)
2:00-2:10pm - Questions & Answers
2:10-2:20pm - Lecture 6: Ex vivo confocal microscopy for dermatopathology (Daniela Hartmann)
2:20-2:35pm - Lecture 7: Use of confocal microscopy to guide management of complex skin cancers: A Mohs surgeons perspective (Kishwer Nehal)
2:35-2:40pm - Short communication 2: Rapid "gold standard" diagnosis without compromise? (Joseph El Jabbour)
2:40-2:50pm - Short communications 3-4 (5 min each) (selection from abstract submissions)
2:45-2:50pm - Questions & Answers
2:50-3:00pm - Closing remarks from Congress Presidents, Melissa Gill & Orit Markowitz