The U.S.-Africa Trade and Investment Global Roundtable will focus on key sectors with the view to opening business doors across the aisle
About this event
Join us for a Roundtable on Trade and Investment Initiatives that will showcase emerging opportunities across Africa, including in clean growth solutions, agribusiness and fintech. This is a one-day virtual event aimed at inspiring further USA investment into Africa, and opening doors of market opportuities for African businesses into the USA. It will highlight opportunities for Trade and Investment, the business climate, untapped potentials, and the investment ecosystem across USA and Africa.
This Roundtable will bring USA and African businesses together to unlock investment, boost growth and support a green transition in both the USA and Africa.
Meet the Speakers:
1. Craig O'Connor, Director, Renewable Energy & Environmental Exports, US EXIM Bank
2. Jeremy Faber, Trade and Investment Advisor, Prosper Africa, Washington, DC.
3. Danielle Agress, Country Manager, Southern Africa, U.S. Trade and Development Agency (USTDA)
4. Sindiswa Mzamo, President, Circle of Global Business Women, South Africa.
5. Ms. Rabia El Alama, Managing Director, American Chamber of Commerce (Amcham)Morocco
Lead Coordinator:
- Elsie Ezekiel, Director - International Programs development, U.S.-Africa Trade Council (USAfriTC)
Hosts:
- Reishina Boodhoo (Vice President, Investor Relations, USAfriTC)
- Denitra Samantha Kelly (Director, Government Relations, USAfriTC)
Register in advance for this meeting:
https://us02web.zoom.us/meeting/register/tZEtceitqT4oGNUK1dUffaWnJWDvq8XPPzyG
After registering, you will receive a confirmation email containing information about joining the meeting.
Register now... Don't miss this.
#africa #commerce #business #investment #development #opportunities #usa #america #southafrica #internationaltrade #trade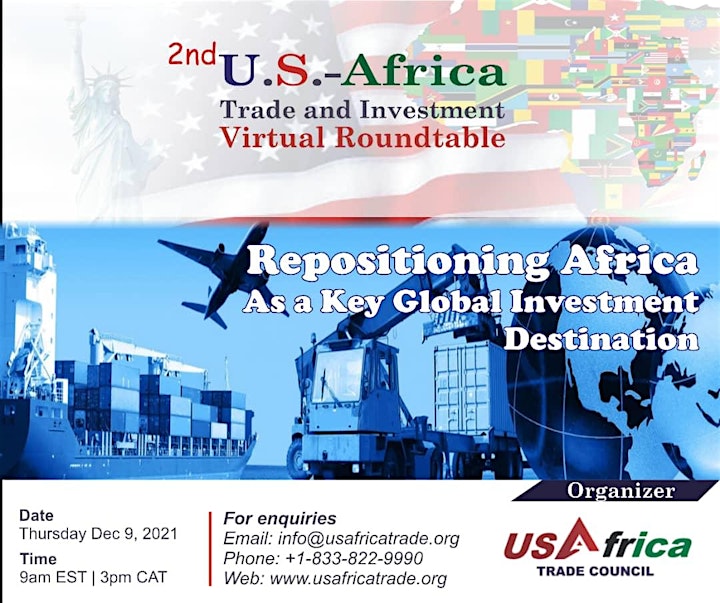 Organizer of 2nd U.S.-Africa Trade and Investment Global Roundtable