Description

Join us this month and every 2nd Sunday for Stories & Stuff @ The Avenue:
A lively interactive family storytime for all readers ages! Families and reading buddies will enjoy bonding together over beautifully written and read cultural stories and fun folktales performed by professional storytellers! This lively event for all ages includes our signature "storyactive" art projects, prizes and sometimes, weather permitting -- a lively parade down the Joseph Ave sidewalk to the Lincoln Library where we "Get Lit" with our instruments and positive chants in the parking lot!
So much fun and totally FREE -- just bring a smile, sense of adventure, warm heart, and your listening ears! Healthy snacks provided through our partnershp with Foodlink and the Avenue Children's Theater Project Healthy Living Initiative.
OUR MARCH WOMEN'S HISTORY CELEBRATION WILL FEATURE...The Avenue noDrama club teen fellows performing "Magistory Museum" and local community leaders!!
THEME: Celebrate Women 365
Books: Little Leaders: Bold Women in Black History by Vashti Harrison Read By local community leaders and sheroes; Sharitta Gross, Kenya Malcolm, Dr. Shari Evans, Camille Simmons, Dr. Lesli Myers-Small, CaTyra Polland, Nancy Sung Shelton, Tamara Leigh
MAGISTORY MUSEUM -- Where magic and history meet to bring the stories alive! Monologues and storytelling by Avenue noDrama club teens!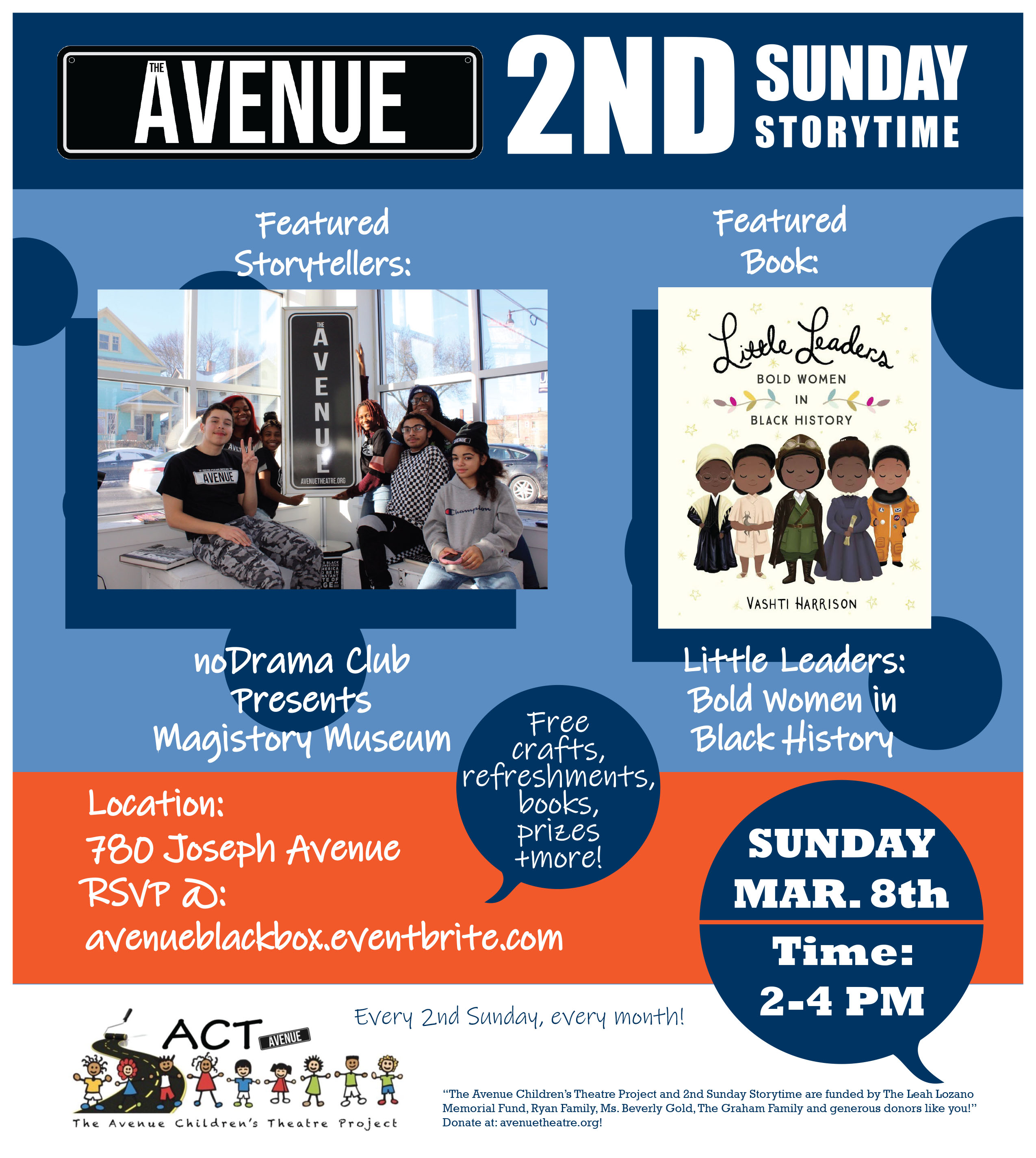 ---
LIST OF 2019-20 ADVENTURES:
- Nov. 10: Black Is Beautiful, Uh Huh!
Featured Book: Beautiful Black Bird by Ashley Bryan Read By Shirley Stephens Thompson
- Dec. 8:THEME: Kwanzaa
Featured Book: The Seven Spools of Thread: A Kwanzaa Story by Angela Shelf Madearis
- Jan. 12: THEME: MLK
Featured Book: I Have a Dream by Dr. Martin Luther King, Jr. (illustrated by Kadir Nelson)
- Feb. 9: THEME: Afros and Cornrows
I Love My Hair by Natasha Anastasia Tarpley AND
Featured Book: Crown: An Ode to the Fresh Cut by Derrick Barnes
- Mar. 8: THEME: Women Leaders
Featured Book: Little Leaders: Bold Women in Black History by Vashti Harrison
- Apr. 12: THEME: Children's Poetry Open Mic
Featured Book: Hey Black Child by Useni Eugene Perkins
- May. 10: THEME: Mothers
Special Mother's Day Second Sunday Storytime Brunch
Featured Book: A Chair for My Mother by Vera B. Williams
- Jun. 14: THEME: Fathers
Featured Book: In Daddy's Arm, I am Tall: African American Celebrating Fathers by Javaka Steptoe
Each month there will be featured readers, storytellers and a whole community of readers of all ages ready to slip onto the mat and read! Look out for special activities like pajama parties and hero costumes -- we like to mix it up sometimes! FREE Healthy snacks served (We appreciate families and guests not bringing in outside snacks - thank you.)
*Please remember to join our mailing list at avenuetheatre.org for more family-friendly events!
**WE NEED BOOKS! Each month we give away the feature books to each of our young readers! If you wish to donate in support of 2nd Sunday Storytime and the Avenue Children's Theatre Project. Please see the options in here in the box office or visit avenuetheatre.org for more options and/or tax deduction information. Thank you Hipocampo Books, our favorite bookstore for keeping books featuring authors and characters of color in stock always! Visit them to buy us books!
Much love,
-2nd Sunday Storytime Team
& THE AVENUE CHILDREN'S THEATRE PROJECT