Description
One of the world's premier musical innovators on her instrument, Baltimore-based Susan Alcorn has taken the pedal steel guitar far beyond its traditional role in country and western music.
Known for her virtuosity and authenticity in a traditional context, Alcorn paid her dues in Texas hillbilly bands. She soon began expanding the vocabulary of her instrument through her study of modern classical music (Messaien, Varèse, Penderecki), Astor Piazzola's nuevo tango, free jazz, Indian ragas and South American song. Her pieces reveal the complexity of her instrument while never straying from direct, personal expression.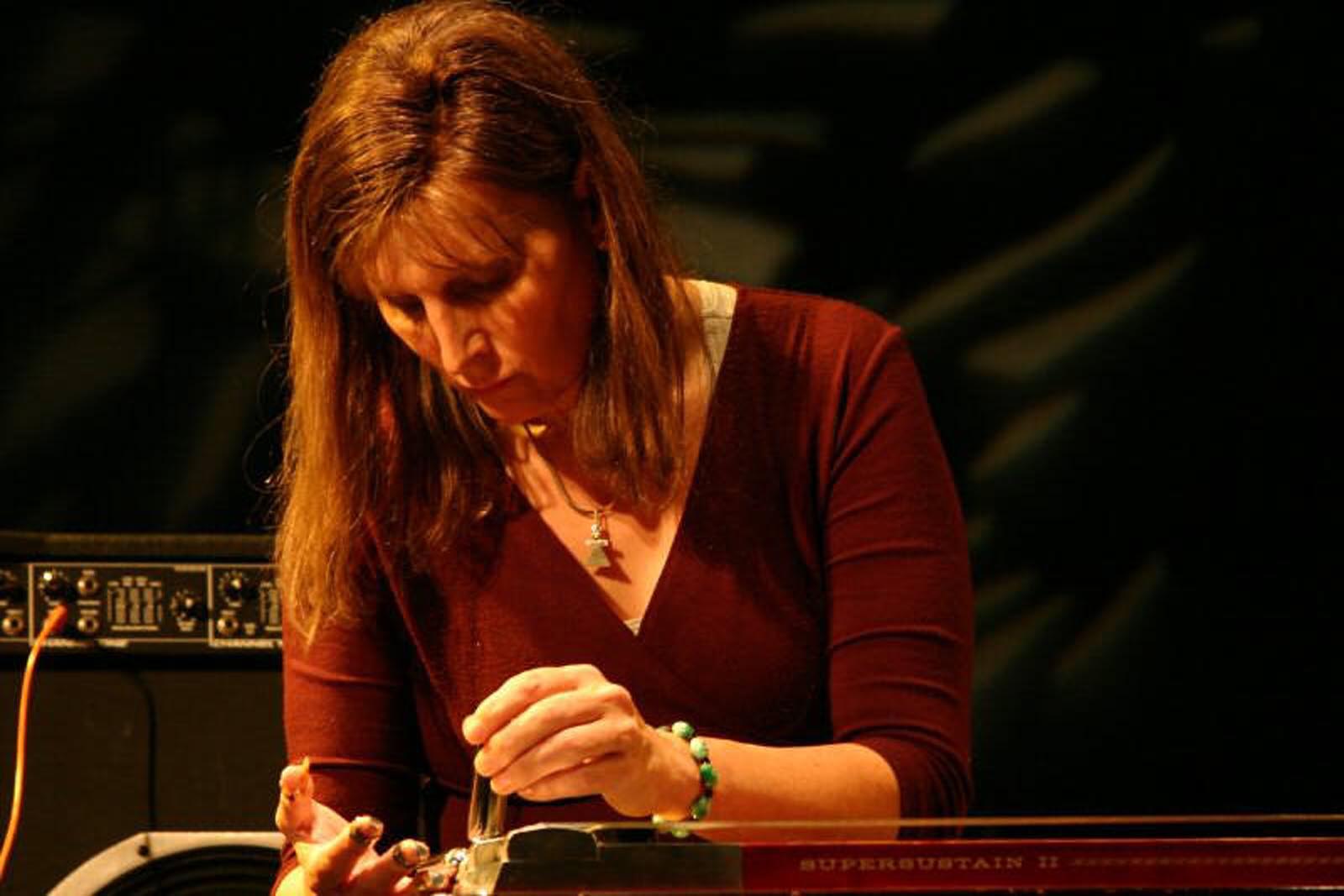 Susan Alcorn has worked with a who's-who of contemporary music: Thurston Moore, Mary Halvorson, Fred Frith, Helena Espvall, Hank Roberts, Evan Parker, Jandek and John Tchicai, to name a few. Alcorn's reminiscence about her years as a Texas musician (http://goo.gl/zI7GmG) was included in the DaCapo Press's Best Music of 2006.
Artist Interview: http://goo.gl/SmJn0P
Artist Website: http://www.susanalcorn.net/#!
"Though she can still skillfully slide her way through country tunes, these days Alcorn is based in Baltimore and primarily devoted to her own innovative work, chasing new sounds through extended techniques, instrument preparation, and free improvisation both solo and with fellow artists old and new. But her music remains engaged with melody and beautiful chords. "Maybe that's the country and western in me," she says. "I like a song!" – New Music Box
"With clarity and precision and a gift for invoking sweeping landscapes, Alcorn is able to perform arrangements of Curtis Mayfield or Olivier Messiaen, highlighting both their structural and spiritual aspects simultaneously and then attacking the strings zen-slap-loud or hovering stained-glass mobiles of sound-clouds. Dreamy stuff, full of emotion and one of the more Universalist twists on Americana." – Jay Babcock, Arthur Magazine
Doors open at 7:00pm and the show begins at approximately 8:00pm. Arrive early and enjoy a self-guided tour of the museum!
Beverages are included in the ticket price, non-alcoholic for everyone, and beer & wine to those 21+.