2nd National Maternal Child Health and Nutrition (MCHN) Conference in Ghana
Description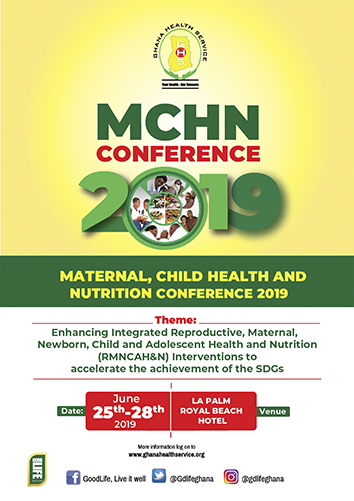 The Family Health Division of the Ghana Health Service in collaboration with key partners is calling for the second National Maternal Child Health and Nutrition (MCHN) Conference scheduled to take place in June 2019.
This year's conference under the theme "Enhancing Integrated RMNCAH &Nutrition Interventions to accelerate the achievement of the SGDs" aims to build on the agenda that was set last year, as well as bring to the fore emerging policy and programme issues and explore actions and improved solutions.
The conference theme is guided by the fact that the country continues to be burdened by high rates of maternal mortality and high fertility, high anaemia prevalence and rising rates of overweight and obesity. Major determinants that need to be closely appraised include low access and utilization of family planning services, sociocultural practices and belief systems that directly or otherwise contribute to maternal mortality are also important elements.
The discussions around nurturing care and the need to ensure that every woman and child has access to health care toward achieving UHC, that set the tone for 2018 conference, will continue. Time will also be allocated for reviewing and tracking progress towards the SDGs implementation.
Objectives:
Explore innovative actions to promote maternal health, access to family planning and reduce preventable maternal and newborn morbidity and mortality.

Discuss strategies for strengthening the health system to support quality of care in RMNCAH & Nutrition

Review progress and explore actions for accelerating the achievement of SDGs in RMNCAH & Nutrition

Provide a platform for technical updates on new policies ,strategies for RMNCAH & Nutrition and sharing innovations, lessons learnt and best practices

Review progress of implementation of activities and status of RMNCAH & Nutrition for the year 2018.
Abstract Submission Deadline | 17th May, 2019
Conference Registration Deadline | 31st May, 2019