2nd Latin America Ports Forum 2017 - Panama

Wednesday, June 28, 2017 at 9:00 AM

-

Thursday, June 29, 2017 at 3:00 PM (EST)
Event Details
2nd Latin America Ports Forum in Panama City, Panama on June 28-29, 2017
Projects, industry trends, technological innovation the evolving business opportunities within the port sector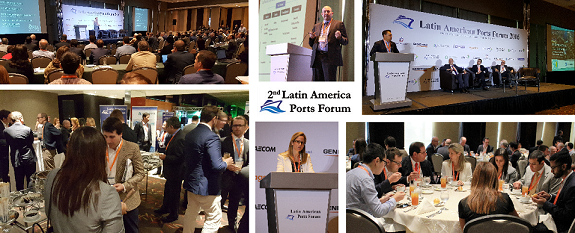 The annual Latin America Ports Forum (www.latamports.com) will gather regional port authorities, shipping companies, infrastructure project developers, construction companies concessionaires, operators, investors and government leaders to discuss opportunities revolving around the evolving port industry in Latin America.
To request agenda, click here.
Competitiveness and increased productivity are crucial in today's operating environment. Don't miss this unique opportunity to develop the strategic business relationships necessary to succeed in this market.
The evolution expected in the port and shipping business after the opening of the new set of locks at the Panama Canal is at the center of the conference agenda. Additional industry hot topics include ports productivity, multi-modal integration, new models of port governance as well as the region's most important brownfield and greenfield port projects.
Some of this year's confirmed speakers include:
Oscar Bazán, VP Ejecutivo de Planificación y Desarrollo de Negocios, Autoridad del Canal de Panamá 
Víctor Julio González Riascos, Gerente General, Sociedad Portuaria Regional de Buenaventura S.A.
Rommel Troetsch, Presidente, Cámara Marítima de Panamá
Sean Strawbridge, COO, Port of Corpus Christi
Miguel Bolinaga, CEO, AES Panamá
René Puche, Presidente, Puerto de Barranquilla 
Kenneth Zhang, GM International Dept, Shanghai Gorgeous Group
Julián Palacio, Director Ejecutivo, Latinports
Alex Kyriakoulis, Partner, Holman Fenwick Willan LLP
José Ramón Arango, Líder, Segmento de Graneles Líquidos, Autoridad del Canal de Panamá
Juan Carlos Croston, Vicepresidente del Consejo General, Caribbean Shipping Association
Ana Reyes, Coordinadora del Gabinete Logístico, Ministerio de la presidencia
Cesar Cañedo-Arguelles, CEO, CIFI
Verónica Zambrano, Gerente General, Autoridad Portuaria Nacional del Perú
Martín Gustavo Ibarra, Presidente Honorario, Asoc. De Zonas Francas de las Américas
Alvin Anaya, Gerente General, Oiltanking Panamá
Peter Lugthart, South America Representative, Port of Rotterdam
José Montes, Fundador de Keystone Market Developers y ex Gerente General de SOc. Portuaria El Cayao
Irma Garrido, SVP Desarrollo Corporativo y Relaciones con Inversionistas, Bladex
Álvaro Ríos, Director, Gas Energy
Luis Fernando Cabrera, Jefe de Asuntos Portuarios, Alcaldía Mayor de Barranquilla
Brian Bakely, Lead Investment Officer, IADB
Givanni Benedetti, Director Comercial, SPR de Cartagena 
and more
The 2nd Latin America Ports Forum is supported by the Panama Canal Authority, the Port of Barranquilla, the Camara Maritima de Panama and Latinports and sponsored by the Port of Corpus Christi, PSA Panama, Hutchison Ports - PPC, Intercoastal Marine, Quintiq, Mercator International, Holman Fenwick Willan - HFW, and Bladex.  

During the two day conference, industry experts and colleagues will discuss the evolving business opportunities related to the ports in Latin America. Significant attention will be placed on the infrastructure projects that will increase capacity in the region, and how ports and terminal operators are adapting to the continuous changes underway in the world and regional trade.
You are warmly invited to join us in Panama in June 2017. For those interested in sponsorship opportunities or group discounts, you can contact info@latamports.com
ESPAÑOL
El 2nd Latin America Ports Forum 2017 (www.latamports.com) se celebrara en Panamá los días 28 y 29 de junio próximos en el Sheraton Grand Hotel y cuenta con el apoyo de la Autoridad del Canal de Panamá, Latinports, la Cámara Marítima de Panamá, la Sociedad Portuaria Regional de Barranquilla y el Caribbean Maritime Institute.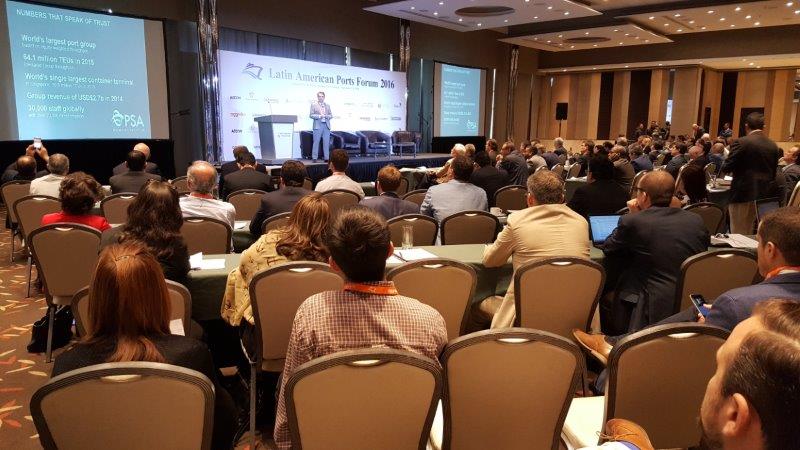 Durante la conferencia se discutirá sobre el nuevo entorno que la ampliación del Canal de Panamá presenta para la industria portuaria de América Latina y el Caribe, la necesidad de mejorar la productividad y eficiencia de los puertos de la región, los desafíos de gobernanza de los puertos y sus áreas de influencia, la necesidad de transformar las terminales portuarias en nodos logísticos, las oportunidades que se presentan como centros para el desarrollo de áreas manufactureras bajo zonas francas o zonas especiales y las tareas pendientes en materia de integración multimodal. También dedicaremos un espacio al financiamiento de proyectos portuarios, a los puertos especializados en energía y a la evolución de la seguridad portuaria y naviera.
Entre los temas a tratar en la conferencia están: 
Infraestructura: expansiones, nuevos puertos, nuevas terminales e hidrovías

Efecto de la consolidación en el mercado de líneas navieras

Tendencias en el tamaño de las naves y su impacto en los puertos de la región

Efectos de la expansión del Canal de Panamá

Cambios en las rutas marítimas

Proyectos de conectividad bioceánica

Productividad

Tecnología e innovación

Nuevos equipos

El factor multimodal y el rol de la infraestructura ferroviaria

Puertos secos y áreas logísticas

Terminales especializadas en energía

Evolución de los modelos de negocio: de puertos a complejos logísticos

Financiamiento y gestión de riesgos

Seguridad 
Para descuentos grupales o información sobre oportunidades de auspicio se puede poder en contacto con nosotros a través de info@latamports.com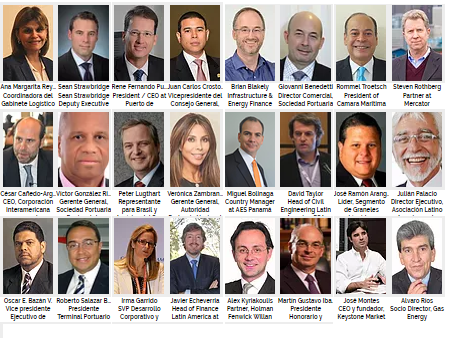 When & Where

Sheraton Grand Panama
Vía Israel y Calle 77

Panama

Wednesday, June 28, 2017 at 9:00 AM

-

Thursday, June 29, 2017 at 3:00 PM (EST)
Add to my calendar
Organizer
Organized by Industry Exchange LLC
2nd Latin America Ports Forum 2017 - Panama