2nd International Conference on Psoriasis, Psoriatic Arthritis & Skin Infec...
Description
About Conference
2nd International Conference on Psoriasis, Psoriatic arthritis and Skin infections at New York, USA during October 16-18, 2017 by Conference Series LLC, brings together doctors, dermatologists, scientists, keynote speakers, Young researchers from across the country to connect, share stories and learn from each other about living with psoriatic disease.
The main purpose of this conference is focussing on the dermatologists who are involved in psoriasis, psoriatic arthritis, patient management, hospital and private practice across various countries and medical practice with some therapeutic strategies. moreover we have invited the famous personalities that is key note speakers from all over the world who are in research of psoriasis and report their valuable experiences, suggestions, clinical studies to the young researchers ,delegates.
The topics like remedial focuses in psoriasis, topical and systemic medications, photo therapy and joined treatments, auto immune disease treatments ,life quality and adherence to treatment, tolerant instruction, patient education and psoriasis and inward pharmaceutical will likewise be tended in workshops which permit you to communicate with globally experienced speakers. Psoriasis conference provides a unique opportunity to update your knowledge on psoriasis. We provide a good platform to develop new partnership and collaborations. This platform will attain you with an exceptional format in show casing your products and services. Exhibitions provide you one location to reach your top customers.
Market Analysis Report
Importance and Scope:-
Patient instruction is essential since patients ought to be educated and included in the choice in the matter of what treatment they wish to have. About one in four individuals with psoriasis encounter major mental pain, and the degree to which they feel socially criticized and barred is considerable. Specialists, including dermatologists, frequently neglect to value the degree of this handicap and not withstanding when it is effectively recognized, less than 33% of individuals with psoriasis get suitable mental intercessions. Individuals with serious infection have a more than two fold increment in mortality from cardiovascular illness in spite of the fact that it is uncertain whether this expansion specifically identifies with the psoriasis itself, or to the expanded predominance of customary cardiovascular hazardfigures individuals with psoriasis.
For a great many people psoriasis is overseen in essential care, with authority referral being required sooner or later for up to 30% of individuals. Psoriasis is a typical, ceaseless ailment, related with significant psychosocial grimness and vital comorbidities. Successful medicines are accessible. A few medications are costly, all require suitable observing and some might be gotten to just in master mind settings.
It is a scientific program for a proficient audience and focusing on the special importance of the day to day medical life and patient management, private practice, services directly aimed to serve the needs of practicing dermatologists involved in psoriasis across many countries.
Why New York???
New York is a state in the North-eastern United States and is the 27th most extensive, fourth-most populous and seventh-most densely populated U.S. state.
Clinical research division at New York has added to the improvement of the greater part of the current advances in the treatment of psoriasis, dermatitis, skin break out, vitiligo, precancerous sores, and skin malignancies. In their fundamental science labs, the specialists work to comprehend the cause and sub-atomic pathways of both infection and wellbeing, so that future clinical medications can be created. The dermatologists make altered treatment arranges in view of the manifestations, wellbeing, and treatment objectives. They may suggest light treatment or solution. The authorities additionally offer biologic drugs that many individuals find diminish their indications adequately.
The New York metropolitan area has the busiest airport system in the United States. It is also the most frequently used port of entry and departure for international flights. The metro area is served by three major airports, John F. Kennedy International Airport (JFK), Newark Liberty International Airport (EWR) and La Guardia Airport (LGA), which have been operated by PANYNJ since 1947. The International Air Transport Association airport code (IATA code) "NYC" is reserved to refer to these three airports. JFK and Newark are connected to regional rail systems by Air Train JFK and Air Train Newark respectively.
Tourist attraction:-
Empire State Building, Statue of Liberty, Central Park, Metropolitan Museum of Art,, Museum of Modern Art (MoMA), American Museum of Natural History (AMNH), Rockefeller Center, National September 11 Memorial & Museum (9/11 Memorial and 9/11 Memorial Museum), Grand Central Terminal (GCT), High Line, Solomon R. Guggenheim Museum, Ellis Island, Chinatown, Radio City Music Hall, Brooklyn Bridge, Coney Island, Madison Square Garden, Intrepid Sea, Air & Space Museum, The Cloisters, Little Italy, Lincoln Center for the Performing Arts, Times Square, Bryant Park, Staten Island Ferry, Yankee Stadium, St. Patrick's Cathedral, Whitney Museum of American Art, Carnegie Hall, Chrysler Building, Governors Island, One World Trade Center, Frick Collection, 42nd Street, Madame Tussauds New York, Liberty Island, Battery Park, New York Hall of Science, Brooklyn Botanic Garden, Bronx Zoo, Central Park Zoo, New York Botanical Garden, New-York Historical Society, Lower East Side Tenement Museum, Citi Field, Gramercy Park, Prospect Park, Flatiron Building
Conference Highlights
Basic and translational research in psoriasis
Associated conditions
Scoring and monitoring the severity of the disease
Bacterial Fungal and Viral Skin Infections
Physiopathology and pathogenesis for Psoriasis
Diagnosis Therapies and treatment
Biological Effect on Psoriasis
Major treatments on Skin Infections
Psoriatic arthritis
Triggers factors
Diet and psoriasis
Phototherapy and Laser therapy
Clinical features
Topical Treatment
Psoriasis in children and pregnancy
Entrepreneurship Investment Meet
Why to attend???
Gathering is specifically planned for Psoriasis 2017 is to serve the necessities of rehearsing dermatologists required in psoriasis mind crosswise over nations in outpatient administrations, healing center, and private work on, concentrating on the patient administration and restorative techniques with an un common significance on the everyday medicinal practice. Subsequently, we can have an extraordinary opportunity to meet key note speakers over the world and from all fields of psoriasis research and care to provide details regarding their encounters and convey understanding into the most recent discoveries and clinical reviews. By going to different introductions, you will gain from others and enhance your own particular abilities and information about your field. It is additionally imperative to connect with their work, make inquiries and maybe go and see them after the board.
A unique opportunity for Advertisers and sponsors at this International event
Psoriasis 2017 is a well organised scientific event consisting workshops, symposiums, exhibitions of cosmetic products, dermatological instruments, and special sessions for young researchers and students with modern and advance research from top universities, research centres, hospitals, and top most cosmetics and pharmaceutical industries.
Target Audience:-
Dermatologists
Doctors
Clinical organizations
Skin-care institutions
Educational institutions
Healthcare professionals
Cosmetic and pharmaceutical companies and industries
Business delegates
Industrialist
Young researchers and Students
Major Psoriasis Societies and Associations in New York
New York State Society of Dermatology and Dermatological Surgery
Skin cancer foundation
American skin association
Major Psoriasis Societies and Associations in USA
National Psoriasis foundation
Cutaneous lymphoma Foundation USA
Psoriasis Society of Canada
Major Psoriasis Societies and Associations around the Globe
International Psoriasis Council (IPC)
Red Latinoamericana de Psoriasis : LATINAPSO
Group for Research and Assessment of Psoriasis and Psoriatic Arthritis: GRAPPA
Sociedad Latinoamericana de Psoriasis: SOLAPSO (Egyptian Psoriasis Network)
Psoriasis Association Southland
South African psoriasis Association
Canadian Association of Psoriasis Patients
Psoriasis Association of Singapore
Psoriasis Association of Malaysia
Psoriasis International Network
Psoriasis association, UK
European Federation of Psoriasis Associations – EUROPSO
National psoriasis foundation (NPF)
International federation of Psoriasis association (IFPA)
Psoriasis Association of India
Japanese Society for Psoriasis Research
Bulgarian Psoriasis Group Psoriasis association, UK
Irish skin foundation
Dermnet New Zealand
FIRST(foundation for ichthyosis and related skin types)
British skin foundation
IDSA education and research foundation
American medical association
Organizing Committee - Psoriasis-2016

Agenda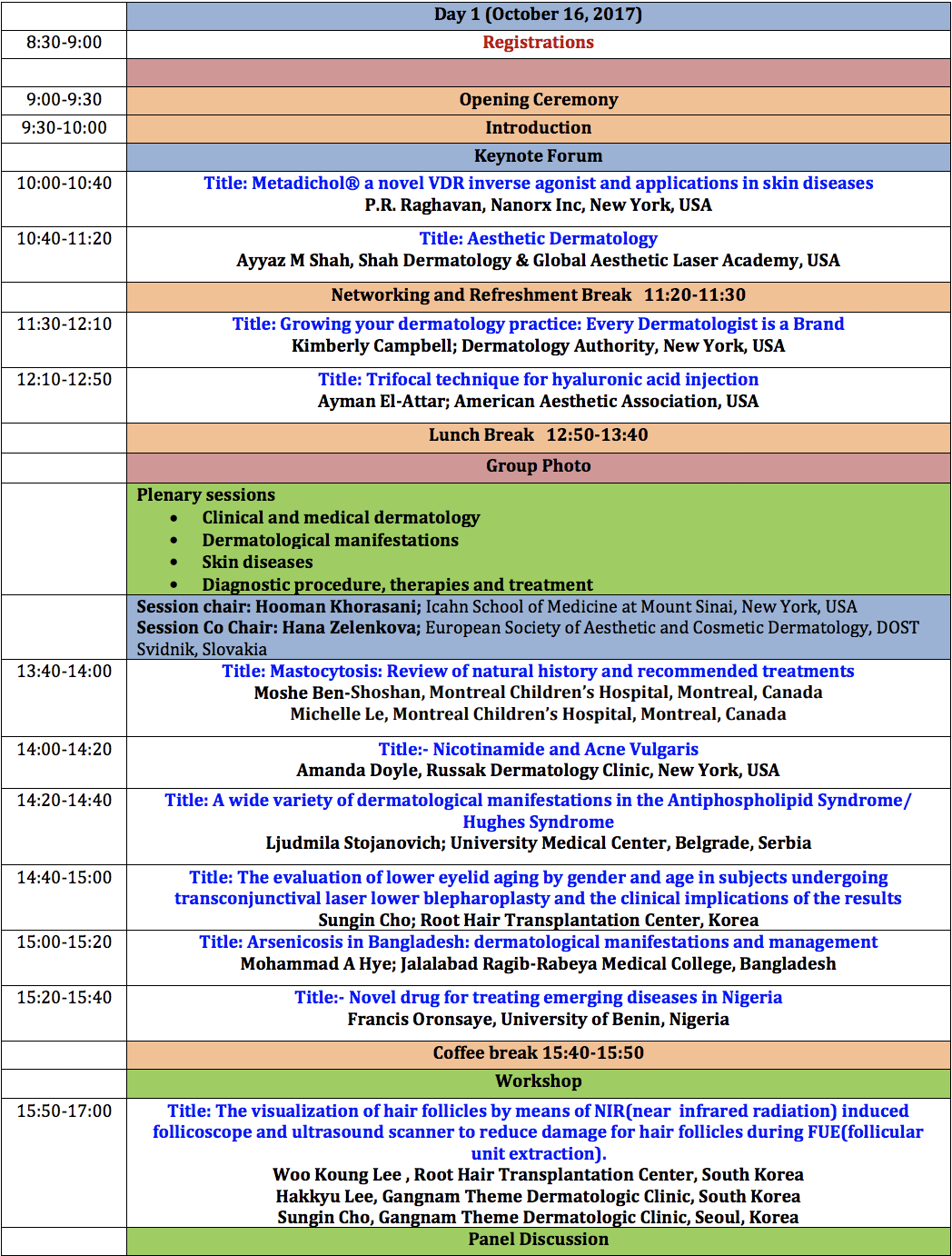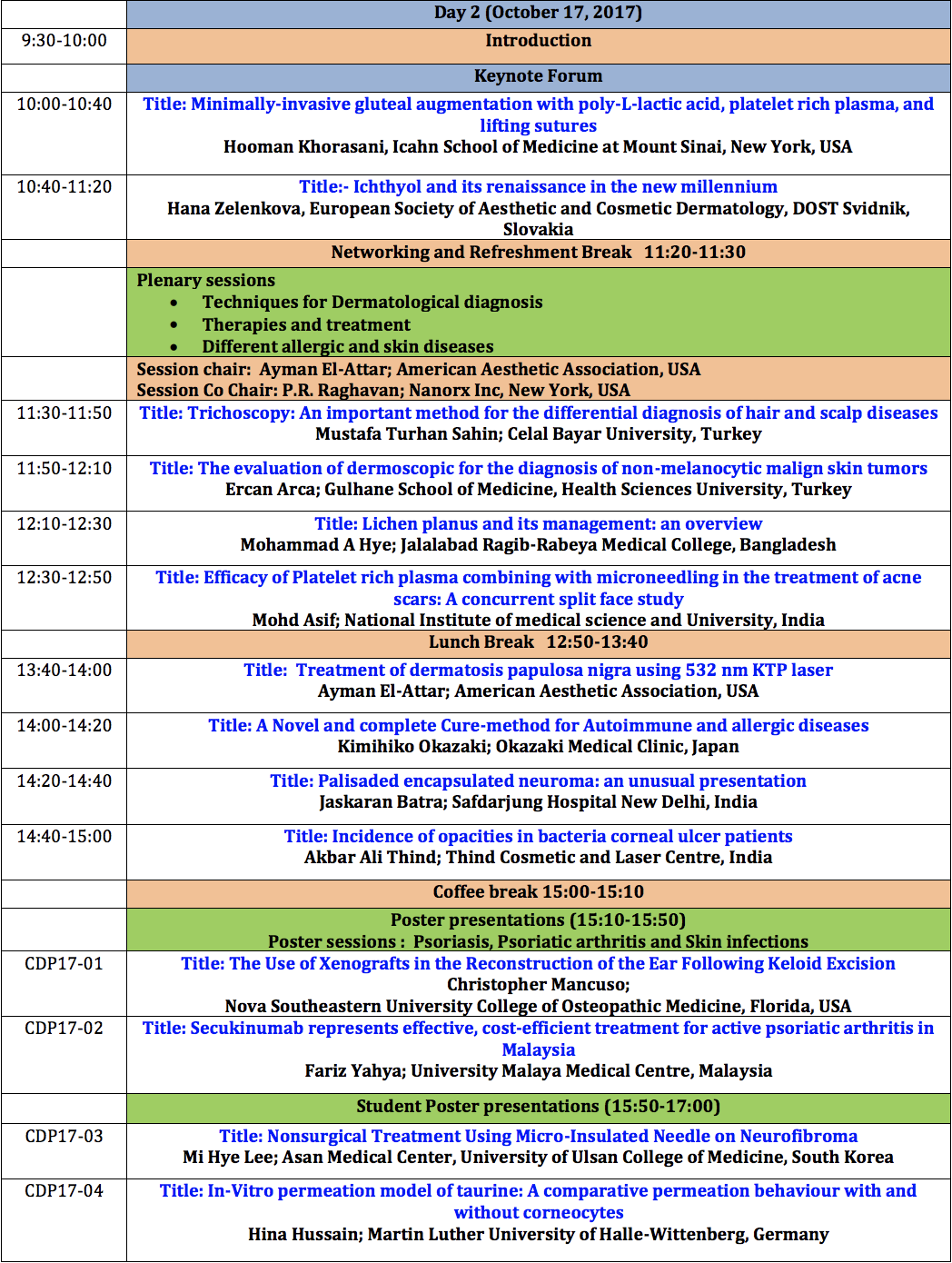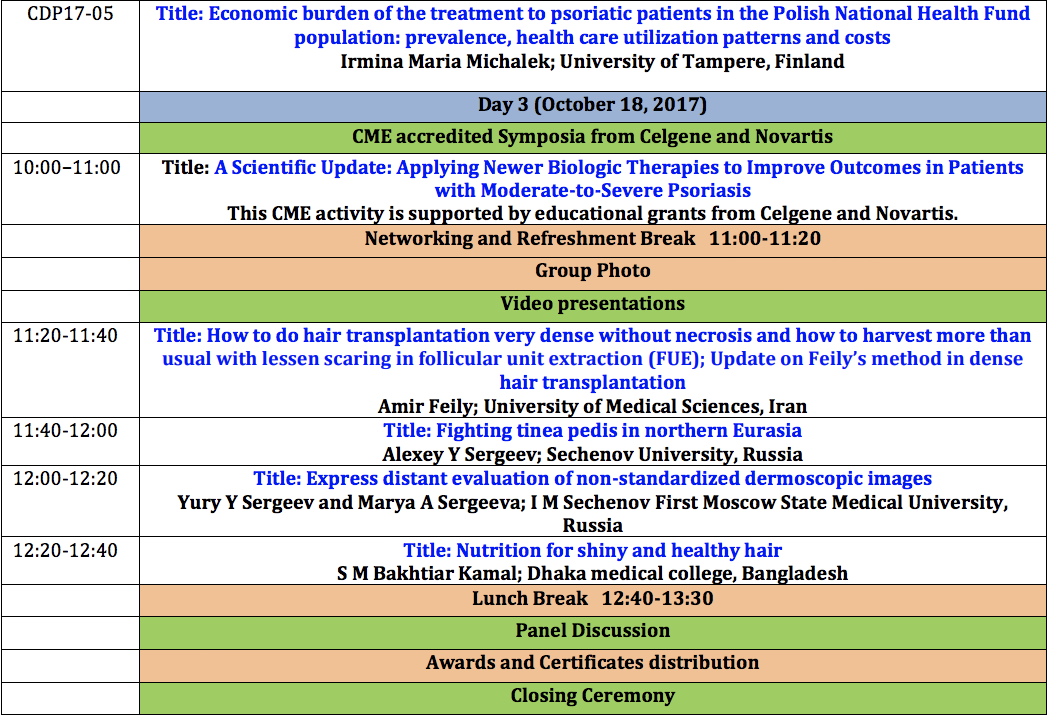 Date and Time
Location
Refund Policy