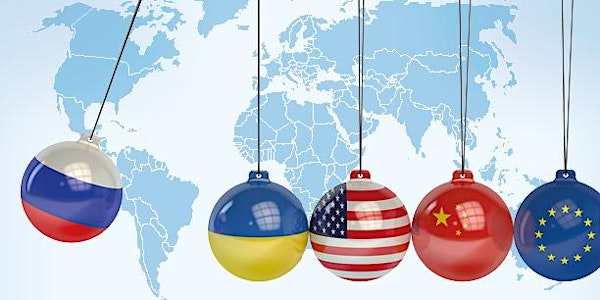 2nd Global Goals Forum
On the occasion of the Rio+30 activities, the 2. Global Goals Forum is examining the question of how globalization can be readjusted.
About this event
Rethinking Globalisation
The future is "VUCA" – volatile, uncertain, complex, and ambiguous. And so is globalization. But what comes next? What should the next trading system be? And what happens to the UN Sustainable Development Goals? The 2nd Global Goals Forum examines the question of how globalization can be readjusted and sustainably oriented. Join us at the virtual summit on October, 13, 2022!
https://www.globalgoals-forum.org
PRELIMINARY AGENDA
9:00 -9:30 h CET - Greeting Notes
Jorge Laguna Celis, Head of United Nations One Planet Network
Dr. Elmer Lenzen, Chairperson, macondo foundation

9:30 -10:00 h CET - Setting the Scene
Keynote
Prof. Dr. Bayo Akomolafe Philosopher, Psychologist and Poet

10:00 – 12:00 h CET - Globalisation in Reverse?
Keynote
Michael O'Sullivan, Former CFO Credit Suisse, Author of "The Levelling"

Panel Discussion
Aditi Sara Verghese, Policy Lead, World Economic Forum
Michael O'Sullivan, former CFO Credit Suisse
Harald Nikutta, CEO Control Risk Germany
Moderator: Richard Roberts, Inquiry Lead, Volans

12:00 – 14:00 h CET - How can we balance planet, purpose and profit?
Keynote
Prof. Dr. Petra Künkel, CEO Collective Leadership Institute, Board Member, Club of Rome

Panel Discussion
Dr. Mathis Wackernagel, Founder and President Global Footprint Network
Iris Lapinski, Executive Director, B Lab Germany
Christian Walter, CEO, SedaiNow
Asuka Kaehler, Activist, Fridays for Future
Moderator: Simona Costanzo Sow, UNSSC

14:00 -15:00 h CET - 30 Years Rio-Process
Keynote: Rio+30: History and its Future
Prof. Dr. Dr. Stefan Brunnhuber, Club of Rome

15:00 – 16:30 h CET - Sustainability and the New Silk Road
Panel Discussion
Prof. May Tan-Mullins, Dean, James Cook University
Peggy Liu, Chairperson, Joint US-China Collaboration for Clean Energy (JUCCCE)
Dr. Miguel Cerna, CEO, Alternatives-a
Carlo D'Andrea, Vicepresident, European Union Chamber of Commerce in China
Moderator: Prof. Dr. Frank Ebinger, TH Nuernberg

The Forum is organized under the patronage of the macondo foundation gemeinnützige UG (haftungsbeschränkt), Dahlweg 87 / 48153 Münster / Germany, macondo-foundation.org