Description

2nd France Study Tour:
Natural Dyes + Historical Tapestries + Paleolithic Sites

Workshop by Michel Garcia
Led by Yoshiko I. Wada & her Team

Group A: 26 June – 07 July 2019
Paris → Angers → Cholet → Nantes → Carnac → Le Faouët → Quimper → Lorient (3-4 hour train ride to Paris)



Musée d'histoire de Nantes, 1st France Study Tour, 2018

Led by Yoshiko Iwamoto Wada, founder of Slow Fiber Studios and producer of the Natural Dye Workshop film series, the 2nd France Study Tour will explore Paris and the cultural regions of the Loire Valley and Brittany, inhabited by humans since the Lower Paleolithic Period.
Focus on some of the most precious textile works in history, including the Apocalypse Tapestry, a 600 year–old naturally dyed masterpiece spanning 140 meters. Gain a deeper understanding of European textile manufacturing, from medieval dyeing processes to the rise of industrial cotton mills and global trade, to Michel Garcia's insights into modern organic chemistry. Join him at his new studio in Brittany as he continues his research and experimentation to unlock the mysteries of natural colors.

Tour Highlights
Participate in an informal discussion and exchange with Parisian textile colleagues.

Enjoy dinner with friends and colleagues at a local Corsican restaurant.

Explore the history of trade from East to West and the development of textile manufacturing in Europe with a visit to the Musée de la Toile de Jouy, near Versailles, where the fashionable printed fabrics of 18th-century France were once produced using natural dyes.

Visit the recently restored Musée de Cluny to explore its impressive collection of artworks and objects from the Middle Ages including the Tapestries of the Lady and the Unicorn, one of the greatest surviving masterpieces of medieval European art.

Visit the Château d'Angers, a 9th-century castle containing the Apocalypse Tapestry, a 600-year-old naturally dyed masterpiece spanning 140 meters.

Discover the prehistoric sites of Locmariaquer and Carnac where monoliths, tombs, inscriptions, tools, and objects provide insights into early human civilization.

Witness the extraordinary textile works of Jean Lurçat, a key figure in the revival of contemporary tapestries.

Trace the evolution of textile manufacturing in Cholet with a tour through a former cloth bleaching factory and visit to an extraordinary garden of plants used for fiber and dye.

Explore the unique history of Nantes on the Loire River, the largest industrial center for the trade and production of cotton printed fabrics, with guided visits to old historical landmarks and gardens.

Visit the Memorial to the Abolition of Slavery, a monument dedicated to the historical awareness and remembrance of the slave trade and slavery in Nantes.

Explore Le Faouët, a small commune in the region of Brittany where sixteenth century timber market halls are a noted feature of the town and two medieval chapels lie within its boundaries.

Visit the Musée du Faouët whose collection includes more than 450 works of paintings, drawings, engraving, and sculptures inspired by the rich heritage and traditions of the region.

Wander the streets of Quimper, a thousand-year-old city situated in Northwestern Brittany recognized for its artistic and historic significance.

While in Quimper, enjoy a guided tour through the Musée Départemental Breton whose collection pays homage to local Breton craftsmanship including decorative costumes, earthenware, gold and silver smithing, furniture, and more.

Journey to the harbor of Port Louis to uncover the history of the precious dyed textiles and painted Indian cottons traded by the Compagnie des Indes at this aperture to the world.
---
DETAILS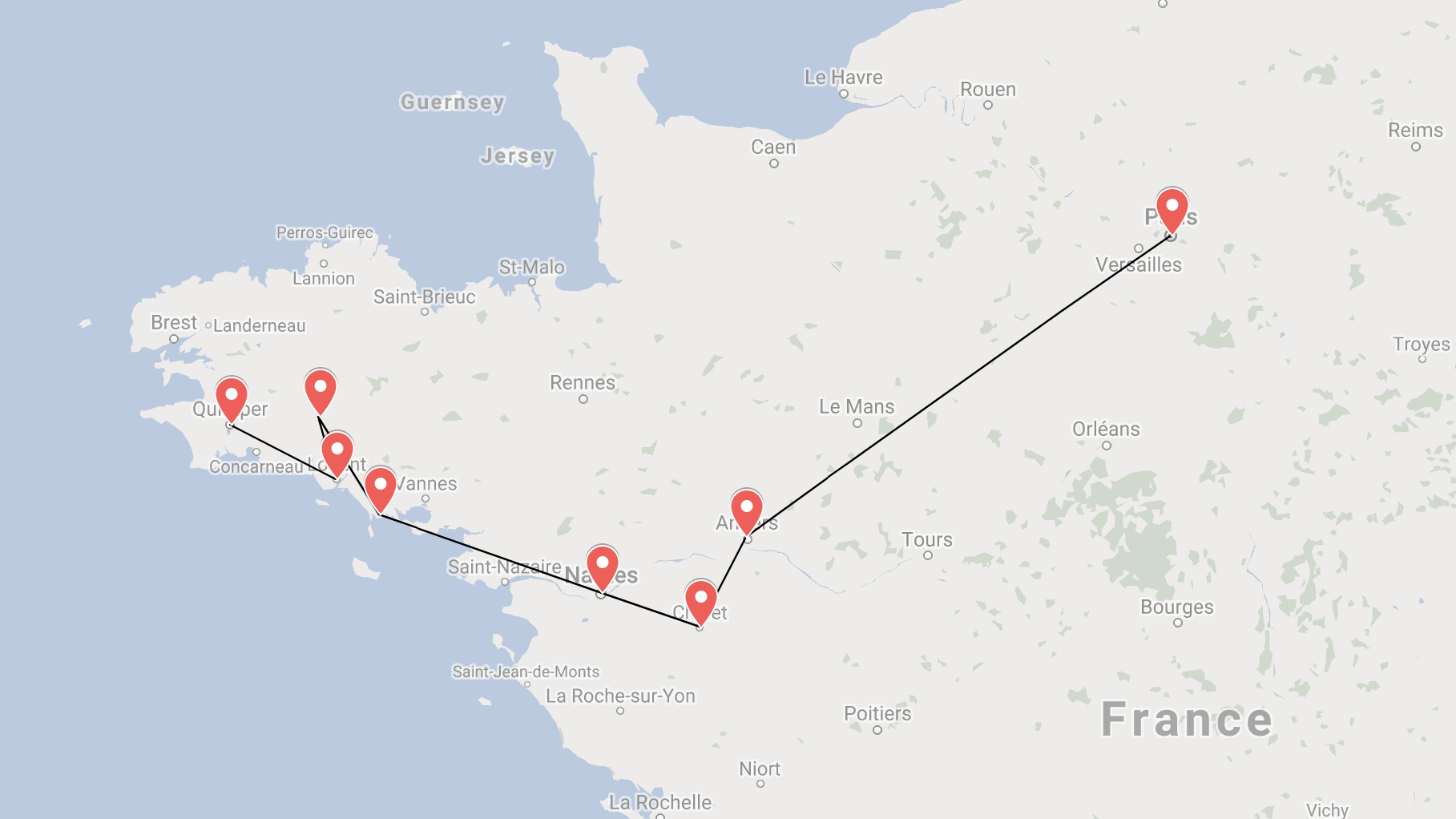 Group A: 26 June – 07 July 2019
Deposit: 500 USD
Registration Estimate: 3,950 USD
Single Supplement Estimate: + 850 USD
Workshop Demonstrations: + 500 EUR for 5-day natural dye workshop with Michel Garcia (incl. 5 lunches)
Length: 11 Days, 11 Nights
Arrive: 26 June, Paris
Depart: 07 July, Lorient (Gare de Lorient)
Destinations: Paris (2 Nights) → Angers (1 Night) → Cholet (Excursion) → Nantes (1 Night) → Carnac (Excursion) → Le Faouët (6 Nights) → Quimper (Excursion) → Lorient (1 Night)
Lodging: 11 nights of shared accommodations
Meals: 11 breakfasts, 2 lunches, 2 dinners
Transport + entry fees: Private and public transport between cities and venues. Most museum entry fees included. Some guide provided.
Maximum Participants: 8
Minimum Participants: 5

Registration + Deposits
Please carefully read Slow Fiber Studios Study Tour Policies. Study Tours are only open to World Shibori Network members. Learn more about membership privileges on the World Shibori Network Membership website.
Registration includes transport between cities and venues, accommodations, entrance fees to museums and historical sites, and select meals.
Registration does not include 500 EUR for the 4½-day natural dye workshop demonstrations, to be paid directly to Michel Garcia. Among other things, you are responsible for purchasing your own airfare and travel insurance.
Purchasing a deposit guarantees you a place in this program. When tour registration opens, the full deposit will be applied to the registration cost.

Refund Policy
View Slow Fiber Studios refund policies on the Study Tour Policies page. Contact us at staff@yoshikowada.com to request a refund.
---
TOUR LEADERS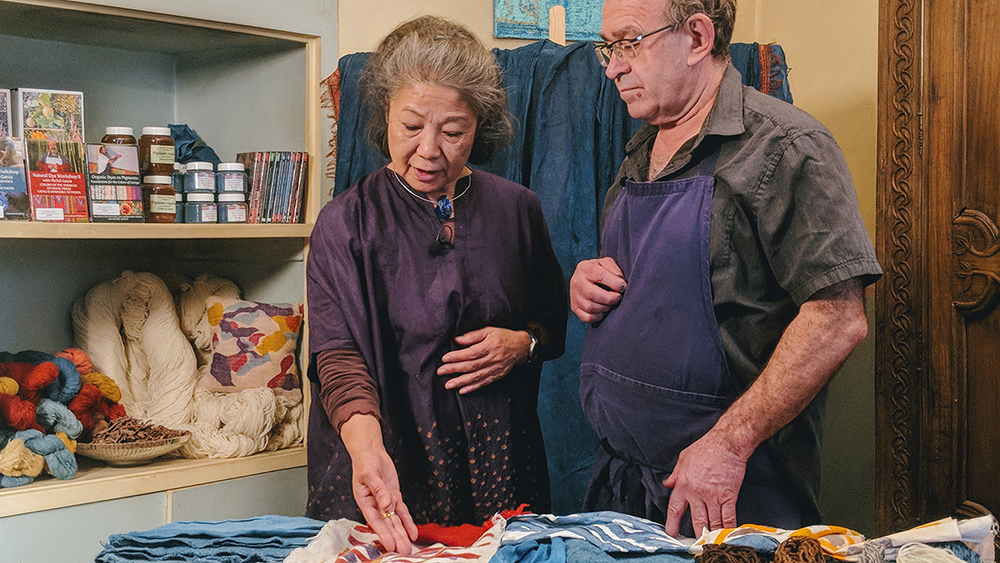 Filming of Natural Dye Workshop IV, Le Faouët, Morbihan, France, 2018

Michel Garcia
Michel is a world-renowned botanist, chemist, naturalist, and natural dye expert. He is the founder of Couleur Garance (1998) in Lauris, France, and established Le Jardin Conservatoire de Plantes Tinctoriales (Botanical Garden of Dye Plants) in 2000 as a horticultural resource for chemists, natural dye researchers, and botanists. He has been instrumental in revitalizing the natural dye practice in France and abroad.
www.michelgarcia.fr

Yoshiko Iwamoto Wada
Yoshiko is an artist, curator, textile scholar, president of World Shibori Network, founder of Slow Fiber Studios, producer of the Natural Dye Workshop film series, and co-chair of the 1st – 11th International Shibori Symposiums. A Berkeley resident since 1973, she continues to lead a wide range of workshops, lectures, tours, and international symposia, emphasizing sustainability, tradition, and innovation in design.
www.yoshikowada.com

---
Banner: Filming of Natural Dye Workshop IV, Le Faouët, Morbihan, France
For questions, please contact us at staff@yoshikowada.com.