Description
The EPM Society is organizing the 2nd EPM workshop at the Granlibakken Resort in the beautiful Lake Tahoe area. This meeting will bring together clinicians, researchers and industry companies with diverse interests in the field of EPM. The meeting is by invitation only and there is no registration fee; however, registration is required. The goal is to review and discuss topics such as the basic science of EPM, diagnosis, treatment and prevention. We hope to share knowledge, ideas and experiences of this still important disease and to identify needed areas of research. In addition to designated topic sessions, there will be presentations of research abstracts by attendees.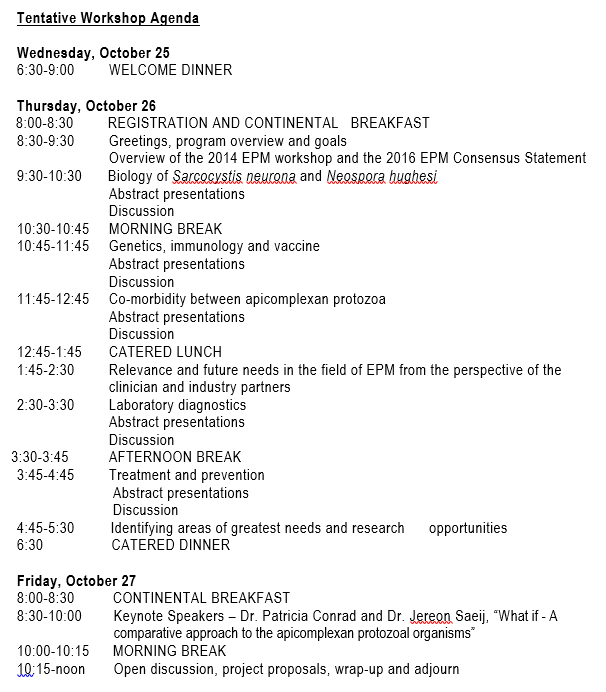 Abstract Submission
If you intend to present an abstract, please follow the abstract guidelines. Please share this invitation and call for abstracts with any graduate students or clinical residents who are interested. The abstract submission deadline is August 31, 2017. Send the abstract as a word document to Jenny Evans at jenny.evans@uky.edu.
Registration
Veterinary research foundations and corporations are generously sponsoring the workshop. The workshop will cover the costs of the meeting rooms and meals. Each attendee is responsible for their own travel and lodging costs. Small stipends will hopefully be available for graduate students and clinical residents presenting an abstract.
Hotel Reservations
Reservations are due by September 25. Follow these steps to make reservations at Granlibakken:
Go to

www.granlibakken.com

Select "event/group reservations"

The Group ID and Password are the same entries: EPM17 (not cap sensitive)

Select "reservation form"

Fill out the registration form and hit submit at the end

A confirmation will be emailed to each guest within 24 – 48 hours of submission
We hope that you will be able to attend this workshop and potentially extend your stay for a short vacation in the Tahoe area. We look forward to your participation.
The EPM Workshop Organization Committee
Contact: Jenny Evans (jenny.evans@uky.edu) or Nicola Pusterla (npusterla@ucdavis.edu)