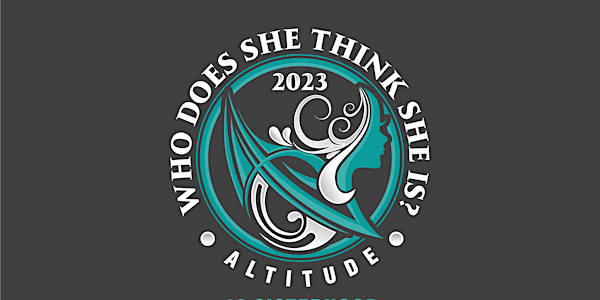 2nd Annual "Who Does She Think She is?" Womens Conference
JOIN US for a power-packed weekend of spiritual breakthroughs, empowerment, inspiration, and reaching a new ALTITUDE! The sky is the limit!!
By 43 International Sisterhood of DCMC
Date and time
April 14 · 6pm - April 15 · 9am EDT
Location
DoubleTree by Hilton Orlando Airport 5555 Hazeltine National Drive Orlando, FL 32812
About this event
Who Does She Think She Is? Women's Conference 2023 will be a power-packed
weekend of women's encouragement, inspiration, and empowerment geared toward
helping us discover our gifts, step out of our comfort zones, shift our mindset, and reach
a new ALTITUDE together!
We will dive into the topics that affect us all such as health battles, character growth,
relationship challenges, parenting, and learning new ways to think about ourselves and
others.
Women of God will be speaking, teaching, and sharing testimonies of triumph. There
will be interactive work, spiritual breakthroughs, Christian music artists, fellowship,
praise and worship, and other special performances.
Our focus this year is on reaching a new cruising ALTITUDE.
Our aptitude and our attitude determine our altitude!
God chose to give each of us aptitude - unique gifts, talents, and abilities that come
naturally to us. Gifts like teaching, encouragement, serving, administration, leadership
and so on. Talents like public speaking, singing, dancing, creating, building and many
more.
We choose our attitude! Are we choosing a life-giving, positive attitude inspired by the
Holy Spirit that helps us reach new heights using our gifts and talents? Or are we
choosing a critical, negative attitude that keeps us grounded in the same old ruts while
our gifts and talents lay dormant?
It is time to break those old strongholds, end generational curses, and stop the enemy in his
tracks.
The Lord promises us freedom and the Lord promises us strength. He said we would
soar on wings of eagles and not grow weary or faint.
Sisters, is time to take flight!
Fireside Chat starts at 6:00 pm Friday evening, April 14, 2023
Conference begins at 9:00 am Saturday, April 15, 2023
A conference T-shirt and a special swag bag are included with the purchase of each admission ticket made by March 14, 2023 to the conference. Tickets purchased after will not include a T-shirt.
Women only conference. Content appropriate for 14 years and older.
Attendee website is:
www.my-event.hilton.com/mcohndt-ish-eb8f4169-632d-48d9-81bb-c32bb6079870/
There will be a mid-day break for lunch. There are several nearby options within walking distance.
Coffee shop available in the hotel lobby.
Please join us in sunny Orlando, Florida at the beautiful DoubleTree by Hilton Orlando
Airport Hotel for this special women's event.
We hope to see you there at our 2nd Annual Who Does She Think She is Women's Conference 2023.