MIS Alliance is hosting a virtual Cybersecurity Awareness Conference with leading national cybersecurity experts to educate business owners.
About this event
October is National Cybersecurity Awareness Month and MIS Alliance is supporting that effort by providing a virtual Cybersecurity Awareness Conference for business owners to educate them on current cyber threats and the role the business community plays in combatting these threats. We will have a panel of leading experts from across the country who will share their insights and offer tips on cyberthreats, ransomware, ethical hacking and more. All registered participants will be eligible to win some terrific prizes in our drawing.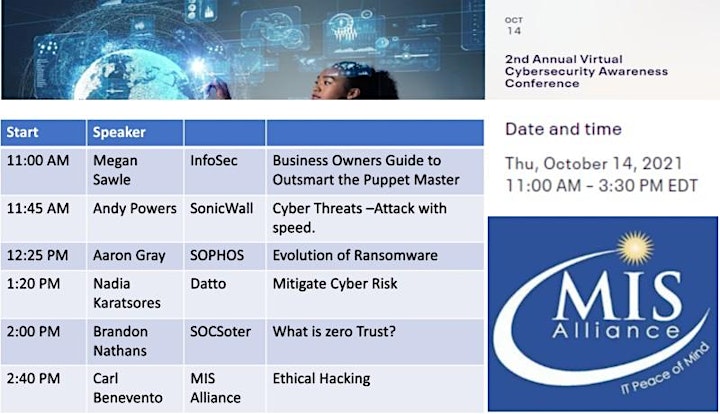 Organizer of 2nd Annual Virtual Cybersecurity Awareness Conference
MIS Alliance provides IT managed services to help keep businesses' data and IT network up to date and secure. Your business can save money and time with MIS Alliance's IT services including: cybersecurity, cloud computing, virtualization, backup and disaster recovery, end user protection (EDR), network solutions, IT support and more. Our custom services deliver what you need, while staying within your budget. From cloud services to end-user security, we're here to partner with you and your company to create an IT system that makes sense for your business today and the future. MIS Alliance has a team of experts in the cybersecurity field that are committed to continued learning and best practices in IT security so their clients can focus on their most important asset.