October is Domestic Violence Awareness Month and UYM will be hosting this FREE Virtual event to help educate, empower, and equip the masses.
About this event
The 2nd Annual Unstoppable You H.E.A.R.T. (Healthy Eliminating Abuse Relationship Talk) Virtual Domestic Violence Awareness Panel Discussion is hosted by Unstoppable You Ministries, Inc..
This comprehensive panel discussion is to provide awareness and supportive resources to improve healthy relationships while educating the audience on the reality of domestic violence. The panel discussion will include topics on the impact of intimate partner abuse on families, legal resources, survivor testimonials, victim's advocacy, and mental health resources. There will also be a Q & A with guest panelists: Lisa Council, Founder & CEO of I Am Lynda's Voice; Lori Campbell, Ret. U.S. Navy Veteran and Victim's Advocate; Jennifer Morton, Esquire, Delaware Technical Community College Dept. Chair of Legal Studies; Kathleen Starks, LMSW, Inner Pathfinder Coach; Michael and Pamela Delaney, and Jamika Lewis.
This virtual event is free to the public and appropriate for ages 12 years old and up.
If you are an adult, teen, parent, guardian, educator, church leader, community leader, politician, work with youth, health care provider, or would just like to be educated on how to create and maintain a healthy relationship as well as define what domestic violence is, the warning signs, how to get help, community resources, as well how to do your part to reduce and eradicate this horrible nightmare that plague so many families, then this is the event for you.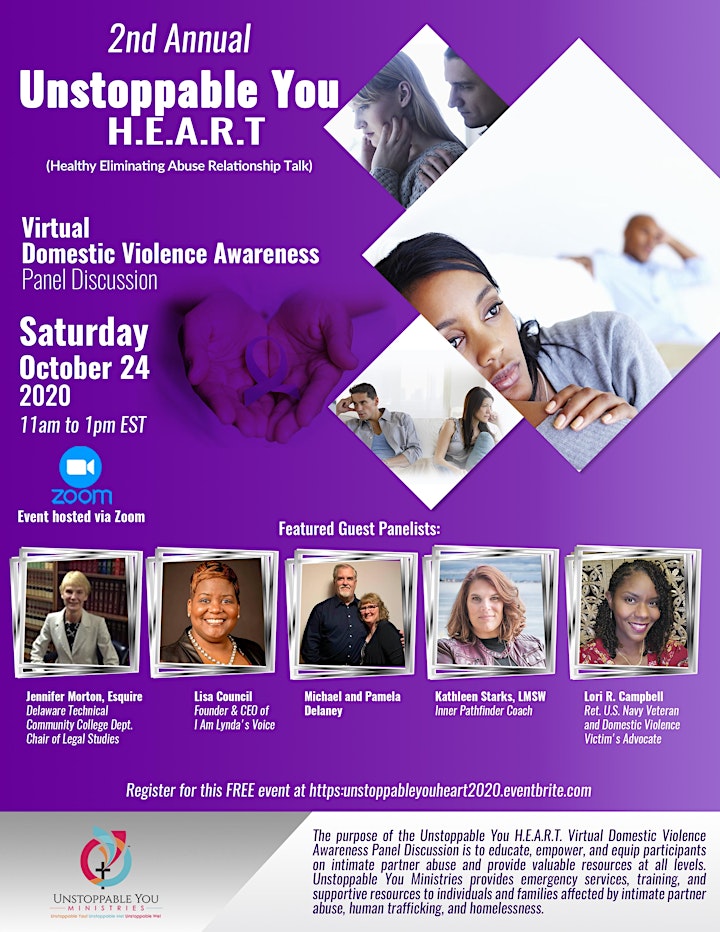 Organizer of 2nd Annual Unstoppable You H.E.A.R.T. Virtual Domestic Violence Awareness P
By way of background, Jennifer is a retired U.S. Navy veteran, domestic violence awareness advocate, and inspirational influencer. As the Founder and CEO of Inspirationally Speaking, LLC and Unstoppable You Ministries, Inc., Jennifer is passionately walking in her purpose as an award winning professional motivational speaker and bestselling author of Tomorrow My Sunshine Will Come: Memoirs of Women Who Survived Domestic Violence. Jennifer is also the Founder of the Unstoppable You Conference, TV Show Host of Living Unshackled ON Purpose, corporate trainer, prolific blogger, and public speaking coach. After 21.7 years of faithful service in the military, it's her desire to continue to be of service. Jennifer's business mission is to help others find their personal peace, purpose and power through sharing her journey, the good, the bad and the ugly.