Description
The 2nd annual Ugly Sweater Bar Crawl is here and we want the city of Birmingham to join in on the fun. Get that Goodwill sweater, find those tacky holiday pants, and get ready to jingle bell ROCK!
Check in at Tin Roof (check in in side room to the left) from 4-7pm! Friends can check you in. Just need your ticket.
This is a rain, shine, or snow event. There will be no refund at this time. Drinking is 100% optional you are not required to drink at every bar or event drink at all. If you choose to drink please drink responsibly. Bar Crawl USA is no responsible for any injuries that may occure on the crawl.
Ticket Includes:
Ugly Sweater T-shirt when you make it to the after party! (photo of shirt below)
Signature Ugly Sweater Crawl Koozie at registration
Registration party to kick off the crawl
Ring Roamer on site capturing all the fun.
DJ's playing holiday music at multiple stops
Themed Discounted Drink specials at participating bars
Ugly Sweater Crawl Map to help guide you bar to bar
Hundreds of crawlers dressed in the ugliest holiday gear staying together
Voted one of the most fun & organized holiday crawls by Yelp 2017
Participating Bars:
Tin Roof Birmingham- Registration Party with DJ from 4 to 7 pm!
$2 Grinch (Xmas themed Jell-O shots)
$4 Jingle Bell Bomb (shot)
$5 Filthy Animal (16oz Drink)
$5 Sticky Bandit (16oz Drink)
$2 Bud Light Draft (12oz)
Innisfree Irish Pub- DJ
$2 Christmas shots
$2 Draft beer
$5 Christmas themed cocktail
SideBar
$2 coors lt 10oz cans
$3 candy cane shots
$4 frosty shots
$5 Rudolph cocktail
DJ starting at 7pm
FIVE Birmingham
$2.50 Bud Light bottles
$3 Christmas tree shots
$3 Strawberry Lemonade
$6 Uptown Chicken
Live Band starting at 8:30m
Moe's Original BBQ- Lakeview
$6 Smoked Wings (6 wings)
$5 Winter Wackers Drink (Bushwacker w/ Rumpies)
$3 Stay Frosty shots
$2 Coors Light
Live band starting at 7pm
Nana Funks - After party t-shirt pick up.
$2 High Life's
$3 Rudolph or Frosty Shots
$5 Nana's Spiked Cider Cocktail
DJ starting at 9pm
T-Shirt handout 10pm-12am
FAQ:
Where do I get my event T-Shirt?
Make it to the after party and it is yours. Shirts are handed out first come first serve at Nana Funks our official after party from 8pm-10pm. *Sizes are not guaranteed as they are first come first serve. Everyone gets a shirt! Sizes S to 2XL
Do I need a ticket?
Yes will not be able to get int our registration party or after party nor will get your event t-shirt, koozie, access to bars, photography, and other giveaways.
Do I need to go to all of the bars? Is it guided?
You do not need to visit all the bars to get your t-shirt at the after party. We will have times next to each bar when they will be staffed & ready and when you should be there for wristband & crawl awesomeness.
Do I need to print my ticket? Does it need to match my name?
No, on your phone is preferred. Ticket does not need to match attendee name. This is a 21+ event

Drink specials:
*Soon to come*
All are guaranteed an Ugly Sweater T-shirt but sizes are first come, first serve. Sizes included- S, M, L, XL, 2XL.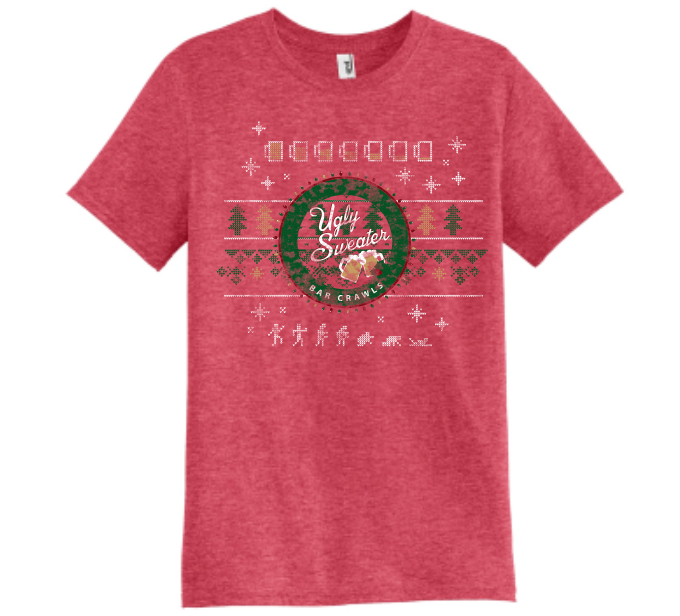 This is a 21+ event and drinking is 100% optional. If you choose to drink please drink responsibly. Ugly Sweater Bar Crawl is not liable for any injuries that may occur during or after the completion of the crawl.
Organizer of 2nd Annual Ugly Sweater Crawl: Birmingham
Let's Get Ugly! Join thousands of crawlers across the nation in celebrating the holidays with an epic Ugly Sweater Bar Crawl. Get out your grandma's sweater, find those tacky holiday pants, and get ready to jingle bell ROCK! 
Check out www.uglysweaterbarcrawls.com for more details