Description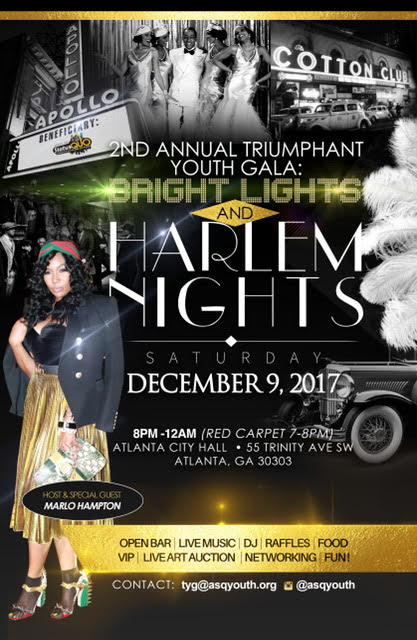 Greetings!
Join us for an evening of Harlem Renaissance-themed celebration, as we wrap up 2017 and prepare for a new year. This year, we will honor men and women who have dedicated their lives to promoting health equity; those combating HIV/AIDS, STD's and other health disparities that disproportionately impact communities of color. In addition we will highlight Above The Status Quo, Inc. (ASQ) for its work to transform the knowledge, attitudes and beliefs in young people, their families and support systems.

The Harlem Renaissance was a cultural, social, and artistic explosion that took place in Harlem, New York during the 1920s. The Triumphant Youth Gala is excited to bring the spirit of this time period to the Atlanta community with the help of our beneficiary ASQ!

This will be more than just an evening of good food, fellowship, and dance. Gala-goers will also take part in propelling the work of ASQ throughout the community. ASQ's mission is to develop comprehensive solutions to the unique problems faced by inner-city youth. ASQ achieves it's mission through the provision of services and initiatives that seek to engage, educate, empower and enhance the chances of the young people they serve. The proceeds from this years benefit gala will aid ASQ in purchasing its multipurpose drop-in center and a new van to transport youth to and from their facility to receive services and resources when they need them the most.

Step out in style and join us as we celebrate the rebirth and renewal of a generation. This will be the onset of a renaissance that is inspiring, thought provoking, and calls us all to a higher standard. You are cordially invited to celebrate through bidding on silent auction items, enjoying gourmet hors d'oeuvres, an open bar, live performances and more.

As we focus on programming that addresses the unique needs of our youth, we hope to capitalize on the prominence of the Harlem Renaissance to create our own "stars and legends" in the young people we seek to reach.

The Triumphant Youth Gala presents: Bright Lights and Harlem Nights!
Attire:
Gentlemen: Harlem Renaissance (1920s) Black Tie
Fashion for men consisted of well-tailored pinstriped suits, tuxedos, silk shirts and handkerchiefs. They wore lavish accessories, such raccoon fur coats, fedora hats, suspenders, bow ties, black patent leather shoes and spats.
Ladies: Harlem Renaissance (1920s) Black Tie
Fashion trends for women were shorter, low-waisted dresses and revealing styles worn by the Flappers, the 'bobbed' hairstyles, cloche hats, bright colored clothes, scarves and stockings with bold jewelry. Long strands of pearl beads, cigarette holders, headbands and feather boas were worn as accessories.

Event Host/ Special Guest: Celebrity Fashion Expert & TV Personality Marlo Hampton
Event Host/ Emcee: Ms. Shirleen
Refund Policy:
You assume the responsibility for your purchase, and no refunds will be issued.