Description
Join trans youth, parents, allies, and faith communities as we come together for this one day conference dedicated to strengthening the understanding between transgender youth, their parents, and their faith leaders. The day consists of panel discussions; caucus break out groups for parents, youth, and faith communities; and workshops on topics important to transgender youth and the faith community.
This event is open to the public. People of all faiths, backgrounds, and orientations are welcome and encouraged to attend - no one will be turned away! Childcare is available, reserve yours here.
*Scholarships are available. Please contact Joanne at joanneandskylar@gmail.com.
This year we are thrilled to welcome Sarah McBride as our Keynote Speaker!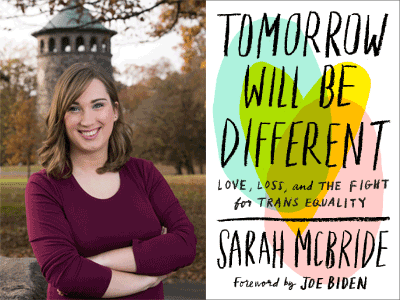 Sarah McBride, National Press Secretary for the Human Rights Campaign, became the first transgender speaker at a major political convention when she spoke during the 2016 Democratic National Convention in Philadelphia. She is largely credited with the passage of legislation in Delaware banning discrimination on the basis of gender identity in employment, housing,insurance, and public accommodations. Sarah has also published a memoir, Tomorrow Will Be Different: Love, Loss and the Fight for Trans Equality. The book chronicles McBride's coming out, her activism, and her marriage to Andrew Cray, a transgender lawyer at the Center for American Progress - and her loss of Cray to cancer just four days after the wedding ceremony.