Description
Please join us for our 2nd Annual Toy Drive!
Benefiting the Ronald McDonald House of Charities of Alabama and VisionOne.

NEW, UNWRAPPED GIFTS & TOYS FOR A BOY OR GIRL

For each toy donation you will receive a FREE raffle entry for a gift basket valued at $100.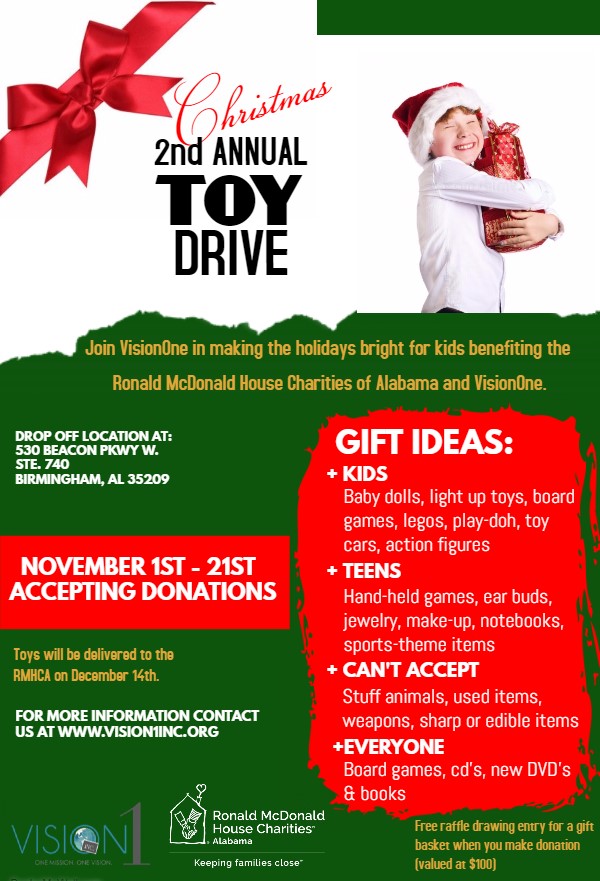 We will be accepting toys and donations November 1st - November 21st. This year the new and unwrapped toys collected from the drive will benefit the Ronald McDonald House Charities of Alabama and VisionOne Inc. Serving children premature to 18 years of age, RMHCA provides a home that serves families of seriously ill or injured children.

To participate in the toy drive, we are asking everyone to drop off, mail or make a donation for the unwrapped toys to VisionOne Inc. located at 530 Beacon Parkway W., Ste 740, Birmingham, AL 35209 during hours of 9:00 a.m. - 4 p.m.
WAYS TO GIVE
DROP OFF AT LOCATION

MAIL TO LOCATION

MAKE DONATION ONLINE

MAKE ARRANGEMENTS FOR PICKUP
These gifts will be given to the Ronald McDonald House Charities of Alabama for distribution on Monday, December 14, 2017 for the kids.
Our goal is to fill a mini-bus with toys from our generous support from businesses, schools and individuals within our community. Toys will be delivered to the Ronald McDonald House on Monday December 16th. If you would like to make the trip with us contact Tonda at info@vision1inc.org or contact (205) 901 - 7112.

Toys needed for all ages: Infants (0-2) & Teens (12-17) are always the hardest to shop for and often the most left out. In order to protect patients from infection, it is requested that all toys be new.
TOYS NEEDED BELOW:
Gift Ideas for Kids
• Baby Dolls
• Light Up Toys
• Musical Toys
• Board Games
• DVD's (New Releases)
• Arts & Crafts Kits
• Jewelry Making Kits
• Legos
• Cd's
• New Books
• Blanket or Throw
• Onesies
• Sing-a-longs
• Doll Houses
• Play-Doh
• Toy Cars
• Action Figures
• Sports-themed items
Gift Cards
• Wal-Mart
• Target
• iTunes
• Target
• Amazon
• Visa
Gift Ideas for Teens
• Board Games
• DVD's (New Releases)
• Arts & Crafts Kits
• Hand-held games
• Scrapbooks and
scrapbooking supplies
• Jewelry Making Kits
• New Books
• Video Games
• Ear Buds
• Picture Frames
• Hair Accessories
• Duffel Bags
• Puzzles
• Make Up
• Notebooks
• Jewelry
• Sports-themed Items
We CANNOT accept:
• Used Items
• Edible Items
• Sharp Items
• Glass Items
• Breakable Items
• Violent Items
• Weapons of any kind