Description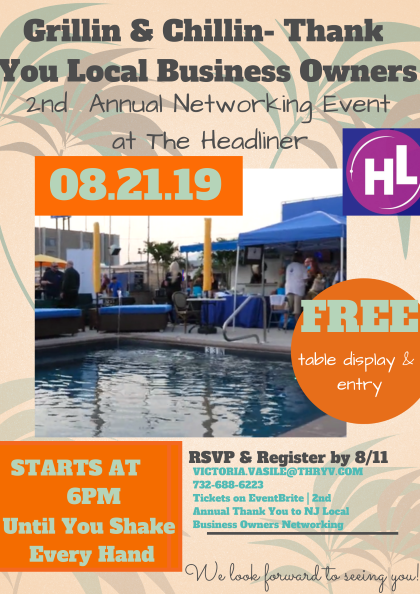 This event is a special one because it is dedicated to NJ Local Business Owners, Entrepreneurs and to those that run the businesses on behalf of the owners that are owned and operated in the State of New Jersey. Shopping and Supporting Local is very important and this event is designed to showcase and promote the important. The event is free to the first 150 people that reserve prior to August 9th. It is important to reserve here and save your ticket. At the date of the event, your name will be on the roster. Every person attending is required to register online upto the day of the event.
Free Admission includes free entry and BBQ selections that will be in its own designated area (burgers, hotdogs and sides while supplies last).
The event will take place at The Headliner at the "Oasis" Dayclub which is located outside of the venue. There will be music, announcements, shoutouts, prizes, local business tables, vendor tables with items for sale and networking with a business card exchange. The venue requires all attendees to 21 years of age since alcohol is served within the facilities.
The event is opened to the public, and dedicated to NJ owned and operated businesses to showcase their business at the event.
For businesses that are interested in a vendor space: There is no fee to do so. Pre-Registration and approval is required. Please contact one of the below to inquire about complimentary business showcase table space. Note if your business is approved to showcase, you will be required to bring a table,a raffle items and to promote that you will be at the event on Facebook and/or Instagram.
We are also asking all attendees to bring a non perishable food item or can goods to help Fulfill Monmouth & Ocean Counties Hunger Won't Win Here. Fulfill always needs a variety of canned, packaged and nonperishable foods — please no perishables — to feed more people as efficiently as possible. Let's do a little to help the community.
For complimentary vendor showcase and general questions:
Victoria Vasile: 732-688-6223 victoria.vasile@thryv.com
Mary Zaletski: 732-575-6218 mary.zaletski@thryv.com
ALTHOUGH TABLES ARE AT NO CHARGE – WE WILL BE SELECTING VENDORS. WE HAVE HAD AN OVERWHELMING RESPONSE AND WE WILL NOTIFIY YOU IF YOU HAVE BEEN SELECTED. Thank you for your interest in our event
click on link to see last year's event