2nd Annual Swing Into Spring Event "Comedy & Dessert" Mark Riccadonna & Fri...
Description
2nd Annual Swing Into Spring Event
"COMEDY & DESSERT"
Supporting Spring Reins of LIFE 501c3
Saturday, March 19th at 7:00PM (Flemington, NJ)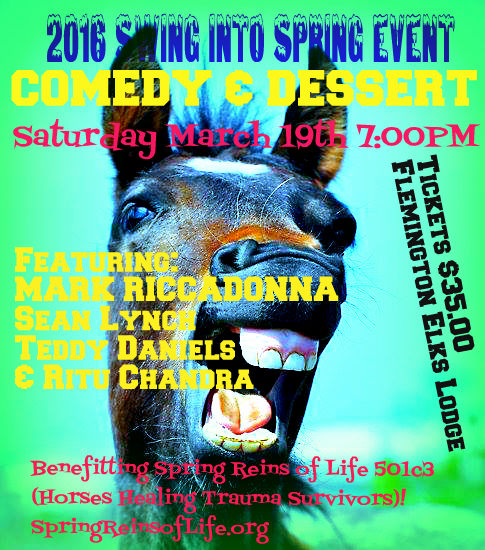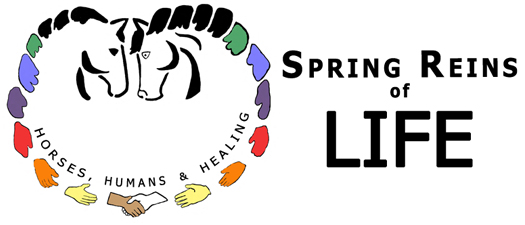 JOIN US!
Help us WELCOME Spring on the last night of Winter...
LIVE COMEDIANS! PRIZES!
Lite Fare Snacks. Lots of Dessert. Coffee/Tea. Cash Bar!
Live Performances by
MARK RICCADONNA – Headliner

TEDDY DANIELS

SEAN LYNCH

RITU CHANDRA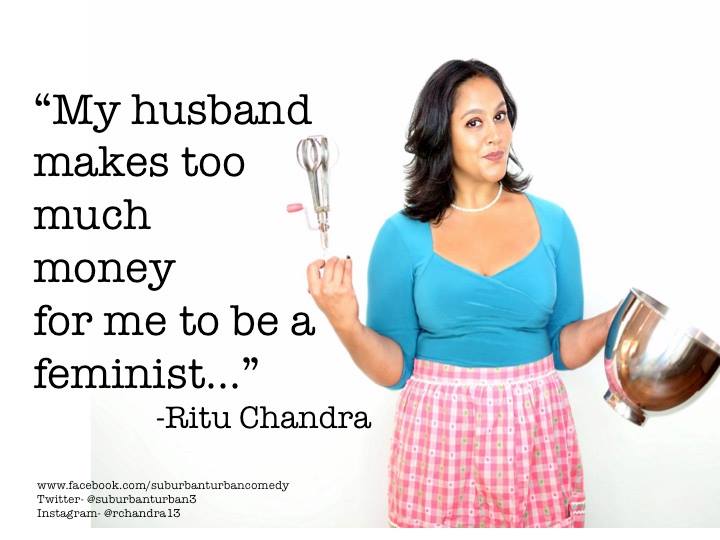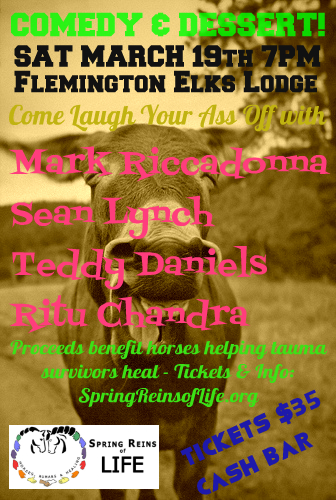 WHEN:
Saturday, March 19th - 7:00 PM Start
*TICKETS WILL BE SOLD AT THE DOOR (provided we are not sold out on by 3/19). PLEASE ADVANCE PURCHASE OR AT LEAST RSVP - SO WE CAN HAVE A HEAD COUNT!
WHAT:
45 Minute Headliner: Mark Riccadonna
30 Minute Set: Teddy Daniels
30 Minute Set: Sean Lynch
(3) 5 Minute Sets / MC by Ritu Chandra

WHERE:
Flemington Elks Lodge, 165 Route 31 South, Flemington, NJ
TICKETS:
$35.00 EA (includes lite fare snacks, Dessert & Laughs Out Loud!)
Please consider an Additional Donation as proceeds raised on 3/19 will go to supporting trauma survivors (PTSD veterans, at risk/high risk youth and childhood bereavement) in New Jersey.
[Additional donation: __$10 __$20 __ $ other]
By Mail:
Send check/money order to: Spring Reins of LIFE, P.O. Box 5311, Clinton, NJ 08809
Please SPECIFY how many tickets you are purchasing (each ticket is $35.00), and if any additional donation.
List your NAME, Phone and Email so that we can confirm receipt. Tickets will be held for you at the registration table at the entrance)
Online with Credit or Debit Card:
Follow link for payment via this Eventbrite page. Eventbrite charges a small service fee and payment processing fee. We made cost of ticket as low as possible. If purchasing online we have to pass those fees onto you to offer online secure credit card access. Spring Reins of Life is a Volunteer run organization, which allows nearly all of funding efforts can be allocated to program services, not salaries. For a young nonprofit we have accomplished several milestones in the past 18 months. We are fairly new and growing and we are passionate about helping youth and veterans cope and find hope for the future. If you are interested in joining our volunteer team please contact us. Donations of any amount and at any time are always welcome!
HOPE TO SEE YA THERE!
If you cannot attend on March 19th – Please Consider:
Gifting a tax deductible donation anyway! Your support of our EAP work is life changing, maybe life-saving!

Live out of state? Buy a couple of tickets anyway – we can offer them to Volunteers who work all year with us!


Other ways to support SROL and donate: See our wish list, Volunteer your time/expertise/recourses, Sponsor a session, Sponsor a horse!

Do you shop online? If so we are listed on iGive and AmazonSmile, while you shop choose to designate Spring Reins of Life as your charity and a % of all your purchases will accumulate for SROL.
Media Links About "SWING INTO SPRING" Events and Spring Reins of Life 501c3:
UPWORTHY Veterans Day 2015 "Operation Horse"
NASH-FM 94.7 "Nash Matters with Kelly Ford" (see our website Media page for many more)

*Spring Reins of Life is:
An EAGALA Model certified program (HIPAA Compliant)

First and currently only program with "Military Services Provider" certification in New Jersey (working with Lyons VA Hospital, 3 PTSD Units)

Works with at-risk/high-risk teens from NYC, NJJJC and Central New Jersey

Partnering with Good Grief Princeton providing services to 6-9yr old groups
HORSES Heal the Internal Wounds of Trauma and Despair without...Having to "Talk About It"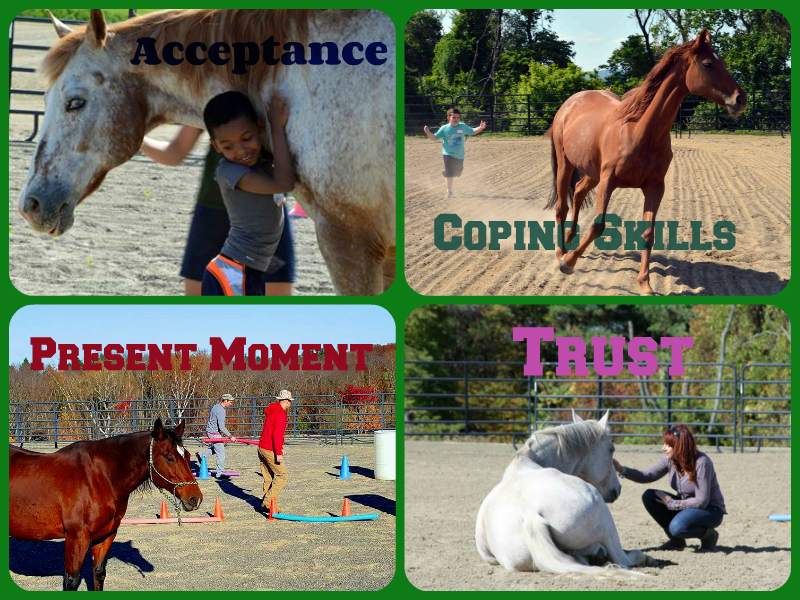 Special Thanks to our Sponsors, Donors, Board of Directors, Volunteers, Foxx Creek Farm, and EAGALA.
Gratitude and Love in our Hearts for our Clients and our Horses!
Come out and Meet the Herd, see the farm and how EAP is conducted at our 3rd Annual Open House & Demo on Sunday, June 5th, 2016!